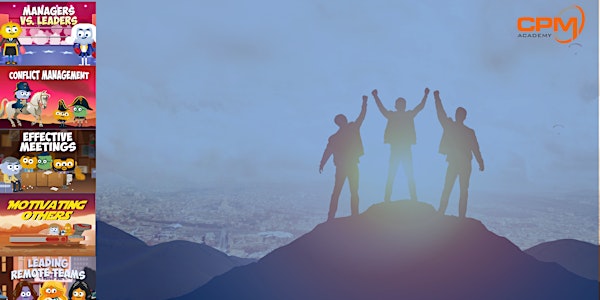 Leadership Toolkit - Bundle of 5 Courses
Online Course. Study at your own pace. Bundle of 5 Courses.
About this event
362 days 8 hours

Mobile eTicket
CPM Academy and TalentLMS bring 100% Online Courses for your professional development. Receive a Certificate of Completion from CPM Academy after each course.
This Bundle includes the following 5 Courses:
Managers vs. Leaders
The main difference between leaders and managers is leaders have vision. They're constantly driving towards the bigger picture, while managers maintain the status quo, often focusing on organizing others' ideas to reach set goals. You might have great management skills like coordinating teams, delegating tasks, and monitoring progress, but what if the safety net of working from someone else's vision is removed? To be a successful leader, you need to think like one.
By the end of this course, you'll be able to:
Compare management and leadership
Identify leadership styles
Develop your leadership skills
Conflict Management
Conflict can be hard to deal with, and sometimes the workplace can feel more like a battleground. As a leader, it's your job to step in, but it can be tricky knowing when and how to do that. Some leaders ignore conflict altogether, which can lead to a toxic and damaging work environment for everyone, impacting productivity and, ultimately, the success of your business.But conflict is just part of life. Having the skills to know when to step in and how to approach situations is a vital part of becoming a successful leader. This will help your team to work together and improve performance.
By the end of this course, you'll be able to:
Identify conflict in the workplace
Know when to intervene
Manage conflict successfully
Effective Meetings
In many workplaces, any mention of the word "meeting" is met with a collective sigh. That's usually because people's experience is of ineffective meetings which they see as boring, pointless, and a waste of valuable time.
Like any task, holding an effective meeting needs careful planning and set goals to identify who should be involved and what should be discussed. Done right, this will dispel the myth of "boring" meetings in your workplace and, importantly, streamline the meeting process, leading to more successful outcomes.
By the end of this course, you'll be able to:
Plan effective meetings
Implement meeting etiquette
Create actions and set goals
Motivating Others
As a leader, one of your key roles is to be a motivator – someone who inspires their team to achieve targets and goals in order to maximize their success and ultimately the success of your business. As a business tool, motivation is often overlooked. This can lead to a disaffected workplace that suffers decreasing productivity and performance. Get it right and you'll have happy, engaged employees that will always give you extra to help you achieve that success.
By the end of this course, you'll be able to:
Identify motivation types
Understand the benefits of motivation
Motivate your team
Leading Remote Teams
A remote team is a team of employees that work in separate places. And although you may not be able to physically see them, there are ways to regulate their workload and keep communication clear. You just need to know how to do it!
By the end of this course, you'll be able to:
Learn to trust "out of sight" working
Understand how to empower, trust, and avoid micromanaging your team
Build effective communication across your team
Select the best technology for your remote team