Leadership Series-Personal Branding for Success & Headshot Happy Hour
About this Event
Come Join Us!
Our panel of women in personal branding represent the best in San Diego. As a business owner, 1099 contract employee, or if you are just looking to get ahead in your career… the best way to get ahead is to improve your delivery, as you make your first impression. How better to improve your delivery than with a overall makeover of yourself with a little coaching from the best influence'rs in the branding field? "Sell yourself to your best ability"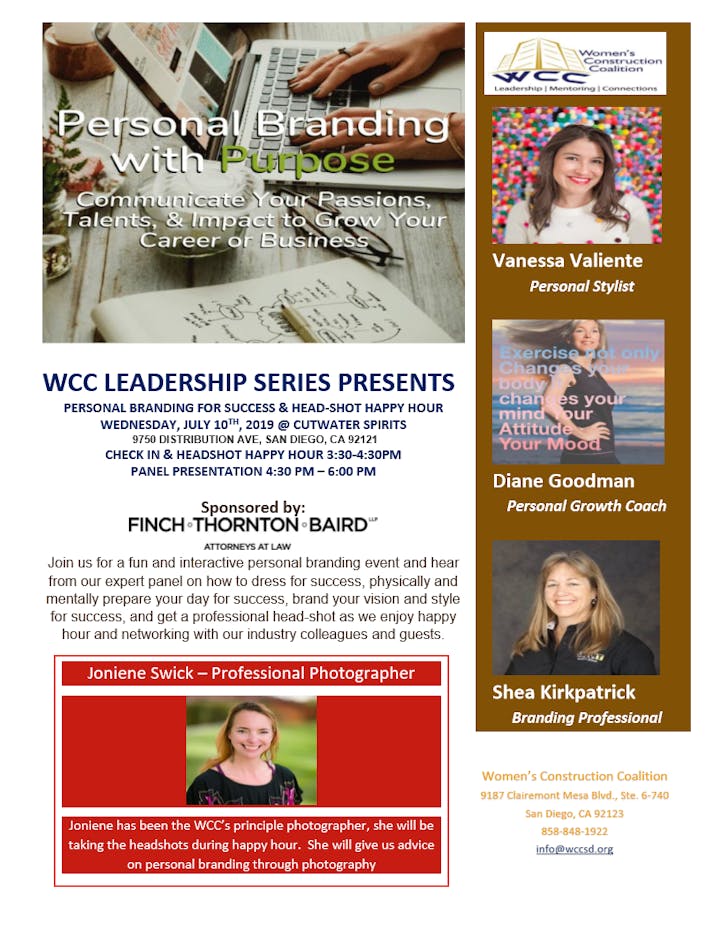 Our Panel of Experts...
Vanessa Valiente is San Diego's #1 Personal Stylist and creator of V-Style, the first and longest standing fashion blog in America's finest city (Est. 2007). She has worked with numerous celebrities such as Tony Hawk and Bo Derek, and have been voted a "Top Stylist" by Modern Luxury and FINE magazine. Vanessa has also been featured in The Washington Post, National Geographic, Self magazine and Refinery 29.
Diane Goodman is the owner of HiPowerDI - a certified personal trainer with the most inspiring and effective training program in San Diego that combines nutritional guidance on how to lower the stress of work with healthy eating, exercise and personal complexion hygiene. Diane developed a facial complexion hygiene line, LuLuCloth to help women combat facial issues at all ages.
Shea Kirkpatrick, with 25 years of experience in business management, sales and marketing, strives to assist business clients as they evaluate options to increase their profits and market share. Shea's depth of experience in this field allows her to develop innovative marketing and branding campaigns that benefit clients and their employees.
Joinene Swick is a part-time event photographer with 13 years of background in marketing and business development. Her focus is on two things: 1. Helping guests have a great time, by looking and feeling wonderful. 2. Taking photos that are not just great for memories, but great for branding and marketing future events.