Leadership and Management Course for Healthcare Professionals
About this event
This course was jointly developed with Health Education England South London, St Georges Leadership Academy & St Georges University of London.
The SW London Leadership & Management Course was established in 2011 to support and gives practising clinicians and health services managers a step up to the next level and:
Learn about NHS management and finances.
Patient safety and governance essential for running a service.
Undertaking projects in service improvement.
Learning personality types, leadership styles and ways to influence change.
In addition to meeting the essential generic curriculum competencies, it has become a forum for interaction with the top management and leaders in the NHS London and usually attracts a stellar cast amongst its many speakers and facilitators.
Course Fee: £150 per attendees
The only mode of payment accepted is via BACS to St Georges Hospital Charity account:
Leadership & Management Course – BACSReference: L&M042020_your initials
Payee: St. Georges Hospital Charity
Bank: NatWestBank
Address: Tooting Branch, 30 Tooting High Street, Tooting, London SW17 0RG
Account Number: 64136574
Sort Code: 60-14-31
Swift Code: NWBKGB2L
BIC Code: NWBK GB 2L
IBAN Code: GB81 NWBK 6014 3164 1365 74
Bank Branch Code: GB81
If you are having a hard time to book yourself, please do not hesitate to contact us back at IMT@Stgeorges.nhs.uk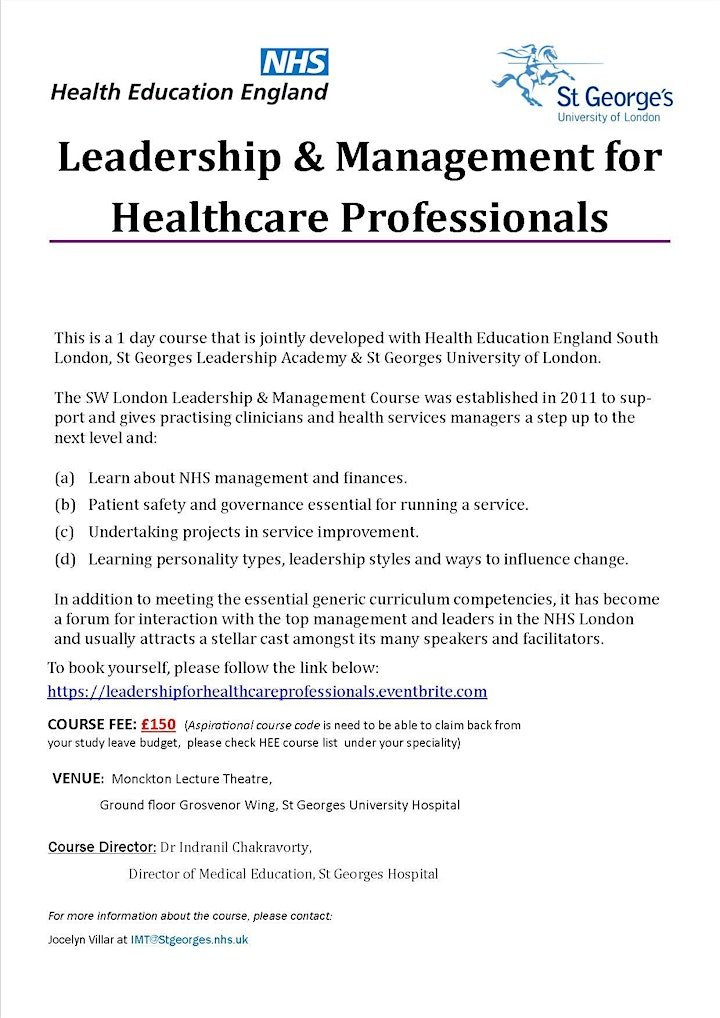 Organizer of Leadership & Management Course for Healthcare Professionals