Description
CBMC (Christian Business Men's Connection), in partnership with Maryland Bible Society (MBS), is pleased to invite you to a special informational meeting to introduce you to the PEER ADVISORY GROUP launch by CBMC Leadership Institute. Please come out to investigate, discuss and ask questions!
CBMC Leadership Institute was established to serve senior business leaders. There are many options when it comes to leadership development. Those who are committed to their Christian values and desire to integrate these into their business have limited choices. CBMC Leadership Institute provides a confidential peer to peer environment where faith and leadership intersect. It is whole life leadership encompassing the multiple roles and responsibilities a leader maintains with their business, family and greater community.
We provide a well-trained, seasoned leader to facilitate the gatherings. The facilitators will be responsible for shepherding the members through the monthly meetings available through Trusted Advisor Teams and leading them toward the two-fold CBMC mission.
CBMC Trusted Advisor Teams are closed groups of 6 to 8 non competing business owners or executive level leaders of similar size businesses who will meet monthly for an extended period of time.
---


There is no charge for the meal, however reservations are required. Cost of the meal is sponsored by MBS. Space is very limited so please register early!
For more information, contact Dave Moyer dmoyer@mdbible.org or 410-905-2039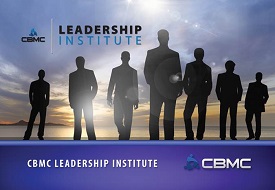 Organizer of Leadership Institute Informational Meeting
"Working to serve you in Jesus' Name"
I Corinthians 15:58 says; "Therefore, my beloved brethren, be steadfast, immovable, always abounding in the work of the Lord, knowing that your work is not in vain in the Lord."
Contact us to learn how CBMC can come along side of you in the context of your work and life in the marketplace.
CBMC Area Director: Chuck Whitmore  Cell and direct dial: 410-403-6643, Office: 410-661-5665
Get our free mobile app: cbmcmd.mobapp.at/
Want to be notified about our upcoming events? Click FOLLOW.