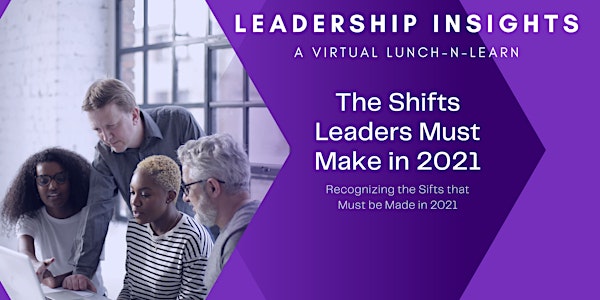 Leadership Insights - February 2021 - Shifts Leaders Need to Make in 2021
Business is not as usual... 2020 taught us all that fact. The Shifts Leaders Must Make will show you how to thrive in 2021
About this event
Change is so rapid today that leaders must do much more than stay the course to be successful. If they aren't nimble and ready to adapt, they won't survive. The key is to learn how to what shifts leaders need to make in 2021 and beyond to survive and thrive.
This session will help leaders gain the ability and willingness to make leadership changes that will positively enhance their organizational and personal growth.
You'll learn these shifts:
The Adaptive Shift from Plan A to Option A,
The Production Shift from Ladder Climbing to Ladder Building,
The Influence Shift from Positional Authority to Moral Authority.
and much more
Each shift requires requires you to change the way you think, act, and ultimately lead so you can be successful in a world that never remains the same.