We are hosting our very first webinar this 28 Sept 2021.
About this event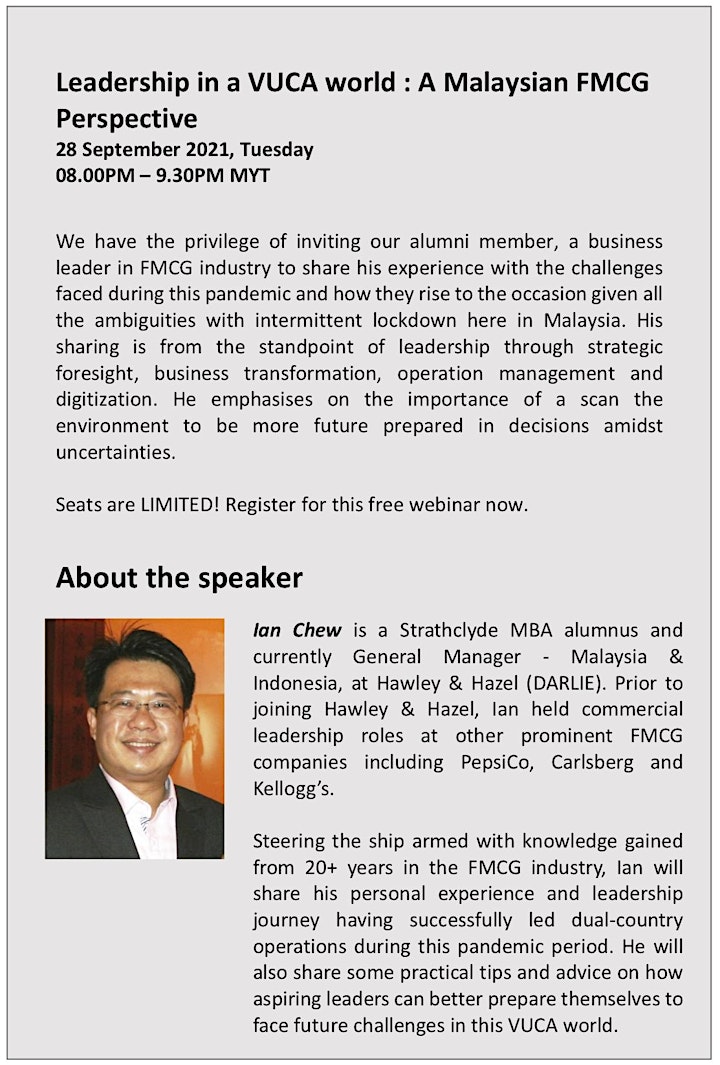 Organizer of Leadership in a VUCA World: A Malaysian FMCG Perspective
Join our FREE webinars & masterclass series workshops designed to bridge the gap between academic rigour and ambidextrous industry management practices. Our information packed sessions shall unite proven business leadership experience with business management best practices to help individuals and business organisations increase awareness on being 'future-prepared' and become more adept and resourceful in managing economic turbulence and future uncertainties.
Participants will:
1. Gain a deeper insight on 'Strategic Foresight' approach to strategy development with critical thinking skills to make better decisions.
2. Learn the use of strategic foresight tools to enable organisations to react swiftly to disruptive changes in their business & operating environments.
3. Establish higher motivation and abilities to manage uncertainty systematically.
4. Be more competent in engaging strategy choices with actions to shape desired outcomes.
5. Have the opportunity to network with other attendees
6. Gain insights from industry leaders as they share challenges and best practise
SBS Masterclass Series Champion:
Dr Anisah graduated with a PhD (Operations Research) from Strathclyde University and is a member of the Association of Professional Futurists.
She helps organisations plan strategically, and to design and develop performance measurement systems for organisational improvement. She uses foresight and scenario planning to help organisations go beyond just forecasting to the generation of preferred futures. Her portfolio of strategy development workshops includes UNDP Georgia and Innovative Service Lab Georgia, Employee Provident Fund Malaysia, Ministry of Higher Education Malaysia, National Higher Education Research Institute Malaysia and International Islamic University Malaysia. Her teaching and research work now extends to Foresight and higher education. Facilitating futures of higher education – ministerial, country and university leadership; public engagement. Facilitating & teaching foresight at the MBA Strathclyde Business School 4+ years in advancing Futures Literacy; Futures Sandbox – Global Futures Festival 2017.