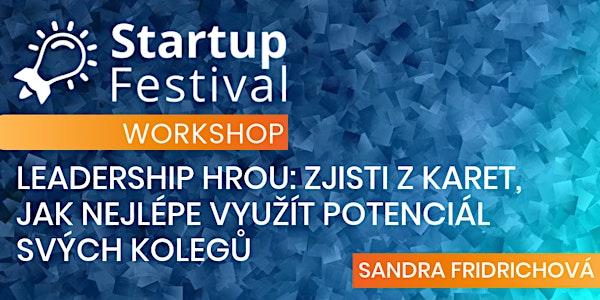 Leadership hrou: Zjisti z karet, jak nejlépe využít potenciál svých kolegů
Zahrajte si unikátní leadershipové karty a zjistěte, na co máte talent. Díky tomu bude ve vaší firmě vše šlapat, jak má.
When and where
Location
Vysoká škola ekonomická v Praze 1938/4 náměstí Winstona Churchilla 130 67 Praha 3 Czechia
About this event
Energie v týmu plyne, všichni makáte a stejně se čas od času objevují nedorozumění a konflikty, protože jednoduše čekáte, že tenhle úkol udělá někdo jiný, a on zbyde na Vás. Ve startupech je to přece punk. Všichni dělají všechno. Ale co když dokážete rozdělit role podle toho, na co máte talent? Na workshopu si zahrajete https://www.leadershipovekarty.cz a zjistíte, jak na to.
Kdo vás tématem provede?
Sandra Fridrichová pomáhá firmám vytvářet prostředí, kde se ze zaměstnanců stávají srdcaři. Zkušenosti z Komerční banky a Société Générale ji inspirovaly k založení projektu "Pro lepší život v práci". Jejím cílem je pomoci firmám propojit vizi s realitou.
Workshop proběhne v Rajské budově VŠE v učebně RB 104. Nevíte, jak se do učebny dostat? Nevadí! Navigace na místě Vás do učebny dovede.
Zajímají Vás další akce ze Startup Festivalu?
Na Startup Festivalu vás čeká ještě více přednášek, workshopů a panelových diskuzí. Pro více informací navštivte náš web nebo sledujte fb event!
Na letošním Startup Festivalu se představí začínající startupy, ale i ostřílení hráči na trhu. Poznejte českou startupovou scénu offline v jeden den a ve skvělé festivalové atmosféře.
Těšíme se na Vás už 11. 10. 2019 na VŠE!