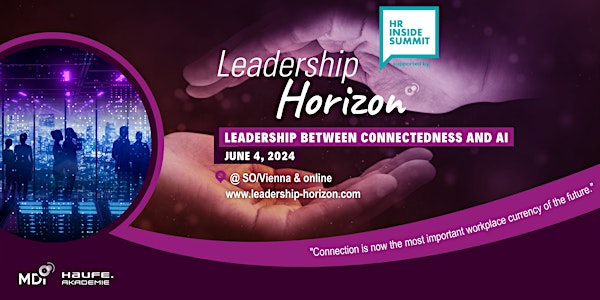 Leadership Horizon 2024 - Leadership between Connectedness and AI
Leadership Horizon: Your conference dedicated to leadership success - today, tomorrow and beyond. www.leadership-horizon.com
By MDI Management Development International
Location
SO/ Vienna 1 Praterstraße 1020 Wien Austria
Refund Policy
Contact the organizer to request a refund.
About this event
🌟 Leadership Horizon 2024 🌟
🗓️ June 4, 2024
🌐 Main Topic: Leadership between Connectedness and AI
Mark your calendars, Join ~200 like-minded leaders & experts of different industries to experience and discuss success strategies for Leadership for today, tomorrow and beyond and be ready to delve into the dynamic interplay between human connection and artificial intelligence.
Join us on June 4th as we dive into the critical topic of Leadership between Connectedness and AI. Our first keynote speaker, Ryan Jenkins, will share insights that will reshape your understanding of how leaders (at any level) can move teams from isolated to All In. Stay tuned for an impressive lineup of additional leadership experts who will join us to share their invaluable insights.
Secure your spot with a super early bird ticket and enjoy a reduced rate. Don't miss this learning opportunity and discover the future of leadership in the age of connectedness and AI! ✨🚀
#LeadershipHorizon2024 #ConnectednessAndAI #RyanJenkins #SuperEarlyBirdTickets
1 intense day of development
renowned leadership experts and practicioners
top-notch leadership tools & strategies
hybrid event @ SO/Vienna & online
language = English
Powered by MDI, HAUFE AKADEMIE & HR INSIDE SUMMIT
If, due to your company's rules, you can only purchase tickets by means of invoicing, please write to contact@mdi-training.com and we will get back to you! Tickets with invoicing are possible with no problems from our side!