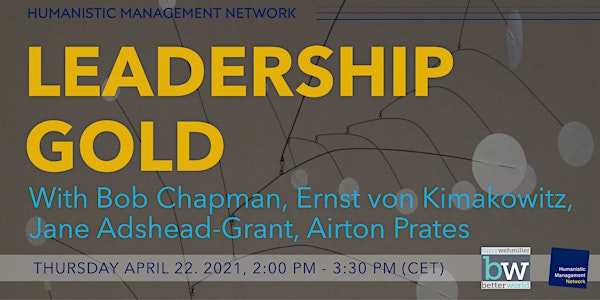 Leadership Gold
Join 90 minutes of pure Leadership Gold as Bob Chapman, CEO of industrial group Barry-Wehmiller talks with Ernst von Kimakowitz.
Refund Policy
Contact the organizer to request a refund.
About this event
Pure Leadership Gold will be unearthed as Bob Chapman, CEO of industrial group Barry-Wehmiller, shares his unique leadership experience with Ernst von Kimakowitz, Co-Founder and Director of the Humanistic Management Network, facilitated by Jane Adshead-Grant of the Chapman & Co. Leadership Institute. Join to see the good things that happen if business seeks to respect dignity, integrates ethics in business decisions and actively engages with stakeholders.
Barry-Wehmiller Companies, based in St. Louis, USA, is a global supplier of manufacturing technology and services for a variety of industries. At Barry-Wehmiller everybody matters. Step inside any one of their 100 locations around the globe and you'll feel it: a culture of care, compassion and human connection. The commitment to a people-first culture runs deep and has inspired a leadership model that places a priority on improving the lives of the people who make their business possible.
The Humanistic Management Network is a global non-profit organization, registered as a Swiss association that lives, works and acts through local chapters and collaborations around the globe. Its purpose is to encourage, promote and support economic activities and business conduct that demonstrate unconditional respect for the dignity of life.
A match made in heaven given the compatibility of leadership style at 3bn USD annual revenue Barry-Wehmiller and the Humanistic Management Approach. So it's high time to talk to the CEO of Barry-Wehmiller for your exclusive fix of Leadership Gold.
Tickets are free but registration required so that we can send you the log-in information for this online Meeting. We also offer donation tickets for those of you who wish to contribute to the activities of the Humanistic Management Network but you are equally welcome regardless of the ticket you chose.
So join us on April 22nd - together we make impact towards a more sustainable and more equitable planet.
https://www.barrywehmiller.com/our-culture