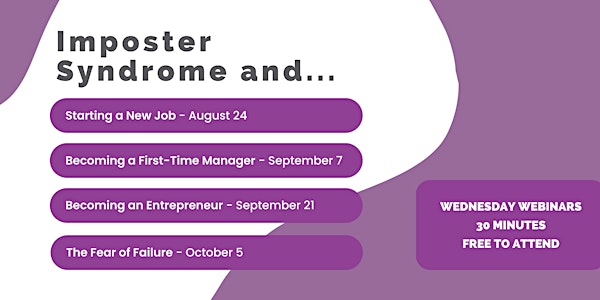 Leadership Development: Imposter Syndrome and...
Webinar series dedicated to overcoming Imposter Syndrome in the workplace.
About this event
Do you have 30 minutes to address the imposter syndrome you feel right now? Great, because this Nayan Leadership webinar series is for you. Starting this fall, I'll dive into managing, working through, and overcoming imposter syndrome in a variety of scenarios.
I welcome you to sign up for every session that feels relevant to you. Even if you can't attend on the day, register to receive the session recording. This is your chance to overcome imposter syndrome and
Starting a new job - August 24
Becoming a First-Time Manager - September 7
Becoming an Entrepreneur - September 21
The Fear of Failure - October 5
How To Participate:
Register for all sessions, or the one of your choice. It's free to register.
About 30 minutes prior to the session time listed, I will email you the session to watch in your own time.
Connect with me through a clarity call, on social, or via email to discuss any questions you may have.
This is a free leadership development webinar series.