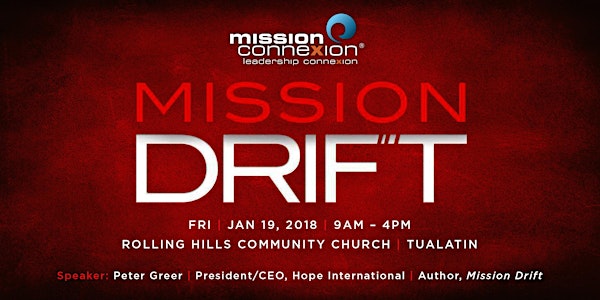 Leadership ConneXion 2018: Mission Drift
Date and time
Friday, January 19, 2018 · 9am - 4pm PST
Location
Hosted by Rolling Hills Community Church 3550 SW Borland Rd Tualatin, OR 97062
Description
Too often, as Christian organizations grow, the Gospel becomes cursory, expendable, or even forgotten. This year's Leadership ConneXion will provide the tools leaders need to keep their organizations "Mission True" or to get back on track. It will be led by:

Peter Greer, President and CEO of Hope International, is an advocate for the Church's role in missions and alleviating extreme poverty. His experience is first-hand and hard earned as he received a B.S. in international business from Messiah College and an MPP from Harvard's Kennedy School; and he has worked as a microfinance advisor in Cambodia, technical advisor in Zimbabwe, and managing director for a Rwandan bank. He has authored and co-authored several books including Mission Drift which was selected as a 2015 Book Award Winner from Christianity Today. Peter, his wife Laurel, and their three children currently reside in Lancaster, PA.
Cost includes lunch, snacks, and a copy of Peter Greer's book, Mission Drift.
About the organizer
Our Vision: God's People Effectively Mobilized in Mission
Our Mission -- Mission ConneXion exists to connect local churches and individuals to mission so that increasing numbers of believers are actively serving in areas of the world's greatest need and opportunity.
Our Values
Piority ~Mission ConneXion is a Biblically-based, Spirit-led, and prayer-empowered mobilizing movement that elevates the necessity and priority of missions in the local Church.
Holistic ~ We operate in a holistic mindset where Sending, Giving, Praying, Funding, Training, Going, and all the other multi-faceted roles of the body of Christ are mobilized to fulfill the Great Commission.
Church Driven ~ We lift up and focus on the role of the local Church as the center of missions' engagement calling for action and sacrifice on the part of all so that the Church can fulfill its calling.
Unity & Collaboration ~ We promote and encourage multi-church and multi-agency participation in a collaborative and unified approach, connecting people to opportunities and discovery of their God-given role in missions both locally and across the globe.
Relational ~ We are supported, implemented, and dependent upon Volunteers and area churches. We respect the diversity in the body of Christ while promoting unity in our common task of taking the Gospel of the Kingdom to every tongue, tribe, people, and nation.