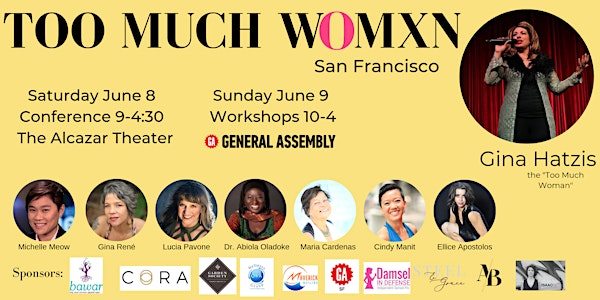 Leadership Conference: Too Much Womxn San Francisco with Gina Hatzis
When and where
Location
Alcazar Theater (Saturday)& General Assembly (Sunday) 650 Geary Street San Francisco, CA 94102
Description
Too Much Woman SF
A conference, panel, and workshop for ambitious womxn ready to explore their leadership outside of the normal gender paradox.
June 8th
TMWSF Conference 9am-4:30pm
Freakin'Fiesta 7:30-10:30pm (note time change)
AND
Our Purpose:
To empower womxn in expressing their uniquely feminine leadership voice in a way that is authentic, and creates space and support for them to be celebrated.
Our Vision:
A world where womxn and people identifying as womxn have a seat at the table without compromising their femininity. A world where our wisdom and leadership are not only sought after, but greatly valued.
Our Mission:
To shift a cultural narrative around womxn's leadership to one that values each and every authentic and diverse voice.
Gather tribe.
Gather womxn.
It's time.
Riding on the coattails of #MeToo, is a new viral message that has sparked a global movement.
The #TooMuchWoman movement is captivating audiences of womxn who are navigating a parallel and opposing reality.
If we speak up we risk being antagonized, and if we stay silent, we suffer. Despite the risk, more women are embracing those parts that society has thus far labeled "Too Much," and thus, now, more than ever, an unprecedented number of women are running for and winning a seat at the table: in media, on leadership teams, in the boardroom as well as in politics.
With these emerging leadership roles, the world is being exposed to the dynamic woman: multi-faceted, powerful, and defying historical gender stereotypes. But understanding the role of femininity is about recognizing that there is a spectrum. From the shy "not enough" to the bold "too much", this conference will help womxn (or those identifying as) navigate the leadership space between.
The #TooMuchWoman movement is an invitation for womxn everywhere to embody their femininity and to step fully into the role that they wish to play, so that together we can create a system that works to support a more equitable world.
The Too Much Woman SF Conference is thought-provoking and awe-inspiring. Participants will engage in various activities to explore the self, create goals, and acquire resources on how to live with purpose and intent.
Through panel discussions, a keynote speaker presentation, group breakout sessions, and movement, participants will be inspired and leave this event feeling transformed, empowered, and connected to their inner magnificence!
Too Much Woman SF Conference:
Day One:
June 8th @ Alcazar Theater and Gallery from 9:00am -4:30pm
9am- 4:30pm
Keynote by Gina Hatzis

Interactive discussions with our TOOMUCH women Speakers

Leadership Potency Panel Interview and Audiance Q & A

These women will share their unique experiences navigating the world and how they've won as womxn. Panelists represent a broad range of different industries, including the worlds of finance and investing, science, technology, education, entrepreneurship and the arts.

Closing Native American Blessing
Freakin Fiesta After Party-7:30pm -10:30pm
Day Two:
June 9th @ San Francisco, The Genereal Assembly SF on Bush Street 10am - 4pm
Connect & Cospire: Day Long Workshops focused on Integration
Want to create influence inside your work or in you community? In your child's school? In your relationship? In your home? How your creative genius can get you there.
Schedule
10-10:20am Welcome and Meditation by María Cádenas of Chingona Goddesses Unidas
"Invoking Your Inner Chingona (Badass)"
10:30am -11:30 Gina Hatzis
Title: Finding Your Spiritual G Spot Workshop
BREAK
11:40- 12:30 Lucia Pavone
Title: "Embrace Your Sexual Energy for Potent Leadership & Social Change"
Description: A womxn's sexual energy is potent. This life force energy can be used beyond the bedroom. When understood, the potential to embody and utilize this feminine fire for creative flow, magnetize success, and confident leadership is limitless.
12:30- 1:45 LUNCH
1:50-2:40 Dr. Abiola Oladoke
Title: Heaven on Earth is Your Birthright as A Womxn
Description: As a womxn, you face many obstacles in today's society. These obstacles often create a hellish mind that keeps you from living the limitless, high achieving life you are designed to have. In this workshop, attendees will discover how hellish mind is hindering success as a womxn and how to begin on the path to a heavenly mind and achieve limitless success in any endeavor.
2:50- 3:45 Ellice Apostolos S-factor Santa Cruz
Title: "Unearth Your Erotic Nature "
Description: S Factor's mission is to elevate ALL women's lives by helping them awaken the natural, feminine movement of their bodies. When an S woman lives fully in her natural curves, she unleashes a magnetic power that is arresting.
3:45-4pm Closing Circle
Speakers and Performers:
Our speakers are influencers, artists, and passionate community builders. Combined they have started Fortune 500 companies, headed school districts, helped women banish burnout by tapping into their intuition and pleasure. Their work is featured in major motion pictures, and they've even trained executive and leadership teams. Together, these women will empower attendees with radical techniques for winning from within.

Gina Hatzis - "Celebrating the Too Much Woman"
A former journalist, Gina Hatzis has spent the past 20+ years as a passionate truth-seeker, corporate and public speaker, and women's empowerment advocate.
Most recently, Gina's Too Much Woman speech went viral overnight with 15 million views, sparking the Too Much Woman Movement, inspiring women around the world to shine fully in their glory.
@ginahatzis #toomuchwoman https://www.facebook.com/Gina.TooMuchWoman/
Guest Speakers
Michelle Meow- LGBTQ+ LMNOP
SF Board President, PRIDE, The Michelle Meow Show @TheCommonwealth Club
http://www.MichelleMeow.com https://www.commonwealthclub.org/michelle-meow-show
@MichelleMeow @SFPRIDE
Michelle Meow, host and producer of "The Michelle Meow Show," is your . A-Z, covering the LGBT, LMNOP, and everyone in between. She attended San Francisco State University and received a B.A. in Broadcast Journalism and shortly after, started her career in radio. Michelle's show can be heard in San Francisco and nationally on the Progressive Voices Network. The local TV show can be seen on KBCW TV, Ch 44/ Cable 712 Sunday nights at 1030pm. Michelle has also been a co-host of the San Francisco Pride Parade broadcast since 2006. She is served as Board President of the San Francisco Pride Board of Directors from 2015-2018. She is a self-described LGBT history geek, information . sponge, and a lover not a fighter. www.michellemeow.com
In 2018, The Commonwealth Club and Michelle Meow teamed up to expand and broaden our programming of interest to LGBTQ audiences. Each Thursday at noon, Michelle records her "Michelle Meow Show" radio program at the Club, co-hosted by John Zipperer, the Club's host of its Week to Week Politics Roundtable programs. Join us in-person for upcoming "Michelle Meow Show"s and meet some of the most interesting, intriguing and often controversial people in the LGBTQ community.
Gina Renee, Singer - "Set Me Free"
Gina René, also known as The Urban Space Goddess, is a local & internationally known singer-songwriter, speaker and women's empowerment facilitator. Gina's songs have been featured in Major Motion Pictures & TV shows such as Disney/ Buena Vista Film's 'Step Up', Paramount Picture's 'Meangirls.'
@theurbanspacegoddess #ginarene www.facebook.com/MsGinaRene
Lucia Pavone - "The Potency of Following Your Pleasure"
Lucia Pavone is a rule breaker, international speaker, sex coach, and instructor of the art of sensual pleasure. Busting through the limitations put on a woman's orgasm, she's experienced over 6,000 hours of Deliberate Embodied Orgasm (full body, extended orgasm). She teaches sensuality courses, workshops, and recently led a retreat in her ancestral homeland of Sicily. Lucia instructs on O.School, a pleasure based sex education website, as seen in Forbes, Huffington Post, Glamour, NOW THIS, and on Viceland's TV show "Slutever".
@lusciousluciapavone https://www.facebook.com/lusciousluciapavone/
TICKETS:
ALL-ACCESS Tickets for 2 Womxn $397
Includes day event and Sunday Workshops

Premier seating early entrance

Freakin' Fiesta

Meet and Greet with Gina

Sunday 6/9 Workshops at The General Assembly SF
ALL-ACCESS for 1 Womxn Ticket $197
Includes day event and Sunday Workshops

Premier seating early entrance

Freakin' Fiesta

Meet and Greet with Gina

Sunday 6/9 Workshops at The General Assembly SF
Too Much Womxn SF Event General Admission Ticket $97
Includes day event only at the Alcazar Theater
FAQs
Are there ID or minimum age requirements to enter the event?
This is a 18+ eveny
What are my transportation/parking options for getting to and from the event?
It will be good to carpool, there is a 24 Hour parking Garage right next door to the theater. Lyft and public transportation are also encouraged
What can I bring a into the event?
Water bottle with lid, sweater, notebook/journal, and snack you need to stay comfortable.
What should I dress in?
Wear comfortable clothing that you can move freely in for the daytime event. What ever feels fabulous on your body! Too Much Woman attire is encouraged for the night time Freakin' Fiesta!
What's the refund policy?
There are no refund but ticket can be transfered. Contact organizer
Do I have to bring my printed ticket to the event?
Yes, please bring your ticket
Is my registration fee or ticket transferrable?
YES, please contact organzier
Is it ok if the name on my ticket or registration doesn't match the person who attends?
Yes, as long as you are with them