Leadership Columbia Alumni Association 15th Annual Leadership Summit Luncheon, presented by TD Bank

Thursday, June 14, 2012 from 12:00 PM to 1:30 PM (EDT)
Event Details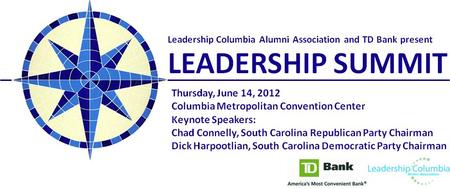 Leadership Columbia Alumni Association
15th Annual Leadership Summit Luncheon
Thursday, June 14, 2012 | Noon 
Columbia Metropolitan Convention Center
Keynote Speakers: Chad Connelly and Sen. Vincent Sheheen
LCAA is pleased to announce the 15th Annual Leadership Summit featuring South Carolina Republican Party Chairman Chad Connelly and Senator Vincent Sheheen (D). The purpose of the annual summit is to provide leadership perspectives to the community's business and civic leaders on relevant and timely topics. The Summit will also include the passing of the glove ceremony to the 2012-2013 LCAA Board of Directors. You won't want to miss this exciting event with more than 200 LC graduates and local business leaders!

The Summit is complimentary for LCAA members and for the LC Class of 2012 and $30 for guests or non-members. Information: Call Katherine Swartz at 733.1123 or kswartz@columbiachamber.com. 
---
The 15th Annual LCAA Leadership Summit is presented by: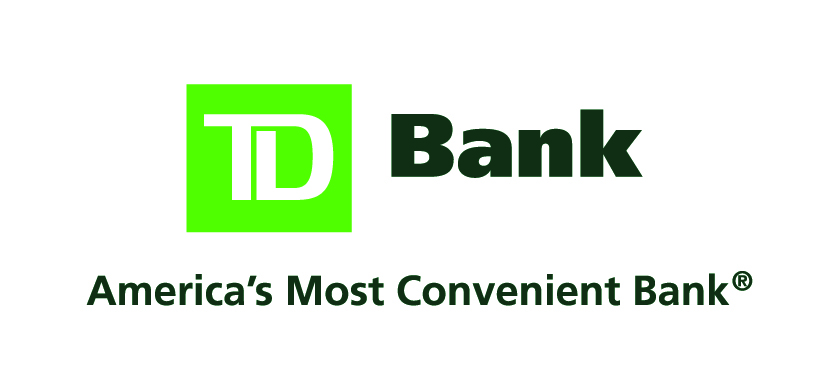 ---
Leadership Summit Sponsors
GOLD
SILVER
PATRON
Nelson Mullins Riley and Scarborough LLP
REAC Realty and The Knight Company
Deonca Shields
---
Keynote Speaker Biographies 
Chad Connelly, South Carolina Republican Party Chairman

Chad Connelly was elected Chairman of the South Carolina Republican Party on May 7, 2011. He has served the GOP for more than 20 years at all levels, including most recently as chairman of the Newberry County Republican Party and as a 2004 delegate to the Republican National Convention.Connelly began his career as an engineer in South Carolina and Augusta, Georgia. He later started his own small business, and over the next 12 years helped entrepreneurs begin and grow their own small businesses, which led him into a career in motivational speaking, coaching and consulting.

He is the author of Freedom Tide, a book dedicated to inspiring Americans about our country's heritage. With more than 45,000 copies sold, Connelly's book has led him to speak to thousands of people in the United States and abroad.

Connelly is the founder and president of the Foundation for American Restoration. He is passionate about school choice, and serves on the board of the school choice and limited government advocacy group South Carolinians for Responsible Government as well as on the boards of the Palmetto Family Council and the South Carolina Citizens for Life.

During his first year as SCGOP chairman, more than 600,000 Republicans turned out to cast their ballots in the largest GOP Presidential Primary in South Carolina history. Under his leadership the state party hosted three nationally televised presidential debates, the most ever for the state, including the first broadcast network debate ever held in South Carolina.

He is a constant presence at county GOP meetings, lunches, and other conservative gatherings across the state, and is a regular commentator on Fox News, MSNBC, CNN, CNBC, and NPR.

Connelly is a graduate of Clemson University, where he earned a degree in Civil Engineering in 1985. While at Clemson he was a member of the Tiger Brotherhood, Blue Key, Alpha Tau Omega and the Army ROTC. A veteran of the S.C. Army National Guard, he was commissioned second lieutenant and served from 1985 until 1991.

Connelly is actively involved in his community, where he has served as chairman of the board for Newberry Academy and as a deacon, Sunday School teacher, and chairman of the church council at Newberry First Baptist Church. He coaches his youngest son's baseball team in the Dixie Minors league in his hometown of Prosperity, where he lives with his wife Dana and their children C.J., Leigha, Bennett and Summer.

Senator Vincent A. Sheheen




Vincent Sheheen grew up in Kershaw County and graduated from Camden High School.  He is married to Amy Renee Sheheen, and they have three sons, twins Austin and Joseph, and youngest son Anthony.  All three go to Kershaw County public schools.

Vincent was the South Carolina Democratic nominee for governor in 2010 winning outright a three way contested primary.  He narrowly lost one of the closest general elections in the country.  He continues to serve in the South Carolina state senate.

Vincent has pushed to overhaul our tax and budgeting systems.  He was the lead sponsor of a bill to setup the office of Inspector General to root out waste, fraud, and corruption.  He has won the respect of colleagues on both sides of the aisle for his innovative ideas for streamlining state government and making it more accountable.  


South Carolina State Senator - District 27

Elected February 10, 2004

Serves on Committees:

- Judiciary

- Agriculture

- Transportation

- Fish, Game and Forestry  

Former Member of the South Carolina House of Representatives- District 52 

Elected Nov. 2000- February 10, 2004

- Served on Judiciary Committee, 2nd vice chair


PRESENT EMPLOYMENT

Savage, Royall and Sheheen, L.L.P.  

Practice areas

- Civil Litigation

- Employment Law

- Social Security

- Workers Compensation

 

PRIOR EXPERIENCE

- Adjunct Instructor with University of South Carolina School of Law

- Legal Writing Instructor 1998-2002

- Prosecutor for the City of Camden; 2000.

- Office of the Honorable Joseph F. Anderson, Jr.

- U.S. District Court, District of South Carolina, Judicial Law Clerk, 1996-1998

 

EDUCATION   

- University of South Carolina School of Law

- Juris Doctor, Magna Cum Laude, May 1996 

- Graduated second out of 258

- Clemson University, Bachelor of Arts in Political Science, May 1993 - Matt Locke Political Science Faculty Award

 



Organizer
The mission of Leadership Columbia Alumni Association is to develop leaders in the Columbia area by providing training, networking and community service opportunities for graduates of Leadership Columbia and other recognizable leadership programs. Founded in 1973, Leadership Columbia graduates include more than 1,600 Columbians. LCAA is an affilitate organization of the Greater Columbia Chamber of Commerce.