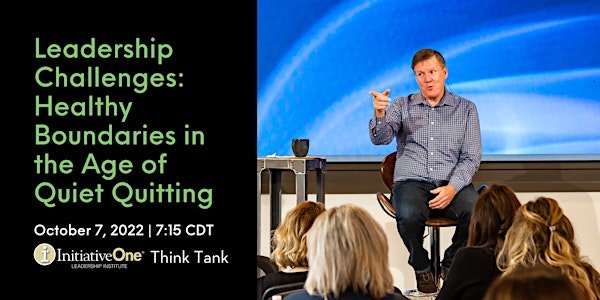 Leadership Challenges: Healthy Boundaries in the Age of Quiet Quitting
Leadership Challenges: Healthy Boundaries in the Age of Quiet Quitting | iOne Think Tank
When and where
Location
InitiativeOne 110 S. Adams Street Green Bay, WI 54301
About this event
If you Google "Quiet Quitting," you get 334,000,000 results. Quiet quitting has come to mean a number of things to everyone. It's resignation. It's the opposite of engagement. One thing is for sure if you're serious about hiring, developing, and retaining top talent, you cannot dismiss it as nonsense.
When is quiet quitting evidence of a toxic culture? When is quiet quitting a cry for help?
When is quiet quitting an opportunity to put issues on the table?
Proactive leaders understand that all of the buzz about quiet quitting is an opportunity to check in with your team. Be prepared for an open and honest conversation. Leaders get comfortable with being uncomfortable. Quiet quitting could be information that will help you examine your culture and the people on your team.
At the same time, we can learn from the cultures that don't experience quiet quitting. Many teams are stretched yet energized to take on the day's challenges. It is possible to live an integrated life of joy.
Join us at our next Think Tank as we talk about setting healthy boundaries and leaning into the discomfort of quiet quitting!
This is a gift to the community - There is no charge to attend. 
Friday October 7, 2022
7:15am-7:45am Networking & Coffee
7:45am-8:30am Presentation & Discussion
This event is IN PERSON and ONLINE
Click the following link to join the iOne Think Tank:
VIMEO LINK TO BE ASSIGNED
Our discussion will begin promptly at 7:45am central time and we hope you can join us!