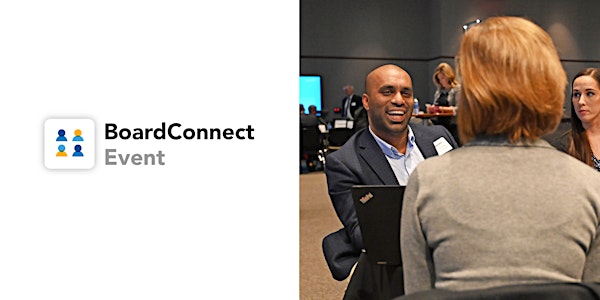 Leadership Center-Cincinnati Cares BoardConnect for Nonprofits
Virtually meet potential board candidates to determine if they are a good match for your nonprofit's board
About this event
Ready to take action on your commitment to diversity, inclusion and equity? Use Cincinnati Cares' BoardConnect virtual event to meet candidates you otherwise never would be able to find. Meet potential board or committee candidates, including members of Leadership Council's BOLD cohorts, to determine if they are a good match for your organization. We know that finding the right candidates for your board can be a challenging task. This speed-dating style board match event, powered by Cincinnati Cares' BoardConnect technology, can help you find the types of board candidates you need for your organization in a fun and effective way.
The Cincinnati Cares Board Match event gives your nonprofit the unique opportunity to connect one-on-one with leaders in our community seeking board positions to see if they are the right fit for your organization. Each nonprofit participating will be given a list of candidates attending who are the best fits for their organization. Likewise, each candidate attending is given a list of organizations that are their best fits. The 75 minutes of matching will be divided into 5, 15-minute sessions for candidates and nonprofits to talk to their best matches.
The Boards Fee is based on your organization's annual budget and covers 3 members of your organization to participate in the online event. There is no charge to use our BoardConnect platform.
If your organization has not created a BoardConnect profile or positions on the Cincinnati Cares site, you will need to go to this to fill it out. The board profile that you will fill out will be used to power the best matches. Your board profile needs to be created at least 2 weeks before the event so we can make your matches.
Event Agenda:
Welcome and overview of how the event will go
Speed-dating style board matching meeting rooms
Event wrap-up instructions
Link to register as a candidate, click here.