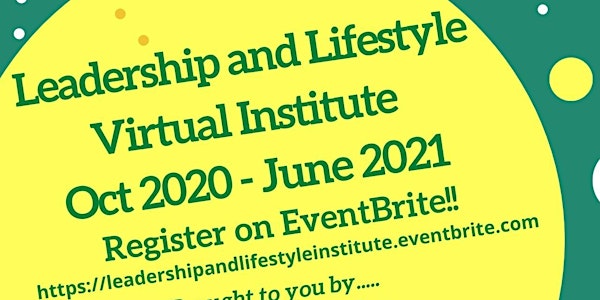 Leadership and Lifestyle VIRTUAL Institute
online webinars with leadership and lifestyle enhancement topics
About this event
Welcome to the 2020-2021 Leadership and Lifestyle Institute!
The nurses of Chi Eta Phi Sorority, Inc. invite you to our first institute open to members and non-members (nurses and nursing students).
Please register to be added to the list-serve. As each event below approaches, we will send out specific details and access info.
We look forward to your participation in our online workshops!
Upcoming Events!!
JUNE 2021
June 29, 2021 7:30PM - 8:30PM
Writing workshop speakers:
Dr. Jamesetta Halley-Boyce, PhD, RN, FACHE
Dr. Lois Greene
Objectives
To increase the participants level of comfort with submitting written material for publication.
To increase the participants awareness in identifying potential sources to submit a manuscript for professional and or community publications.
To encourage the participant to identify a topic of interest or one in which he or she is proficient to begin the process of writing and submitting a manuscript for publication.
Past Events:
APRIL 2021
April 29, 2021 7:00PM - 8:30PM
"Innovative Nurses in Business"
Dr. Kamila Barnes and Nancy Pierre
Topics: Nurses in Business
FEBRUARY 2021
February 24, 2021 7:00PM - 8:00PM
Financial Workshop Facilitator: Chiffon Abney, Financial Advisor
"Where is your money taking you?"
Topics:
Will, Life planning, and Retirement
Building Intergenerational wealth
How to invest
Budgeting finances
Financial literacy
DECEMBER 2020
December 22 6:00PM - 8:00PM
Virtual workshop for nursing students and recent grads (within 1 year)
Student nurse workshop facilitator(s): Dr. Kamila Barnes, Dr. Akia Blandon, Dr. Layla Qaabidh, Ms. Brenee Williams, Ms. Denise Lawrence, Ms. Patricia Armand
Topics: Interview preparedness, CV or resume tips, landing your first job, and many more topics
OCTOBER 2020
October 29 7:00PM - 8:00PM (Continuing Education - 1.0 Contact Hour)
Leadership workshop facilitator: Dr. Akia Blandon, DNP, APRN, AGPCNP-C
Topics:
Transitioning into Leadership roles
Leaders vs Managers
Leadership models in other industries
Motivating and Restraining factors
At the end of the presentation participants will:
–Define servant leadership
–Describe 10 characteristics of Servant leadership
–Understand Diversity
–Understand balance in leadership
–Provide application of Servant Leadership at all levels of their professional lives.
Planning Committee:
Dr. Kamila Barnes, DNP, RN, FNP-C (President, Theta Chi Chapter, Inc.) https://www.thetachi1965.org/
Dr. Akia Blandon, DNP, APRN, AGPCNP-C (President, Tau Chi Chapter, Inc.) https://tauchi.nursingnetwork.com/
Dr. Layla Qaabidh, PhD, RN (President, Omicron Chi Chi Chapter)