Location
DoubleTree Resort by Hilton Hotel Lancaster
2400 Willow Street Pike
Lancaster, PA 17602
Refund policy
Contact the organizer to request a refund.
Eventbrite's fee is nonrefundable.
Leadership Advantage: The Advantage to Lead
About this event
Join Leadership Lancaster on Wednesday, June 15 for the 19th annual Leadership Advantage Conference.
We look forward to seeing you back in-person once again!
Customize your training by selecting 4 impactful sessions facilitated by subject matter experts on a wide range of topics that support the work of community leaders and volunteers.
New this year: stay for lunch and join an interactive panel discussion on Equitable Community Leadership, facilitated by CAP's Vanessa Philbert, following the morning's sessions.
See the lineup of sessions and speakers below, and get your tickets today for your advantage to lead.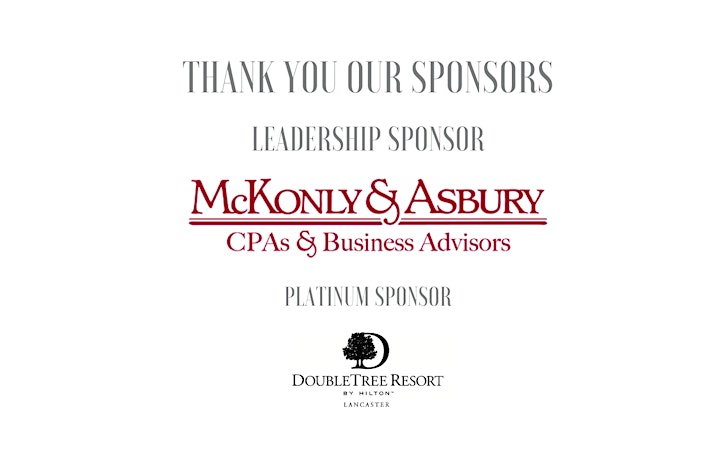 Event Schedule
7:00a - 7:30a Arrival and Continental Breakfast
7:30a - 8:30a Session 1
8:45a - 9:45a Session 2
10:00a - 11:00a Session 3
11:15a - 12:15p Session 4
12:15p - 12:45p Lunch
12:45p - 2:15p Equitable Community Leadership Panel, Facilitated by Vanessa Philbert
Following registration you will receive a link to select your personalized session schedule for Leadership Advantage. Below are our sessions.
Leadership Transitions and Succession
Tim Heist, The North Group
Leadership transition is one of the most important, if not the most important, seasons in an organization. You may be determined to remain in your role long-term, but at some point change is impending for all of us. This season appears differently whether you are retiring as the founder, stepping in as the newest team member, preparing for a new role internally, or setting someone else up for success as they enter a new position. If you find yourself nearing transition, or even if it seems a long way off, there a few questions to consider. How do you prepare yourself for upcoming transition? How do you develop others effectively and create a plan for succession? At what point do you begin planning for change? Join Leadership Lancaster as we breakdown the priorities of successful leadership transition and prepare for the imminent succession of each of our roles.
A New Approach to Workplace Communication: Building A Structure that Grows Conflict
Chris Wenden, Advoz: Conflict and Mediation Services
Organizations know the danger of building environments where artificial harmony exists, while conflict and issues grow beneath the surface. It is time to learn practices that create space for authentic conversations, healing, and community. This session will help you leave with tools to grow your individual and team communication to no longer avoid conflict but embrace it for a stronger team and healthier workplace.
Cybersecurity: What the Nonprofit Executive Needs to Know
David Hammarberg & Jim Shellenberger, McKonly & Asbury
In this session, we will cover an introduction to cybersecurity and define key cybersecurity terms and concepts. We will provide an overview of the most common attacks and the basic steps that nonprofit organizations can take to reduce their cybersecurity risk.
Empathy & the Enneagram
Sandra Orndorff, ENNVISION
Through understanding the layers of our enneagram types, we can work to create more empathetic workplaces. All levels of enneagram knowledge are welcome to join for this high-level course which will review not only the nine enneagrams types and how we react under stress, our communication styles, and time orientation but how we can use that information to be truly empathetic and supportive of one another.
Social Media Advertising - What You Need to Know
Kris Bradley, NameSpark
Social Media Advertising can be intimidating and your nonprofit may lack the internal resources to get up to speed on the best practices and strategies that are needed to successfully advertise your nonprofit on social media. Join Kris Bradley as he demystifies the use of social media ad campaigns and empowers nonprofits to leverage social media advertising to reach their target audience, increase impact, and bring in donations.
Calibrating Culture from the Inside
Vanessa Philbert, Community Action Partnership of Lancaster County
If we have learned anything over the past two years – healthy teams are resilient in times of trials and can lean into innovation to advance towards the future.
What are the attributes of a healthy team? How can we leaders cultivate and recalibrate teams to meet the moment? Employees and employers alike are looking more closely at company culture. They are evaluating an organization's health, impact, empathy, growth, and collective joy. In short, "is this company built to thrive?"
Join Vanessa Philbert for this inspiring and insightful session which will create space to calibrate your company culture, and ensure it is built to thrive.
Finance 101 for Nonprofits
Jim Shellenberger & Jackie Winchell, McKonly & Asbury
Nonprofits need up-to-date financial information to make informed decisions. Attend this session to increase your financial literacy by reducing the mystery of nonprofit budgets, financial reports, and audits. We will also discuss other trends/insights currently affecting nonprofits.
Effective Grant Writing & Beyond
Katie Schock, KConsulting Services
Over the course of this session, attendees will learn some effective grant writing concepts and technical-writing skills that will lead to a more successful grant proposal.
Attendees will take part in hands-on exercises in the development of their organizational goals, objectives and measurable outcomes to include; refining their community need, analyzing program specific goals/objectives and determining appropriate measurable tools.
Envisioning the Future of the Workplace
Jaime Arroyo, Community Action Partnership and Melisa Baez, Elume
We are experiencing a historic and fundamental shift in the workplace. As we all reflect on the enduring legacy of the pandemic, employers and employees are beginning to question the 40-hour work week, in-person expectations, dress code, and more. Learn about the origins of these practices and consider how your organization can benefit from changes in practice.
Trauma-Informed Leadership
Angela Keen, Community Action Partnership and Bill Zee, Appel, Yost & Zee, LLP
Burnout, collective trauma, the great resignation. As we move back to "normal," leaders are continuing to face residual pandemic challenges. Trauma informed care can provide powerful tools and strategies to support their teams and clients. Join this session to learn about the basics of trauma informed care and the benefits of implementing them in the workplace
Language Justice: The Path to Equitable Communities
Amer Al Fayadh, Communication Essentials LLC
Language Justice necessitate a long-term commitment from us as a community. Language Justice advocate for establishing all-encompassing spaces where all humans are regarded equally, and people of all cultural backgrounds and languages can fully participate in shaping the future of the community. Language justice is a civil rights matter. It is allowing for meaningful access to community resources. It is a path to building a vibrant society by honoring the language and culture of all. Join us on June 15th and let us build welcoming spaces together!
Does Your Organization Need a Capital Campaign?
Dani Beam, Beam Consulting
Join Dani Beam of Beam Consulting as she shares information on the many ways a capital campaign can positively transform an organization, as well as the pitfalls to avoid before beginning on. You'll come away from the session with clarity on what is expected of board members during a campaign process and three surefire ways to make sure your next campaign is a success.
Creating a Culture of Self-Care
Anna Kennedy, Touchstone Foundation
What do I need to consider about my work from home policies? Should we have self-care days? How can I advocate for a culture of self-care in my workplace? If you have any these questions, be sure to join Anna Kennedy as she describes strategies organizations may consider as they build a culture of self-care.
Impactful Collaboration
Willonda McCloud, Bright Side Opportunities Center and Karen Schloer, Boys and Girls Club of Lancaster
How can we use community partnerships to better meet the needs of our community? Learn about the creation of the thoughtful collaboration of Bright Side Opportunities Center the Boys and Girls Club of Lancaster and the Lancaster County STEM Alliance and consider how to maximize the impact of your own collaborations.
Why Brand Strategy Matters
Dana Robertson, Pennant Creative
Description: We've all heard about the concept of brand – all of our organizations have one and it helps to unify the visual presence, and maybe more, so that you're easily known in the community. But what if your brand could do even more for your organization? Dana presents on the power of a good brand strategy. We'll talk about the main components of a values-based brand strategy, the secret sauce of strong brand strategy, and some things you can do today to unleash a well-defined brand strategy and increase your presence and impact for your key stakeholders. Dana Robertson
Cultivating Connection: Rethinking Events & Marketing
Tony Gorick, Decades Lancaster
Reengage your audience and reimagine your events with Tony Gorick! As all our schedules begin to pick back up with in-person events, learn to break through the noise and capture the attention of your audience to increase attention and impact. Bridge the in-person event with digital marketing attributes to create experiences your attendees can share, promote, and celebrate.
Community Panel: Equitable Community Leadership
Facilitated by Vanessa Philbert
Join us for a panel about developing equitable community leadership facilitated by Vanessa Philbert with Amer Al Fayadh (Communication Essentials LLC), Brian Nguyen (Community Action Partnership and LGBTQ+ Coalition), and Karen Rice (Millersville University).