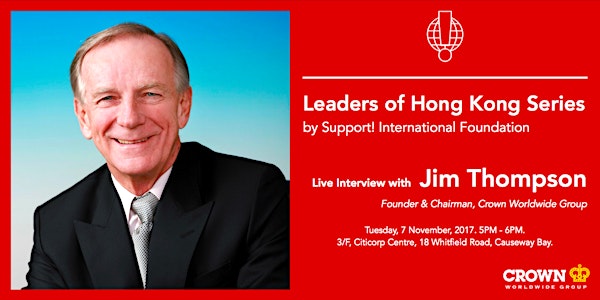 Leaders of Hong Kong Series: Jim Thompson, Chairman of Crown Worldwide Grou...
Description
Meet the self-made billionaire at the helm of the largest privately-held logistics provider in the world!

Jim Thompson is the Founder & Chairman of Crown Worldwide Group. Employing over 5200 global staff, Jim has been leading the company since its humble founding in 1965, with a mere $1000 in startup capital. With over 265 locations in 60 countries around the world, Crown is an industry leader in the fields of logistics, international relocation, warehousing, and document management.

In addtion, Jim is heavily involved in the community of Hong Kong. He is currently the Chairman of the Hong Kong Management Association. He is also serves on the board and committees of numerous organisations including the Hong Kong Trade & Industry Advisory Board, ICAC Advisory Committee on Corruption, HK-US Business Council and much more. Jim and his wife are dedicated philanthropists—building schools and libraries for children in Cambodia.

Jim has been awarded an honorary doctorate in business administration from the Hong Kong University of Science & Technology (HKUST); and for his unique and strong contribution to Hong Kong, he was awarded the Golden Bauhinia Star in 2003.
Organizer of Leaders of Hong Kong Series: Jim Thompson, Chairman of Crown Worldwide Group
Support International Foundation is a youth-led non-profit organisation that teaches low-income communities a wide variety of skills with English as the main language of instruction. 

Based on the principle of giving back to the community, Support International Foundation was founded by Joseph Wan, and has grown to 6 partner schools in Hong Kong and 8 programs, with more on the way. Support International Foundation has not stopped growing, developing and expanding their reach. Support!Int'l has branches in South Korea, Washington DC. and Hangzhou.

The organisation is guided by three pillars of our mission: Youth Leadership, Mutual Learning and Helping Low-income Communities. It is our firm belief that when we have young people in every role up the ladder, our goals are boundless. These three pillars work in unison to, not only guide us, but allow us to better the community.

Dedicated to the holistic development of an individual, Support International Foundation targets communities-in-need.

www.supportintlfoundation.org