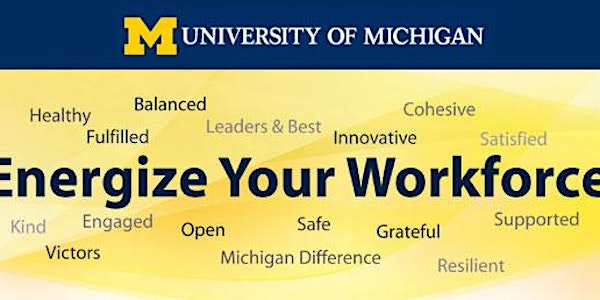 Leaders Creating a Culture of Connection Sampler Workshop
MHealthy is offering a Leaders Creating a Culture of Connection Sampler Workshop
About this event
University of Michigan and Michigan Medicine leaders, influencers and well-being enthusiasts are invited to attend this sampler workshop. During this interactive session, MHealthy will provide sample activities that can later be facilitated free of charge for intact teams who wish to create cultures of connection, health, and well-being. If your team needs more help creating a healthy culture where all eight dimensions of wellness (physical, mental/emotional, environmental, financial, occupational, social, intellectual, and spiritual) can thrive or if social connection in a remote/hybrid environment has been challenging, then this workshop is a great fit for you and your team.
Sample material, activities and discussion during the workshop include:
• Identification of best practices relating to the eight dimensions of well-being.
• Appreciative inquiry into pre-pandemic well-being activities and challenges associated with their current implementation.
• Introduction to tools, activities, and resources that promote social connection in the workplace, and their impact on overall well-being.
• Introduction and discussion around the intersection of wellness and DEI.
• Conversations regarding workplace culture and each team members' important role in creating healthy workplace cultures.
• Instruction on how to shape healthy behavior in organizations and what your role and responsibility is in shaping healthy behaviors.