LeaderLike You! Masterclass, 28-29 March 2020, Chamonix, France

Saturday, March 28, 2020 at 8:00 AM

-

Sunday, March 29, 2020 at 6:00 PM (CET)
Event Details
LeaderLike You! 2-Day Masterclass
€1600 per person FULL PACKAGE
REFINE your leadership skills now - for the rest of your life and become the leader you always wanted to be. A once in a life-time chance to experience this unique, two-day MASTERCLASS with the creator of the LLY concept! Join Robert Kahn - international, executive coach and consultant for this incredible two-day leadership, communication and presentation skills event in Chamonix, and shift your leadership skills into next gear. Daily interactive workshops AND personal 1:1 coaching sesssions to resolve any challenging communication dilemmas and guide you into your ultimate leadership potential.
LeaderLike You! WHAT'S IN IT FOR YOU?
Skills you will learn... Unlock and anchor your LeaderLike behaviors. 
Remove a potential layer of conflict in all relationships to get more of what you want, more of the time, with less hassle, less resistance and more buy in – in all areas of your life.
Discover current level of leadership and gaps to become an inspirational leader, creating a customized set of LeaderLike behaviors through POSITIVE inside-out & outside-in skills.
Master 7 Septagon Skills to know when and how to: lead, manage, coach, train, consult, mentor, and sponsor your team.
Master the 'IFIND a Solution' approach.
Manage less, lead more; do or delegate - learn to lead through others instead of doing it yourself.
Learn a 'leaderlike language' to sharpen communication skills, increase quality and acceptance
Promote yourself, projects and get noticed when and where it matters.
Master conscious responses – leave unconscious reactions behind & drive the team into next gear. 
Move from problem to possibility, making difficult conversations easier and more mutually beneficial.
Adopt 7 impactful questions to lead, impact and engage more.
Develop LeaderLike confidence and authority to make a real difference in your organization.
Maximize your impact and hold meaningful hard-hitting LeaderLike conversations with your leaders, team and peers using my method.

Agenda & Tariff
€1600 FULL PACKAGE
Includes two full days of intensive training with Robert Kahn
2 nights' accommodation, 2 x breakfast, 2 x lunch, 1 x dinner. Plus one follow up 1:1 coaching session

Arrive Thursday evening for check-in.
AGENDA
Day 1: Fri. March 28
Breakfast 8:00 9:00am
Session 1: 9:15-1:30pm. The Leaderlike Approach Structure content; make sense to everyone, all of the time!
Lunch 1:00 -2:30pm
Session 2: 2:45-6:00pm Being Leaderlike!
Session 3: 6:30pm
1:1s Also included: outdoor activity with your hosts.
Dinner 8:00pm
Day 2: Sat. March 29
Breakfast 8:00 9:00am
Session 4: 9:15-1:30pm Presentation Skills Masterclass : Introduction to the Agentic Communication Model by Robert Kahn.
Lunch 1:00 -2:30pm
Session 5: 2:45-6:00pm Robert coaches how to become 'SUCCESSFUL BY DESIGN'
Wrap Dinner with Robert Kahn and hosts. 8:00pm
Location / AccommodationAmore North is a beautiful newly renovated chalet in the heart of Chamonix offering the following options:
Apartment with a double room and two x bunk singles and one bathroom
Apartment with one double, one double/twin, with two bathrooms
Apartment with three doubles, with three bathrooms
Studio, with one bathroom
All accommodation has access to the garden deck, jacuzzi and sauna.
We can also provide a list of other local hotels. Please contact hello@leaderlikeyou.com for all reservations.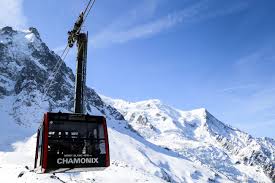 Have questions about LeaderLike You! Masterclass, 28-29 March 2020, Chamonix, France?
Contact Robbie Kahn
Save This Event
When & Where

Amore North

Chamonix, Mt Blanc
France


Saturday, March 28, 2020 at 8:00 AM

-

Sunday, March 29, 2020 at 6:00 PM (CET)
Add to my calendar
Organizer
Robert is the creator of 'LeaderLike You!', a communication and leadership concept consisting of numerous influential and pragmatic models and a business 'toolbox' designed to induce growth. His '7 Skills Septagon' illustrates the many facets of being a Leader at any level. Robert encourages using his unique framework to upgrade business approach and behaviors and to guarantee success through design, not by chance!

The LLY toolbox includes 'The Agentic Communicator Wheel', a technique to assure conscious responses, as opposed to unconscious reactions. 'The JGRR Model' is a method which can be applied anywhere in life and which embodies the basis of 'Focus for Progression'.

The 'Mood Meter' highlights individual responsibility across all relations, whilst the Equation: 'I = Q x A' emphasizes how businesses can bring performance up to 100% every time!

Robert firmly believes that at the forefront of any organization, the communication skills of executives and their teams are pivotal to their success. As a communications and leadership Coach and Consultant he works across a variety of industries and international non-governmental organizations. His extensive experience and vision enable him to boost and reform business 'behaviors', giving them the tools to take their businesses to the next level.

He helps individuals and teams to:

• Positively influence customers, colleagues and subordinates to get the outcomes desired with everyone feeling valued and respected
• Present their ideas in a more compelling, confident manner
• Handle difficult or sensitive topics, (customer meetings, financial presentations, major speeches, team interactions) while reducing nervousness working on gestures and vocal methods and increasing overall effectiveness
• Develop leadership skills and leadership presence when negotiating with different cultures and personalities. This is a niche of coaching where people develop and maximize their executive presence; the art of positive influence; as well as the ability to communicate confidence and concern for others.