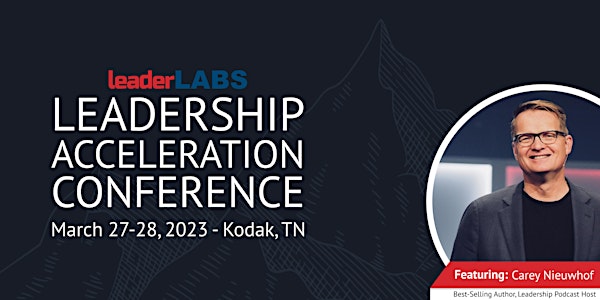 LeaderLabs: Leadership Acceleration Conference with Carey Nieuwhof
LeaderLabs' Annual Leadership Conference in Kodak, TN with Carey Nieuwhof, Dr. Tim Hill, Dr. Hugh Nelson, Joe Dobbins, and Dr. Fred Garmon
Date and time
March 27 · 7pm - March 28 · 5pm EDT
Location
New Hope Church 2450 Winfield Dunn Parkway Kodak, TN 37764
About this event
The leadership readiness curve is trending dangerously in the wrong direction — leaders are not ready to lead and you need to accelerate your leadership training.
Dr. Fred Garmon and the LeaderLabs team understands how much harder it is to lead well in this environment which is why he is now using his decades of diverse leadership experiences and education to host renown training events like LeaderLabs and the Leadership Acceleration Conference!
Since 2016, over 4,000 leaders like ministers, executive pastors, non-profit leaders, and students from across the globe have received and complete the intensive LeaderLabs training program thanks to Dr. Garmon's commitment to helping leaders like you adjust to the rapidly changing environment that you probably find yourself in today.
The Leadership Acceleration Conference will be a once-in-a-lifetime development opportunity because of the diverse and world-class thought leadership presenting this year in Tennessee. Including keynote speaker and best-selling author, Carey Nieuwhof, and some of the most talented and respected leaders in the Church of God like Dr. Tim Hill, Dr. Hugh Nelson, and Pastor Joe Dobbins.
Join us in March at the beautiful New Hope Church, Kodak, TN (formerly The Lee Greenwood Theatre)!
---------------------------------------------
This Year's Speakers
Carey Nieuwhof is a best-selling leadership author, speaker, podcaster, former attorney, and church planter. Carey speaks to leaders around the world about leadership, change, and personal growth. His podcast, The Carey Nieuwhof Leadership Podcast, has over 24 million downloads and features interviews with many of today's top leaders.
Dr. Tim Hill serves as General Overseer of the Church of God (Cleveland, TN) and the Presiding Bishop for over seven million members of the church in over 180 countries around the world.
Dr. Hugh Nelson pastors in Brooklyn, NY, where he is literally transforming his city for the greater! Dr. Nelson is on numerous boards and committees and has received countless awards and recognition for his work outside the four walls of the church. Be inspired by his vision.
Pastor Joe Dobbins along with his wife Kayla serve as the Lead Pastors of Twin Rivers Church in St. Louis, MO. Twin Rivers engages thousands of people each week through multiple campuses and is known for its commitment to serving the community through radical generosity. Pastor Joe has a sincere passion for strengthening churches and leaders. He has served many organizations, denominations, and thousands of pastors by expanding their leadership and ministry strategies.
---------------------------------------------
Group Rates
Group tickets of 5 or more can be purchased AT 10% OFF. Email info@leaderlabs.com for group ticket sales.
NOTE: Your receipt is your ticket. BRING YOUR RECEIPT WITH YOU TO THE CONFERENCE.
---------------------------------------------
Thank You to This Year's Sponsors!
Church of God: Division of Education
Church Health & Revitalization
Church of God: World Missions - 365 Challenge