About this Event
Walk through your professional journey with the confidence and the keys to creating truly long-lasting change that can ripple out to influence others to be authentic, people-focused leaders. Gain those crucial leadership elements from experiencing Leadercast Women 2020—Ripple Effect and take with you those gems of wisdom from our cast of six world-leading women. Here are the first three:
Abby Wambach — Women's Soccer Legend, Best-Selling Author and Founder, Wolfpack Endeavor — Her name is synonymous with U.S. women's soccer. She is a Women's World Cup champion and two-time gold medalist. She's the author of the bestsellers Forward: A Memoir and WOLFPACK and also has a leadership training program—Wolfpack Endeavor—that is revolutionizing women's development in the workplace.
Randi Zuckerberg — Founder and CEO of Zuckerberg Media and Former Director of Market Development at Facebook — The creator of Facebook Live, an Emmy-nominated tech media personality, entrepreneur, investor and best-selling author, Randi has leveraged technology to spread influence since the start of her career. She currently leads a production and marketing company that helps aspiring artists create and promote their work and hosts the weekly business ralk radio show Dot Complicated.
Radha Agrawal — Author, Entrepreneur, and Co-Founder and CEO of Daybreaker — A community force, Radha's early-morning dance and wellness movement hosts events in 25 cities and on the campus of more than a dozen colleges around the world, with nearly 500,000 attending. Her book, "Belong: Find Your People, Create Community, and Live a More Connected Life," contains her key methods for community building and the success of Daybreaker events.
*Three more world-leading women speakers to come.
Bring yourself, your team or your friends to Leadercast Women 2020—Ripple Effect and walk away with the newfound knowledge of how you can truly become the positively influential leader you've always wanted to be.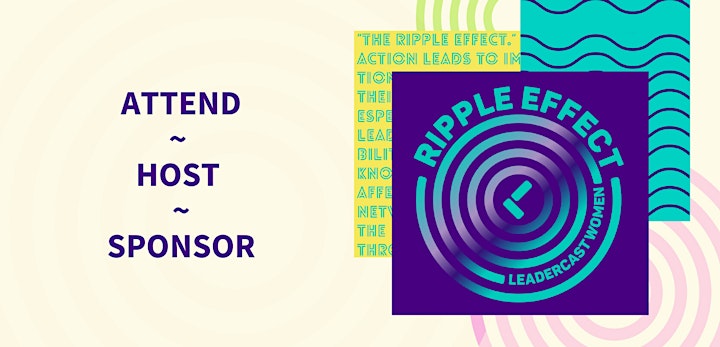 Wield your influence for the greater good. Be a part of something bigger and start your own ripple effect:
Attend Live in Atlanta, GA (by buying tickets on this page) — Walk away with renewed purpose and inspired confidence to grow your leadership impact.
Attend in Your Community — Connect with leaders in your area while learning from our all-women cast of leadership experts.
Host a Local Broadcast — Start your own reverberations of change by broadcasting this world-class production in your community.
Sponsor to Propel Your Brand — Empower your team while expanding awareness of your brand to decision-makers and team leads from industries all over.
Don't take it from us ...