Description
Leadercast Live is the largest one-day leadership event in the world. Broadcast live each year from Atlanta to hundreds of Host Sites around the world, Leadercast Live assembles globally respected leadership experts on one stage to share knowledge and insights from their leadership journeys.

Leadercast Live dives into leadership issues relevant to today's leaders to provide solutions and inspiration to help attendees around the globe be better leaders. By bringing together top leadership experts with worldly perspectives, Leadercast provides leaders everywhere with the knowledge and tools to be leaders worth following.
Take Courage

Courage is not the absence of fear; courage is acting in spite of fear. When we consider courage, firefighters, policemen, pilots and military personnel come to mind but courage isn't reserved for a select group of leaders. Opportunities to take courage rise every day in many forms, and it's up to us to seize those moments in our leadership.
At Leadercast Women 2019, attendees will be emboldened to take courage in their daily lives, whether it be in the workplace or at home. At this one-day leadership event, nine leading women will share their inspirational stories of courage while also teaching us steps to enable change in our lives.
Join us on Friday, October 18th, 2019 for this unique simulcast event. We're proud to bring this event to you locally with our location sponsor, Hagerstown Community College.
We are currently seeking sponsors - please contact kristin@worxgd.com if you'd like to become part of this local movement!
GROUP DISCOUNTS!
For groups of 5 or more, enter code TEAM5 to save $8/ticket
For groups of 10 or more, enter code TEAM10 to save $12/ticket
SCHEDULE
8:00-8:45am Registration | Breakfast
8:45-9:00am Welcome | Opening Remarks
Session 1: 9:00-10:30am
-Kate Delaney
-Kendra Scott
-Susan Packard | Moderated interview with Dana Barrett
10:30-11:00am Networking Break
Session 2: 11:00am-12:30pm
-Francesca Gino
-Glennon Doyle | Moderated interview with Dana Barrett
-Deshauna Barber
12:30-2:00pm Lunch | Networking Break
Session 3: 2:00-3:30pm
-Priya Parker | Moderated interview with Dana Barrett
-Laura Ling
-Luvvie Ajayi
*Breakfast and Lunch are included in your ticket price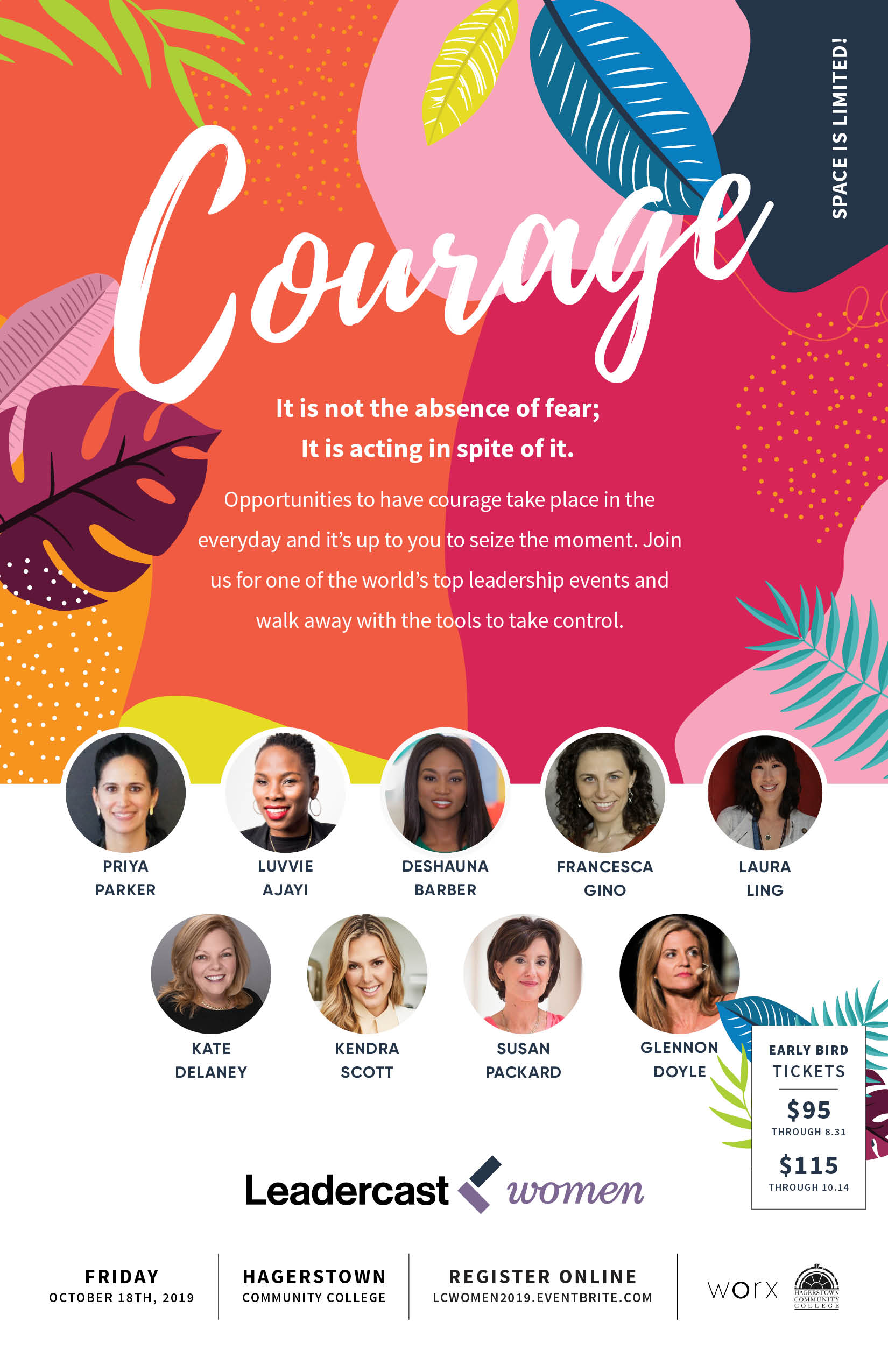 Why Attend?
Be empowered in your leadership. Our mission is to fill the world with leaders worth following. We're confident the lessons you'll learn at Leadercast Women will make you a better leader.
Learn how to take courage. Leadercast Women 2019 will show you how to take courage so you can be a bold leader in your career and in life.

Hear from world-renowned experts. Our all-female lineup of speakers will give you practical guidance on how to enhance your leadership, both for yourself and your team.
Add to your leadership toolbox. You'll hear a lot of wisdom from the female speakers who take our stage. Each of them will share actionable insights you can take with you back to your workplace.
Network with leaders just like you. You will be surrounded by leaders from all industries and backgrounds who are there for the same reason you are: to further themselves on their leadership journey.
Earn CEU credits. Attend Leadercast Women 2019 and you can receive continuing education credits in human resources (HRCI and SHRM), nursing (Alabama State Nurses Association) and general fields.
COMMUNITY GIVEBACK
Lasting Change is a private not-for-profit residential and outpatient community substance agency that provides a full range of chemical dependency services to women ages 18 and over. Programs assist individuals struggling with addiction problems to gain a better understanding of the illness and how to manage symptoms, thereby improving the quality of day to day living.
**BY ATTENDING LCW '19, YOU CAN HELP US GIVE BACK TO THOSE IN NEED*
Lasting Change will be accepting donations AT THE EVENT. Approved items include:
- Body lotion
- Body wash
- Deodorant
- Tampons and pads
- Shampoo and conditioner
- Non-perishable food items
- - -
FOLLOW OUR LEADERCAST WOMEN 2019 FACEBOOK EVENT PAGE FOR UPDATES AND EXTRA INFO!