Event Information
Location
Titans' Refuge
Building 970 (Across from Sultan's Inn)
Refund Policy
Contact the organizer to request a refund.
Description
To be the best leader of others, you first must learn to lead yourself well. Attend Leadercast Live to learn from world renowned experts about the qualities and characteristics of global leaders who exemplify what it means to lead yourself.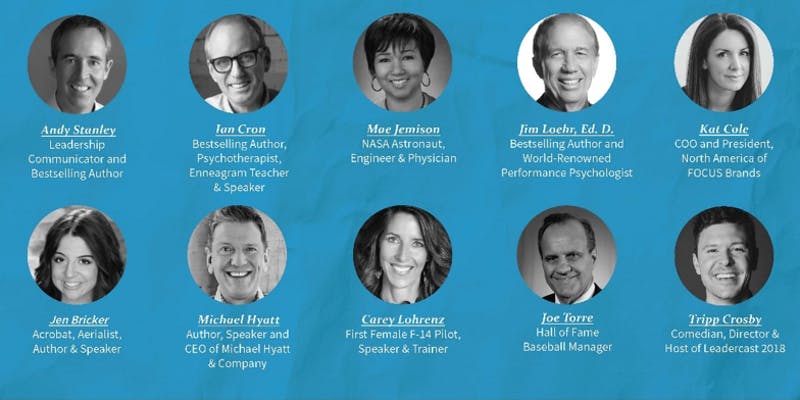 Promotional Video: https://www.youtube.com/watch?v=n_RwFyLMC_Q
SCHEDULE OF EVENTS:
* REGISTRATION: 8:15am - 8:55 am
* SESSION 1: 9:00am – 10:30am
Andy Stanley – Leadership Communicator and Best Selling Author: Why self-leadership matters and how it makes a huge impact on your team, organization & community
Jim Loehr – Bestselling Author and World-renowned Performance Psychologist: The importance of character as a leader – why the most successful achievers (who are also personally fulfilled) are tied together by good character
Carey Lohrenz – First Female F-14 Pilot, Speaker, and Trainer: Overcoming your fear, courage, & bravery in leadership
BREAK: 10:30am – 11:00am
* Snacks Provided
SESSION 2: 11:00am – 12:30pm
Kat Cole – COO and President, North America of FOCUS Brands: Be a leader of innovation & progress: How to iterate, adapt, & succeed faster
Michael Hyatt – Author, Speaker, and CEO of Michael Hyatt & Company: Self-care in leadership
Jen Bricker – Acrobat, Aerialist, Author, & Speaker: The power of perseverance & positive thinking as a leader
LUNCH: 12:30pm – 1:45pm
* Catered Buffet Lunch Provided for the first 50 to register
Session 3: 1:45pm – 3:30pm
Dr. Mae Jemison – NASA Astronaut, Engineer, & Physician: Breaking barriers; how to develop the qualities it takes to be a trailblazer
Ian Cron – Bestselling Author, Psychothreapist, Enneagram Teacher, and Speaker: Talking about the Enneagram, & how knowing yourself & your tendencies makes you a better leader for others
Joe Torre – Hall of Fame Baseball Manager: A conversation about how to transfer your self- leadership skills to leading others
Date and Time
Location
Titans' Refuge
Building 970 (Across from Sultan's Inn)
Refund Policy
Contact the organizer to request a refund.