Actions and Detail Panel
LEADERCAST Katy 2017
Fri, May 5, 2017, 8:00 AM – 3:00 PM CDT
Description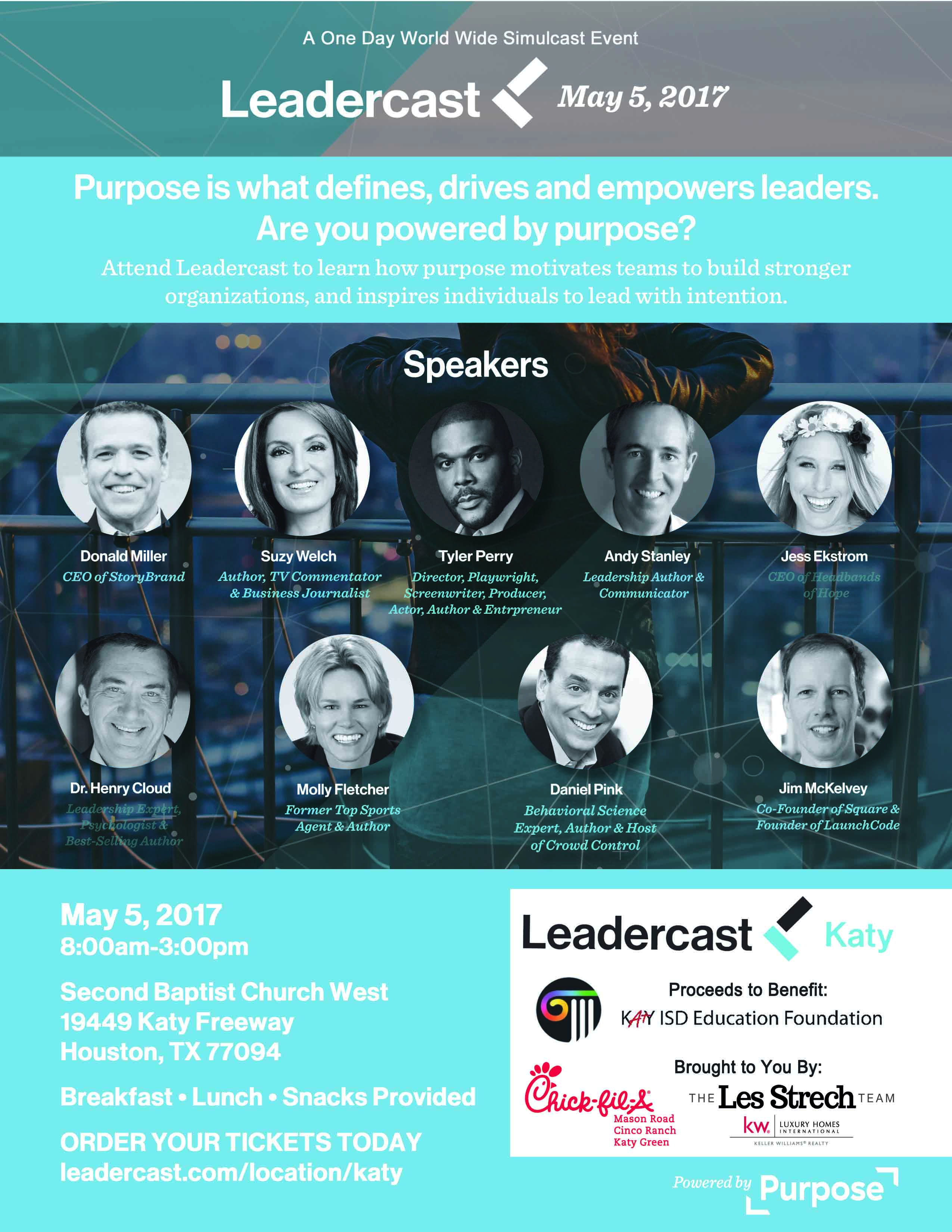 Join us in positively impacting the leadership landscape of the world…

The world is missing out. We could all be learning more. Living out our purpose. Leading and being led by people who inspire and enlighten us, give us strength and allow us to grow. Leadercast was built on a belief that the world needs better leaders— Leaders Worth Following.
We believe that leadership is not reserved for those people with a 'C' in their title. We need better leaders in our communities, businesses, organizations, and in homes across the world. Leadercast exists to serve individuals and organizations across all sectors who want to become intentional about raising their standard of leadership.
What We Do
Leadercast is constantly thriving to inspire and equip this community. We cut through the noise and bring realness to the leadership development space. We create innovative events and digital content for time-starved leaders & organizations that allow them to take immediate measurable actions that impact the lives of those they lead.
We're human before we're leaders. Every piece of content we produce is aimed at the human heart. Every single event element we toil over is meant to connect with the ache inside that longs for something greater. We're focused on developing the core of the leader first, believing that the principles that follow will take root, and a Leader Worth Following will be the end result.
Leader Worth Following = Values + Behaviors
We believe that leaders should think and behave differently. A Leader Worth Following embodies a foundation of core values. In addition, they actively demonstrate key leadership behaviors. It is this combination that produces actions that lead to longstanding results and relationships.
Leadercast exists to positively change the way the world thinks about leadership. With thousands attending, Atlanta is the central hub of Leadercast Live. The events happening on stage at the Gwinnett Center will be broadcast to hundreds of locations around the world.
Purpose is what defines us, drives us, and empowers us.
What does it mean to be powered by purpose? …to be part of a purpose-driven organization? …to work with a team of people who understand the meaning in addition to the metrics?
Purpose is the glue for an organization and the fuel for an individual. Today's organization can't rely on old practices. A new organization is emerging and at the center of its driving force is the igniting power of purpose.
• Companies with ideals of improving people's lives at the center of all they do outperform others by 400%
• More than 70% of people consider an organization's environmental and/or social impact when deciding where to work
• Employees that feel they are working towards a good cause show increased productivity by up to 30 percent
• People who are able to make a social or environmental impact on the job are more satisfied by a 2:1 ratio
In 2017, Leadercast will be exploring what can happen when teams and individuals are connected with purpose, creating a strong organizational culture with intentional leadership that inspires extraordinary results.
LEARN MORE event.leadercast.com/location/katy