Leadercast 2020—Ripple Effect digital leadership experience featuring six globally influential experts showing how to amplify leader impact.
About this event
Attend Leadercast — what Forbes calls a "leadership conference you don't want to miss."
Amplify your leadership impact with...
Get Group Tickets to Become Better Together!
Access the event from October 15 at 9:30 a.m. EDT until Monday, October 19 at 9 p.m. EST
Connect LIVE with fellow leaders worldwide on event day
Dive deeper with speaker Q&As and post-event backstage interviews
Keep progressing your skills with Leadercast NOW after the event
Enjoy exclusive contests, giveaways and more!
Have a group of 20 or more?
Learn about our more cost-effective option for attending as a larger group. You can easily host a virtual leadership streaming event that will excite and engage your leaders to become more successful. Learn More
About Leadercast 2020—Ripple Effect
The Ripple Effect... one tiny action leading to impactful reactions that reverberate throughout space and time. See Full Event Details
Attend Leadercast 2020—Ripple Effect to amplify your leadership impact:
Revitalize your leadership toolkit with U.S. soccer legend Abby Wambach and her takeaways for harnessing your power as a leader and understanding the strength of your team.
Evaluate and revise your current leadership practices using Emmy-nominated digital marketing guru Randi Zuckerberg's poignant ideas from her unique experiences in Silicon Valley.
Inspire, and be inspired, by entrepreneur Radha Agrawal's blueprint for cultivating and nurturing leaders.
Apply powerful concepts that will pave the way for breakthrough performances in your organization from Paralympian Bonnie St. John.
Master the "new normal" and any future business interruptions with the "next normal" mentality by Fast Company Editor-in-Chief Stephanie Mehta.
Spark innovation within your team by taking best-selling author Tiffany Dufu's actionable advice on how to clarify and prioritize what matters most.
Leadercast is trusted to develop the leaders of hundreds of companies and organizations around the world.
Why The Home Depot trusts Leadercast to develop its leaders: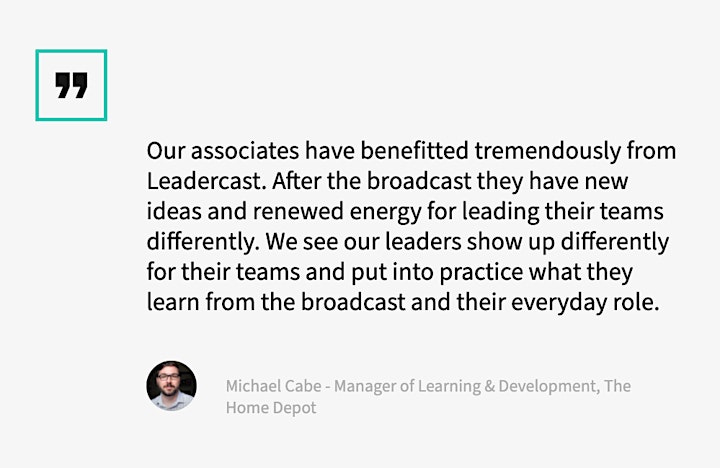 What is Leadercast and how has it developed 1M+ leaders worldwide?
Good question. Here is the answer: