Description
Leadercast Live is the largest one-day leadership event in the world. Broadcast live each year from Atlanta to hundreds of Host Sites around the world, Leadercast Live assembles globally respected leadership experts on one stage to share knowledge and insights from their leadership journeys.

Leadercast Live dives into leadership issues relevant to today's leaders to provide solutions and inspiration to help attendees around the globe be better leaders. By bringing together top leadership experts with worldly perspectives, Leadercast provides leaders everywhere with the knowledge and tools to be leaders worth following.
Leading Healthy Teams
What defines a team's success? Is it based solely on achievement, or is there more to the story? The best leaders know a successful team is made when focus, care, attention, and development is directed to its members. Healthy teams yield fulfilled employees, effective collaboration, high organizational engagement, and greater long-term success. In 2019, Leadercast Live will bring experts in organizational health to help attendees master the art and science of developing and leading healthy teams.

Join us on Friday, May 10th, 2019 for this unique simulcast event. We're proud to bring this event to you locally as a live simulcast with our location sponsor, HCC We are currently seeking sponsors - please contact laura@worxgd.com if you'd like to become part of this local movement!
GROUP DISCOUNTS!
For groups of 5 or more, enter code TEAM5 to save $8/ticket
For groups of 10 or more, enter code TEAM10 to save $12/ticket
SCHEDULE
8:00–8:45AM Registration, Breakfast, and Networking
8:45–9:00AM Welcome and Opening Remarks
9:00–10:30AM Session One
10:30–11:00AM Break
11:00–12:30PM Session Two
12:30–2:00PM Lunch and Interactive Area Open
2:00–3:30PM Session Three
3:30–4:30PM Closing and Networking
*Breakfast and Lunch are included in your ticket price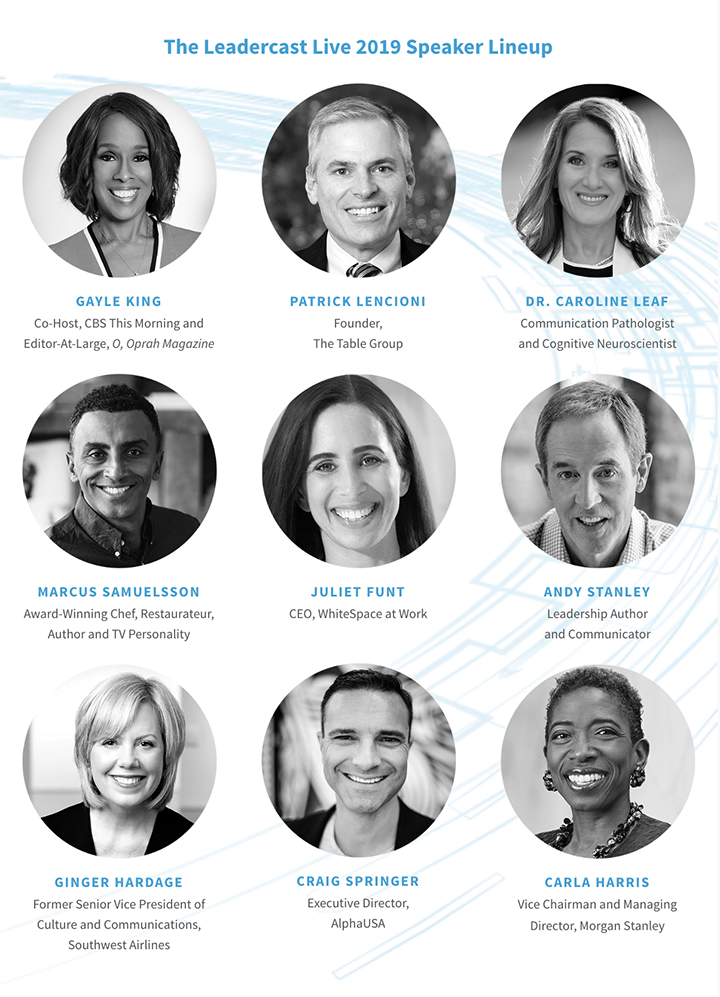 SPEAKER TOPICS
Andy Stanley: leadership in leading healthy teams. He will distill the broad theme down into three or four good points to kick off the event.
Ginger Hardage: unstoppable cultures and building a team culture that is not only irresistible to the employee but to the customers
Juliet Funt: Whitespace at Work - creating cultures of creativity
Patrick Lencioni: 5 Dysfunctions of a Team, and particularly making meetings matter. He is so masterful at this Leading Healthy Teams concept
Caroline Leaf: the effects of negativity in the workplace on the brain, and how to rid your organization of toxic negativity
Craig Springer: change management, specifically the fine art of making mistakes; poorly handled mistakes disproportionately bust culture, wisely handled mistakes disproportionately build culture. Teams will rise or fall on how a leader manages through mistakes.
Marcus Samuellson & Gayle King will be moderated Q&A about leadership in their environments, specifically about culture of healthy teams in which they thrive in.
Carla Harris: How does one take care of themselves when they're in a position to lead others? How will you know when you're fully be capable of being a leader unless you take time to take care of yourself, first? Why you act determines what you achieve.
Why Attend?
Be empowered in your leadership. Our mission is to fill the world with leaders worth following. We're confident the lessons you'll learn at Leadercast Live will make you a better leader.
Learn what it means to lead a healthy team. Leadercast Live 2019 will provide you with the tools and resources you need to lead your team effectively so you can work together to bring success to your organization.
Add to your leadership toolbox. You'll hear a lot of wisdom from the leaders who take our stage. Each of them will share actionable tools and insights you can take with you back to your workplace.
Hear from world-renowned experts. Our lineup of speakers will give you practical guidance on how to enhance your leadership, both for yourself and your team.
Network with leaders just like you. You will be surrounded by leaders from all industries and backgrounds who are there for the same reason you are: to further themselves on their leadership journey.
Earn CEU credits. Attend Leadercast Live 2019 and you can receive continuing education credits in human resources (HRCI and SHRM), nursing (Alabama State Nurses Association) and general fields.