Description
Experience 3 Days of Intensive Leadership Training! Attend onsite or online!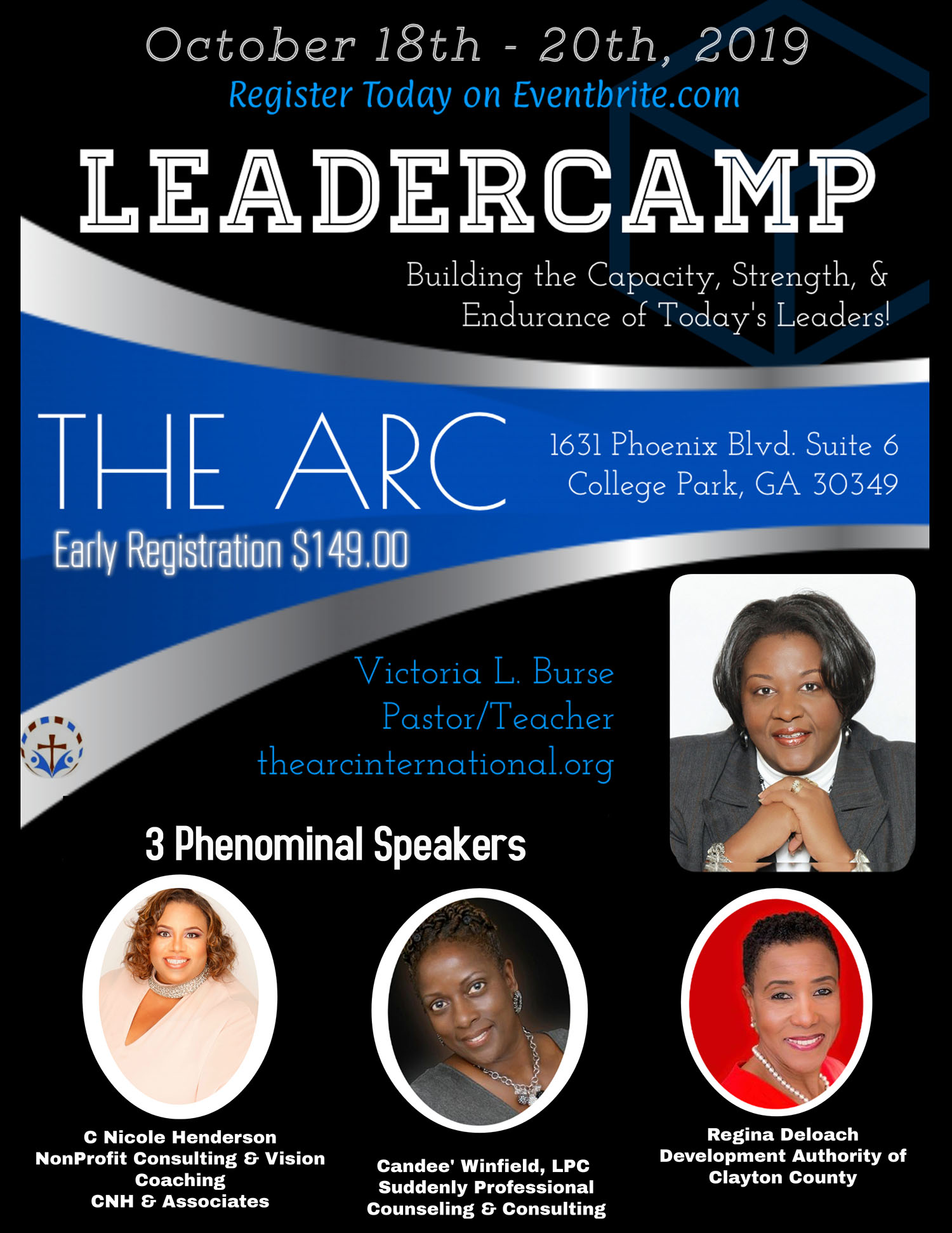 WHAT IS LEADERCAMP?
LEADERCAMP is a 3-day intensive cohort of our Leadership Certificate program at the ARC. Normally, this program spans 4 months and 32 Classroom hours.
WHAT IS THE COST OF THIS CERTIFICATION?
Normally, the cost is $250. However, you can attend LEADERCAMP for only $149 if you register before August 15th, 2019. After that, the cost will increase to $175.00.
WHAT ARE THE CLASS HOURS EACH DAY?
Friday, October 18th 7:30am – 4:00pm
Saturday, October 19th 7:30am – 4:00pm
Sunday, October 20th 3:00pm – 5:00pm (Graduation)
WHAT CAN I EXPECT EACH DAY?
Prepare to spend three intensive days in workshops and training design to build and strengthen your leadership muscles.
Day One: The Leadership Circle, is all about leadership teams, team-building, and the responsibilities of leadership to pour into others and help guide their development. Topics such as diversity within your teams, identifying collective strengths, and the necessity of relationship building will be covered. Core classes are The Power of Accountability and Leadership and Managing Communications
Day Two: The Leader in Me, is all about the leader as an individual. Topics such as Mission/Vision/Planning, Character and Integrity, and the importance of self-care and the mental and emotional health of a leader will be covered. Core classes are The Strategic Leader: Vision, Mission, Planning and The Character and Integrity of a Leader.


Day Three: Its Graduation Day. Invite your family and friends to join you from 3pm-5pm as you receive your Leadership Certificate!

WHAT DOES MY REGISTRATION FEE INCLUDE:
Your registration fee includes all Course Materials, Continental Breakfast, and Lunch on both Friday and Saturday.
Expect a variety of Instructors and Speakers including:
Pastor Victoria L. Burse. MA Leadership,
Executive Director – The ARC International
S. Candee' Winfield, LPC, NCC, DCC, EAS-C
Licensed Professional Counselor
Suddenly! Professional Counseling & Consulting, P.C.
Regina Deloach, Development Authority of Clayton County
Community Advocate for Change and Progress

C Nicole Henderson
Non-Profit Consulting and Vision Coaching
CNH & Associates