Lead with Your Strengths: Discover Your Talents and Put Them to Work!
Description
What's your greatest strength?
If you can't answer this question, you are not alone. In fact, more than half of Americans say they don't use their strengths every day and, as a result, more than 70% of the workforce is disengaged or actively disengaged in their work. (see "Half in U.S. Don't Use Their Strengths Throughout the Day," Gallup.com)
That means that HALF of educators and non-profit leaders -- mission-driven folks with a passion for change -- don't know what they do best!
As you read this, you can easily identify team members (or perhaps see this in yourself!) who drag through their work, watch the clock, and leave de-energized every day. Compare those individuals with folks who play to their strengths.
According to the research, people who use their strengths:
Are happier.
Are more confident.
Have higher levels of self-esteem.
Have higher levels of energy and vitality.
Experience less stress.
Are more resilient.
Are more likely to achieve their goals.
Perform better at work.
Are more engaged at work.
Are more effective at developing themselves and growing as individuals
As with the disengaged, you can easily identify those workers who are actively engaged, enthusiastic about their work and seem to genuinely enjoy what they do. Here's the secret: these individuals are playing to their strengths!
Strengths release energy and are the foundation of a successful career.
By understanding what you do very best, you can more intentionally put yourself in position to lead from a place of strength. According to a study of 80,000 leaders and managers conducted by Gallup, the best leaders and educators are those who understand their own strengths and the strengths of those they lead.
Playing to your strengths is a sure-fire foundation to a successful career.



Our strengths-based strategy has helped leaders at Rice University, YES Prep Public Schools, Teach for America, DiscoverU, and HACE, as well as more than 300 coaching clients, to tap into what they do best every day. We've designed this workshop to help you identify your strengths, building a more successful – and engaging – career.
In this workshop, you will:
Deep-dive into the concept of strengths.
Uncover your innate talents through experiential learning.
Clearly define 3-5 core strengths to center your leadership.
Develop a plan to immediately put your strengths to work.
Commit to action to lead with your strengths and help others do the same.


---
Three Ticket Levels:
You can attend "Lead with Your Strengths" at one of three ticket levels: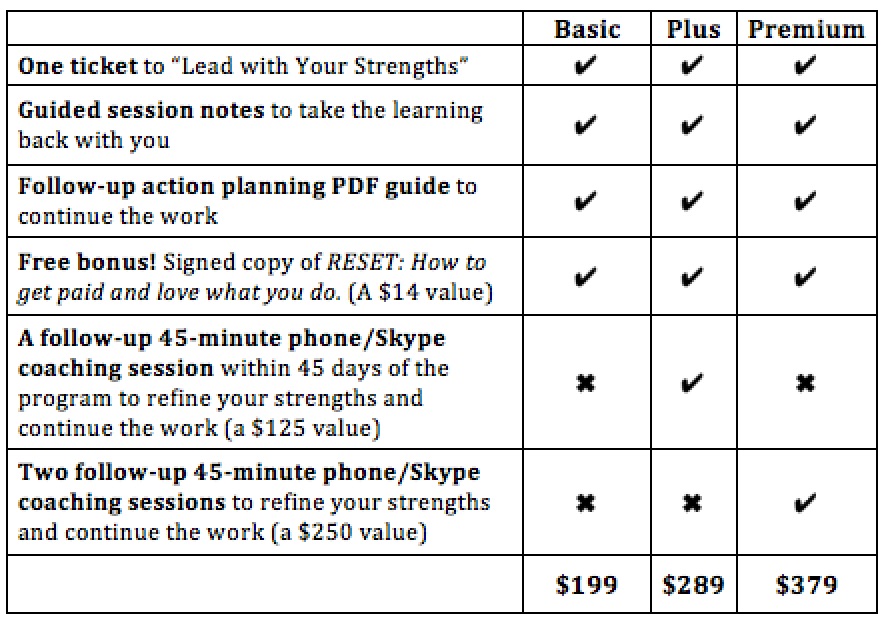 Special Team Discount!
Buy three or more tickets for your team and receive 10% off each ticket. (Code at checkout: TEAM). Note: the tickets must be ordered all at once in order to redeem the TEAM code. May be applied to any package.
---
What this session isn't:
This is not a StrengthsFinder 2.0 debrief. If you have those results, they may be helpful in giving you clues about what you do best and you should bring them to the session. However, we'll use guided reflection and experiential activities to discover your unique strengths. Strengthsfinder 2.0 is not a pre-requisite to discovering what you do best.
Session Capacity
In order to ensure a quality experience and ideal instructor-to-participant ratio, seating is limited. Don't wait!
Cancellation and Rescheduling Policy
Registration fees are non-refundable, however, you may transfer your registration to another person within or outside of your organization.
---
What past participants are saying: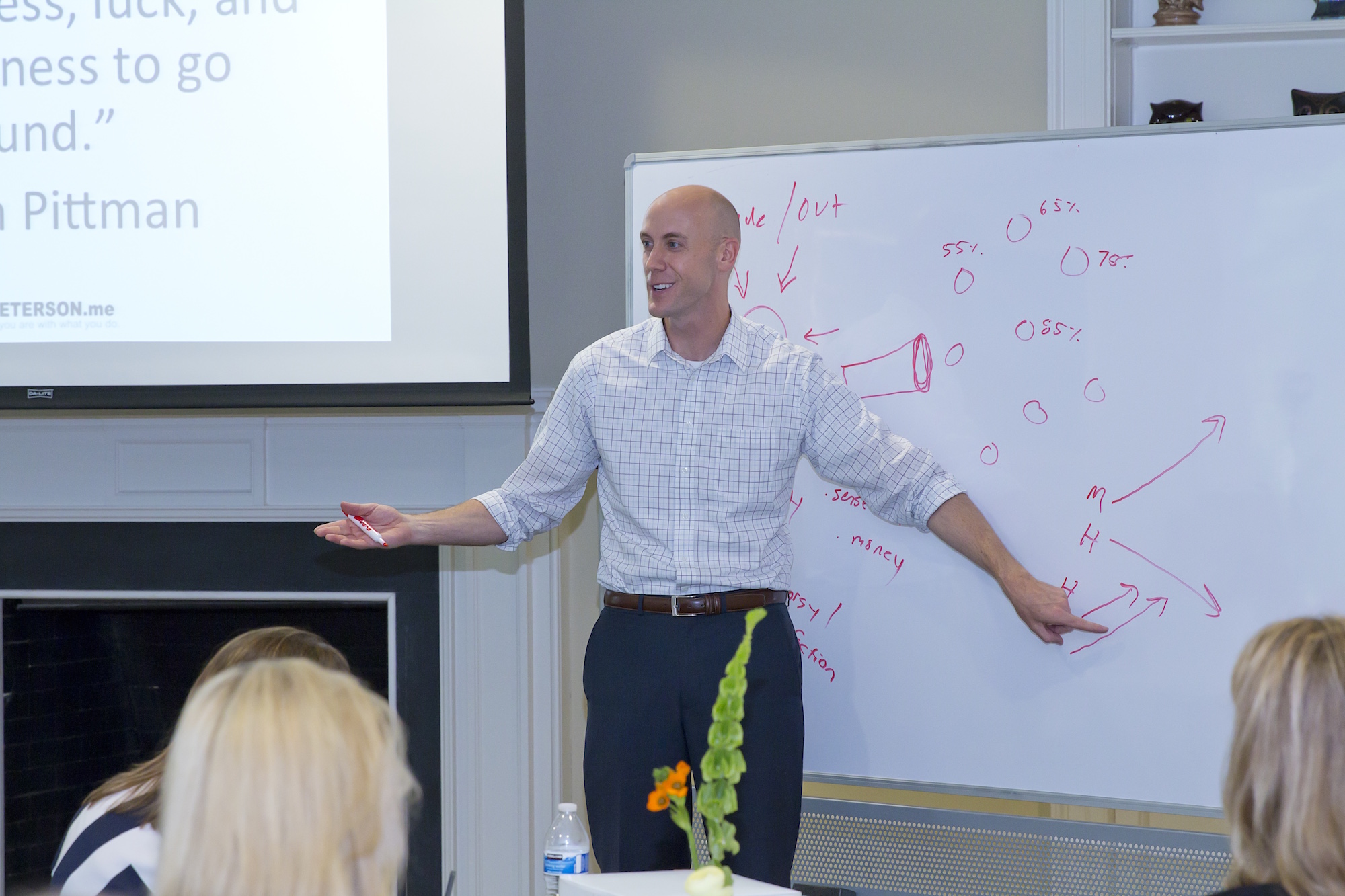 "At the start of my third year as a high school administrator, I felt burned out and was extremely unmotivated to continue in the same role. In my mind, I was 60% out the door and about to begin searching for a new job. It was during this time that I started being coached by Dustin. It only took one to two coaching sessions with Dustin for him to guide me toward the realization that I wasn't aligning the work with my strengths. I was spending a majority of my time working outside my strengths, which made the work feel dissatisfying and draining. We spent the next coaching sessions developing tangible strategies and techniques that I could use to frame my work around my strengths. The results I had after implementing those strategies were astounding. My staff satisfaction survey results went up 30-40% across all indicators, my end of year evaluation was the best I'd ever had, and most importantly, I was feeling great in my role. The number of hours I put in were the same, but the satisfaction I was getting out of them was higher than ever."
-Oscar Romano, Director of Student Support, YES Prep Brays Oaks
"The session was great! Connecting with other dynamic leaders committed to education was energizing, challenged me to ask questions in new ways, and left me hopeful for the direction of education in our region. While the topics didn't seem new or different by title, the presentation brought each topic to light in a way that was original, thought-provoking, and immediately applicable in my role as a school leader."
-Sarah Heger, Principal, Marian Middle School
"Today's session was great. It was just the reminder I needed to be who I am as a leader and seek ways to better understand who I am for the benefit of my team. Thanks Dustin!"
-Tiara Abu, Principal, KIPP St. Louis

"This session was highly effective and structured to meet each leader at their own developmental zone. The themes that were explored, as well as the opportunities to reflect and collaborate, made the session meaningful and provided a number of clear next steps to be better on Monday. Thank you!"
-TarynAnn Barry, Principal, EAGLE College Prep
"Dustin was great. His candor, enthusiasm, and ease made this session engaging and meaningful. I could see him doing really powerful work with teams that need someone external to challenge them and build their sense of team. He is knowledgeable and clearly brings valuable experience with him."
-Anna Westlund, Principal, Carver Elementary