Lead with HOPE Build With RESILIENCY for Organizational Growth
A 5 day boot camp to address leadership challenges in pandemic aftermath of low morale, poor communication and navigating change.
About this event
Who is this for?
Leaders, managers, administrators, supervisors struggling to deal with employee challenges as we continue to work through this unpredictable time and shift back into the workplace.
This is for you if you: 1) Play full out! 2) Are coachable 3) Are willing to work as a team (MASTERMIND) 4) Want to have a little fun along the way!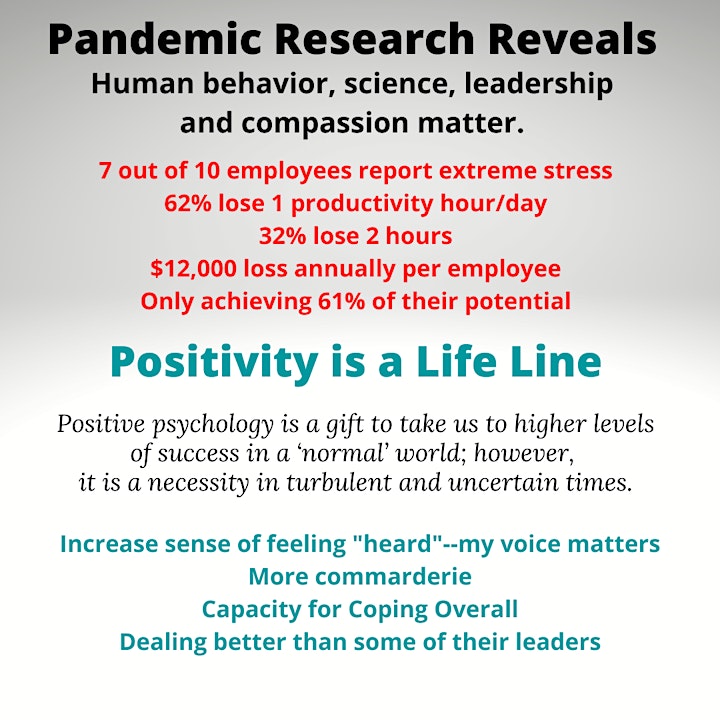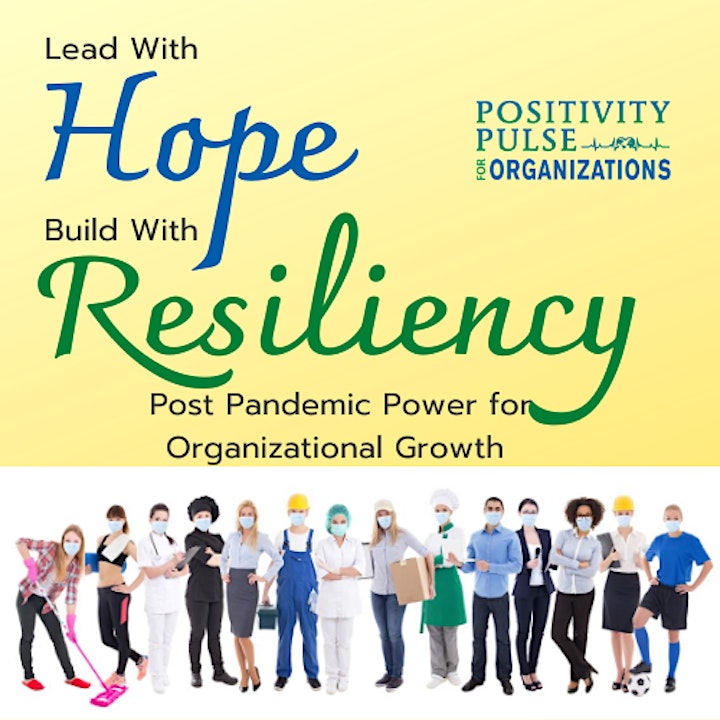 ***New research in Hope Psychology & the Science of Happiness at Work during the pandemic***
IMPACT 5-DAY BOOT CAMP w/Sherry Blair, LIVE ONLINE & ON-DEMAND
DATE: Monday, May 17-21, 2021
TIME: 1:30pm - 2:30pm
While we questioned if speaking about positivity in the workplace was a good idea, we quickly learned that it was needed now more than ever.
Research during the Spring of 2020 confirms what we already know: Positive psychology is a gift to take us to higher levels of success in a normal world; however, it is a necessity in turbulent and uncertain times.
This 5-day interactive experience gives you the "why" of compassion, hope and resiliency; the importance of the need to achieve one 's potential at work; and recommendations for implementation in your workplace to empower your organization for growth NOW and in a post - pandemic period.
***2020 Research Reveals 3 Leadership Failures:
1. Employee's Low Morale
2. Ineffective and toxic communication (we explore toxic positivity)
3. Leaders' inability to navigate change.
You will leave with ideas and strategies (including a handouts) to enhance the success you are already achieving or to get you to take the first step to move away from a stressful work environment and to increase performance & productivity.
Regardless of where you are, every organization needs to increase their performance and productivity and benefit from creating a positive and peaceful culture by investing more in employee capital.
Are you ready? Roll up your sleeves and get ready to work. Wear comfortable clothes. Bring your notebooks.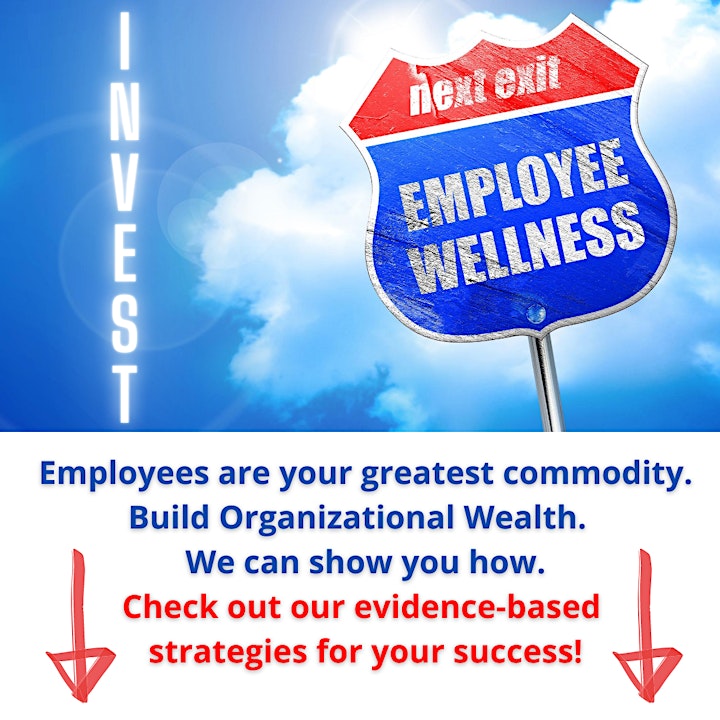 Sherry Blair is a licensed practitioner in the Science of Happiness@Work, a tool standardized at Oxford University. She is one of the first in the world trained in positive psychology and has practiced for close to 20 years.
As a former academic professor and member of the International Positive Psychology Association, she believes in the importance of science and keeps her finger on the pulse. She has authored and co-authored numerous books for self-help, children, teens and organizations.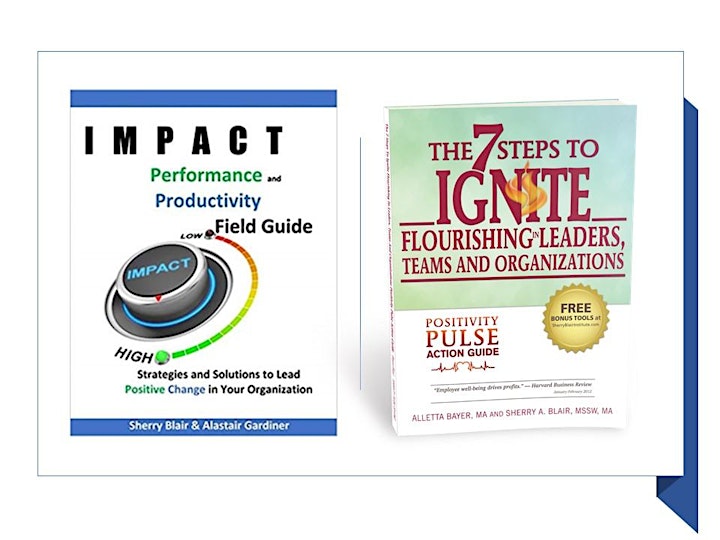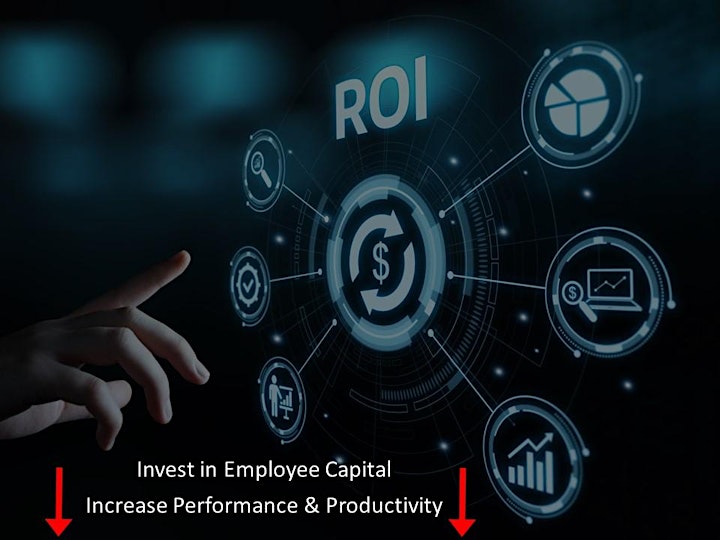 How Much Does This Cost?
Frankly, this doesn't cost you anything from a monetary lens. Think about what you are losing in terms of ROI (Return ON Investment) when you struggle every day due to the impact of stress in your organization. Think about what you are losing in terms of performance, productivity and employee retention because the workplace seems to be toxic.
You get more TIME by making a wise investment for an incredible ROI, with an even more powerful ROR: Return on Relationship at work.
Here is what you need to invest for this webinar:
REGISTRATION FEE
OPTION #1: INDIVIDUAL $55
OPTION #2: 5-DAY BOOT CAMP PLUS GROUP COACHING: $149
"I attended Sherry Blair's 2-day workshop IMPACT Positive Change in Your Organization in 2019. Taking a course with Sherry Blair is like being swept up in a tsunami of positivity. Her highly animated, interactive style kept me on the edge of my chair. Drawing from Positive Psychology and the Nurtured Heart Approach®, Sherry applies motivational and psychological principles to settings in the workplace for organizational development. Her materials are organized with clear action plans.
Organizations looking for a clear path to energize their work culture with a positive and clear vision that is worth supporting should run not walk to Sherry Blair for her inspired roadmap."
Kathleen Friend MD, Medical Director Intermountain Health Center & Author of The Greatness Chair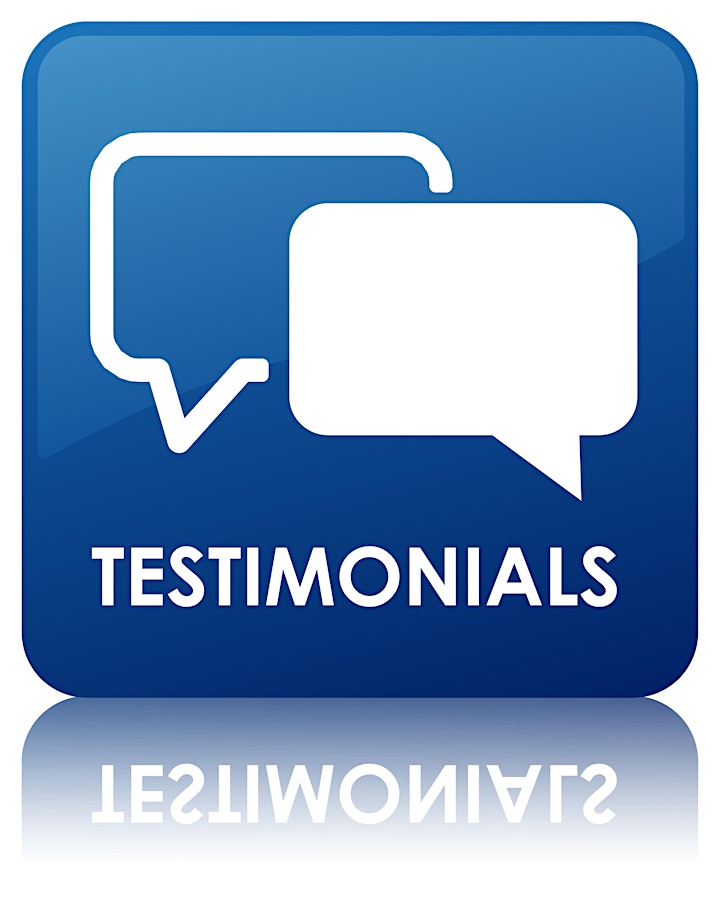 What are people saying?
"The November 2019 Impact Mastermind with Sherry Blair and Ally Gardner was two days jam packed with information and inspiration. I found that my background was very different from most of the other attendees. I am a small business owner in retail. Sherry was able to connect the relevance of the content for all of us and help us see that the concepts being taught have broad application across every field where we're leading and serving people.
I attended the sessions remotely, and was pleased and impressed with my experience. Sherry had the virtual meeting room up and working well in advance of each day's session. She was also very intentional about including me in the group activities and providing a way for me to participate and to share my comments. When we did experience a few minutes of technical difficulties, Sherry had people on her team who both quickly responded to fix the issue *and* make sure I was kept continually in the loop so that I didn't miss out on any of what was being presented. I highly recommend Impact Mastermind to any leader who wants to inspire their team through positivity."
Marcie Towle, Owner, CFO Small Business Owner
"Sherry is engaging and really knows her stuff! She is authentic and genuine about sharing her knowledge and experience. A definite must see event whenever Sherry is featured!"
~Cherie Avinger, Chief Operations Officer
"Our organization embarked on a "Joy IS the Work" journey to gradually create and nurture long-lasting positive change, in a joyful culture, that improves quality of life and care in health centers. We are fortunate to have Sherry Blair and her staff guiding us on this all-important, life changing journey. Our first step in the journey has been to train the leadership in the comprehensive approach and skills in the "IMPACT Performance & Productivity: Lead Positive Change in Your Organization" course developed by the Sherry Blair Institute for For Inspirational Change. This well-researched and expertly delivered course is filled with wisdom and practical guidance. Those who are serious about creating and nurturing long-lasting positive change will need to invest sufficient time in learning the course material and then applying it to their organization and personal lives. The results will be life-changing and well worth the time spent. Thank you Sherry! "
~Phil Rosen-NJ
"When I started applying the strategies, I started looking at these people that I work with differently. I began to look for their great qualities, and there they were! I just hadn't been focusing on them before. My outlook changed immediately, and so did our relationships. Work became so much more enjoyable and rewarding. When I presented the strategies to our people in a staff meeting, the immediate enthusiastic response was, 'This is what we need!' There was no resistance at all."
~Peggy Archuleta-AZ
"Sherry is full of vision, passion, wisdom, good humor, dedication, hard working, and inspired energy. She is unstoppable."
~Janet Waller, NY
Our organization frequently engages various speakers as a part of our ongoing commitment to keeping our Human Resources Professionals up to date on relevant issues and maintaining our membership's certifications. Sherry Blair's presentation on Hope and Resiliency elicited a strong response from our membership and well as attracted additional participants that might not have joined our meeting otherwise. Her content was well organized and poignant, especially in the current climate we find ourselves in as HR Professionals during this pandemic. We recommend Sherry Blair as a speaker and presenter, and we would gladly engage her in the future.
Laura Powers, President Human Resources Association of Southern New Jersey, SHRM Chapter #260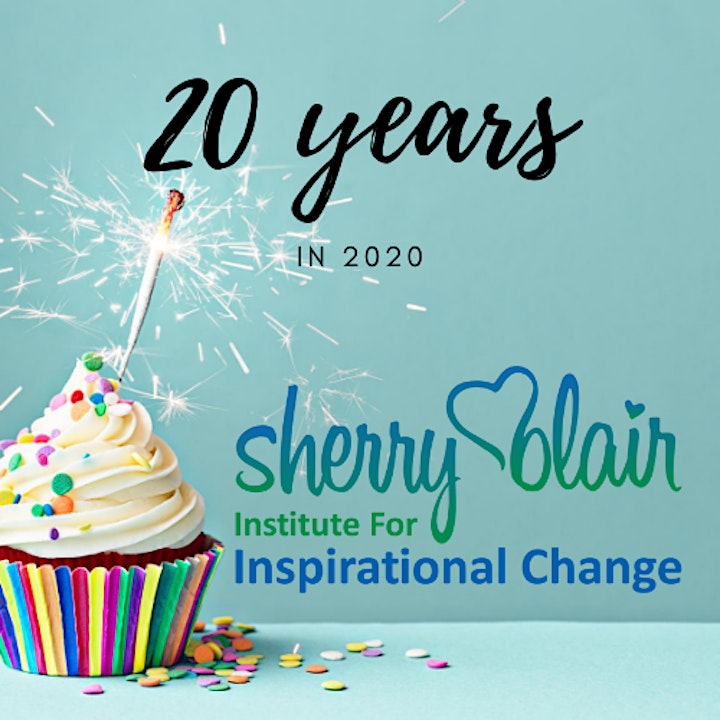 Organizer of Lead with HOPE Build With RESILIENCY for Organizational Growth