Evolve into the dynamic leader that drives your business forward!
About this event
The success and failures of a company begin and end with leadership. In the words of John C. Maxwell, "A leader is one who knows the way, goes the way, and shows the way." As an owner or manager, it is critical to invest in yourself if you expect to grow in your abilities to coach and mentor your team.
Dynamic Leadership Training is designed to help you discover your strengths as a leader and develop a plan for your own professional growth. This will not only help you; it will also help your company advance, showing your team how to overcome obstacles and seize opportunities. Your team will flourish because their beliefs and motives will be aligned with the mission, vision, and values of your company.
By attending this class, owners and managers will:
Learn what truly defines leadership and how it impacts every aspect of your company
Discover the five levels of leadership and gain knowledge on how to develop each level
Assess your effectiveness as a leader and uncover the areas you can grow
Learn effective communication styles
Find out how to build culture
So much opportunity exists within yourself and your team. Take the next steps on this incredible journey at BDR's Dynamic Leadership Training!
Our live virtual workshops give you access to the same training as our live event but from the comfort and convenience of your own desk. You get real-time access to our live trainer to take part in discussions and ask questions. Each day will be broken up into multiple mini sessions to help you absorb and retain the information covered.
How does BDR's live virtual training work? 
A link to the virtual classroom and access to class materials will be provided prior to the start of class.
Students will be required to attend all scheduled, live sessions via Go-To Training (internet connection required). Sessions are not recorded.
Questions can be asked, and feedback can be provided by the Trainer in real time.
Students are required to have Adobe Acrobat, free version okay.
Before the training begins, you will be contacted by our Event Team.
Please note that photographs and footage will be taken throughout this virtual event. These will be used by Business Development Resources for marketing and publicity in our publications, on our website and in social media or in any third party publication. By turning on your camera or microphone, you are giving BDR permission to use your likeness in these photos and videos.
Below is an example of what a standard training day schedule looks like for a BDRU class.

Meet Your Class Trainer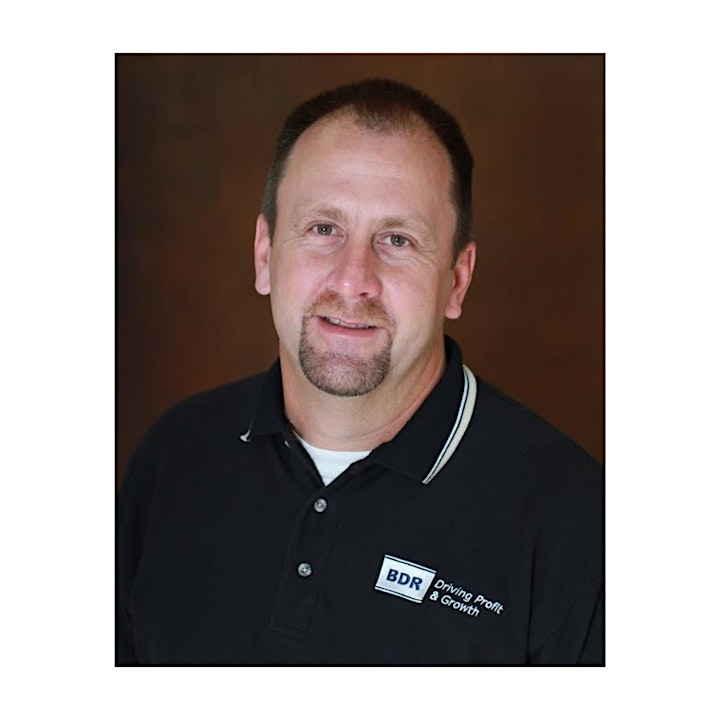 Jeff Plant 
Jeff has nearly three decades of experience in the contracting trades. He has worked for companies ranging in size from "start-up" with 3 employees to $1.4 billion in revenue. Just prior to joining BDR, he was COO with full P&L control for $40 million in revenue. He is adept at translating management goals into project execution while garnering respect and cooperation from co-workers.
Jeff is a BDR Profit Coach and delivers BDR's leadership training and facilitates Profit Launch business planning workshops. He is a certified John C. Maxwell Coach, Teacher, Trainer, and Speaker.
Frequently Asked Questions
When will I receive my Welcome Packet?
Welcome packets will be sent out by our event team within 48 hours of completing your Eventbrite ticket purchase. If the information is not ready when you register, it will be sent 6-8 weeks prior to the event. This packet will include information to assist with GoToTraining basics, logging in and schedule.
Where can I contact the organizer with any questions?
For event questions, please notify Allison Kourkos - Event Coordinator
Phone: 206-870-1880 ext. 3017/ Email: allisonkourkos@bdrco.com
Can I update / cancel my registration information?
Yes. For attendee changes or cancellation, please notify Angie Swartz - Training Advisor.
Phone: 206-870-1880 ext. 1120 / Email: angieswartz@bdrco.com
What is the refund policy?
For cancellations 30 days before the event, there is a $200 per person cancellation and/or transfer fee to move to another session. Note: New sessions may take place in a different location from session you originally registered for.
Cancellations received within 10 days of the class are non-refundable.
Date and time
Location
Refund policy