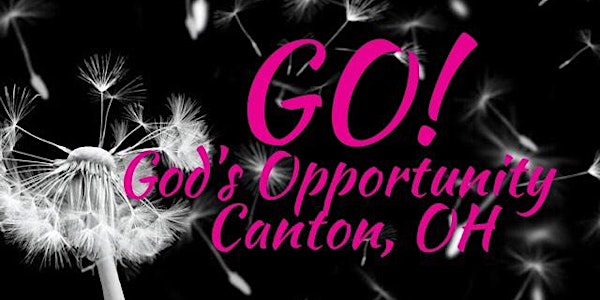 Lead, Serve, GO! (Women's Small Group Bible Study)- SESSION 5 (Fall/Winter 2016-17)
When and where
Location
Stark County District Library 715 Market Avenue North Innovation Center Canton, OH 44702
Description
Everyday God gives us an opportunity to serve Him and to fulfill our purpose, our ministry. GO! (God's Opportunity) is a women's small group designed for women, on the go, to come together to deepen our roots and understanding of God's word. Through our small group meetings, we will study God's word, create friendships and, most importantly, grow to become stronger women of God.
In our last study, Paul delivers the following words of wisdom to Timothy and future believers, "fulfill your ministry" and "to guard through the Holy Spirit who lives in us, that good thing entrusted to you". (2 Timothy 4:5; 1:14). Knowing that we were never meant to take this journey of faith alone or in secret, and that our effectiveness in fulfilling our ministry is our connectedness.
Join us for Session 5 as we continue our exciting journey beginning October 25th, David: Seeking a Heart Like His by Beth Moore. God will never give up on you. In our next study we will examine the "man after God's own heart". David will both delight and disappoint you. "You'll want to be just like him at times and nothing like him at others. If you've ever experienced doubts, temptations, losses, family problems, or personal inconsistencies, this study is for you!"
In our eleven (11)- session bible study, we will focus on:
guarding what God has entrusted to us;

"walking by faith, not by sight";

encouraging and praying for one another; and

deeping our understanding of what it means to know and believe that "our God will never give up on us".
FAQs
How many weeks is this event?
The event lasts for a total of 11 (eleven) weeks from October 25, 2016- February 7, 2017 (no classes on November 22nd in celebration of Thanksgiving, December 20th / 27th in celebration of Christmas and January 3rd in celebration of the New Year). Please be sure to register for all dates you are available to attend. All sessions will be held at the Stark County District Library, Main Branch (Innovation Center) with select dates in the 2nd Floor Meeting Room.
NEW.....Can I participate online?
Yes, for those of you that cannot attend in person, please email Krista at kalliso61@gmail.com or GO! at godsopportunity.canton@gmail.com. Just purchase the bible study guide, David: Seeking a Heart Like His. Our online study will begin mid- November (Wednesday).
I have a SmartPhone, how can I view the preview video?
You can view the video here -->David: Seeking a Heart Like His

What should I bring to the event?
Please plan to purchase for $15.99 the David: Seeking a Heart Like His study guide from LifeWay Christian Stores. The study guide can be purchased in the store or online.

STUDY GUIDES ON RESERVE- Study guides have been placed on reserve at LifeWay Christian Stores, 1100 30th Street NW, Canton OH under Krista Allison or GO! Women's Small Group Bible Study.
Where can I contact the organizer with any questions?
Contact Krista Allison via email at kalliso61@gmail.com or via Twitter @KristaLAllison. You can also follow us on Instagram @go.canton.
Can I update my registration information?
Yes, always. We want to keep in touch with you. Please sign up if you are interested in our Monday GO! alerts.