Multiple Dates
Lead, Serve, GO! (Women's Small Group Bible Study)- SESSION 4 (Fall 2016)
Description
Everyday God gives us an opportunity to serve Him and to fulfill our purpose. GO! (God's Opportunity) is a women's small group designed for women, on the go, to come together to deepen our roots and understanding of God's word. Through our small group meetings, we will study God's word, create friendships and, most importantly, grow to become stronger women of God.

Join us this Fall 2016 for Session 4 as we continue our exciting journey beginning September 6th with Entrusted: A Study of 2 Timothy by Beth Moore.

We were never meant to take this journey of faith alone or in secret. God has entrusted us with the great and mighty gift of the gospel, something too precious and life-giving to keep to ourselves.

In our six- session bible study, we will learn to guard what God has entrusted to us, stay the course and to continue to encourage and pray for one another.
FAQs
How many weeks is this event?
The event lasts for a total of 6 weeks from September 6- October 11, 2016. Please be sure to register for all dates you are available to attend. All sessions will be held at the Stark County District Library, Main Branch (Innovation Center).
NEW.....Can I participate online?
Yes, for those of you that cannot attend in person, please email Krista at kalliso61@gmail.com or GO! at godsopportunity.canton@gmail.com. Just purchase the bible study guide, Entrusted: A Study of 2 Timothy
I have a SmartPhone, how can I view the preview video?
You can view the video here -->Entrusted: A Study of 2 Timothy
What should I bring to the event?
Please plan to purchase for $12.99 Entrusted study guide from LifeWay Christian Stores. The study guide can be purchased in the store or online.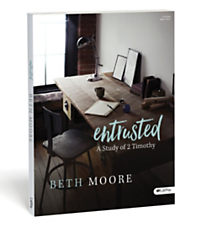 Before September 1st: Pre-Order- Study guides can be pre-ordered. If you pre-ordered before August 15, you will receive a free pack of Entrusted scripture cards that we will use this session. After August 15, scripture cards will cost $5.00.
Entrusted Scripture Cards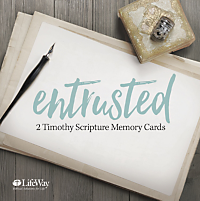 After September 1st: STUDY GUIDES ON RESERVE- Study guides have been placed on reserve at LifeWay Christian Stores, 1100 30th Street NW, Canton OH under Krista Allison or GO! Women's Small Group Bible Study.
Where can I contact the organizer with any questions?
Contact Krista Allison via email at kalliso61@gmail.com or via Twitter @KristaLAllison. You can also follow us on Instagram @go.canton.
Can I update my registration information?
Yes, always. We want to keep in touch with you as we will be hosting a Winter 2016 bible study event and send out weekly updates. Please sign up if you are interested in our Monday GO! alerts.
Organizer of Lead, Serve, GO! (Women's Small Group Bible Study)- SESSION 4 (Fall 2016)
Each day we have an opportunity to be the light and salt God has called us to be to others. Matthew 5:13-16New International Version (NIV)
 GO! (God's Opportunity) is a woman's small group bible study designed to offer women on the go with an opportunity to fellowship and grow deeper in learning God's word.  Join us for the launch of our next bible study.