Lead POSITIVE CHANGE in YOUR Workplace: IMPACT MASTERMIND EVENT
VALUE PACKED OPPORTUNITY TO MAKE AN IMPACT: 2 Day LIVE Event PLUS 6 Month ONLINE COURSE FOLLOW-UP!
About this event
IMPACT MASTERMIND w/Sherry Blair: LIVE in New Jersey & Texas
This mastermind event is a two-day hands-on immersion opportunity to dive deep and to explore ways to address the challenges in your workplace. You will leave with a roadmap for enhancing the success you are already achieving or to get you to take the first step to move away from a negative work environment and to increase performance & productivity.
Regardless of where you are, every organization needs to increase their performance and productivity and benefit from creating a positive culture.
This won't be lecture, lecture, lecture and a ton of slides (you will get that later in the online course to review at your convenience). Roll up your sleeves and get ready to work. Come in comfortable clothes. Bring your notebooks. This isn't play time.
This is for you if you: 1) Play full out! 2) Are coachable 3) Are willing to work as a team (MASTERMIND) 4) Want to have a little fun along the way!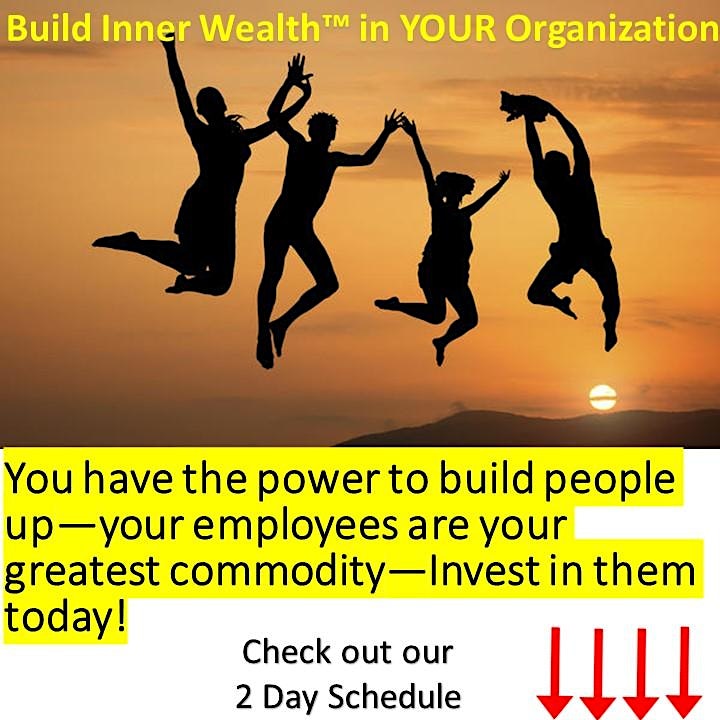 What will I be working on?
Day 1 Austin, TX: Wednesday, October 28, 2020
Lead Positive Change in Your Organization
We explore the opportunities and hazards that are needed to identify to take the first needed step toward change. You want to AVOID failure because 60-80% of initiatives FAIL when YOU fail to prepare for the change process. More importantly, we are going to ask you to step up, as the leader, to get very clear on YOUR why and to UNBLOCK you from reaching YOUR success in that role.
NOTE: Schedule subject to change
9:00am-9:25am Registration
9:30am-10:45am Introduction
9:45am-10:45am Your Reflected Best Self as a Leader
10:45am-11:15am People & Performance: The Science of Happiness at Work
11:15am-12:00pm Why is Change so Difficult? Discussion & Activity
12:00pm-1:00pm Lunch Break
1:00pm-2:00pm Values, Purpose & Your Why: Discussion & Activity
2:00pm-2:30pm The Complexities of Creating Urgency: Discussion & Activity
2:30pm-3:00pm Create A Sense of Urgency Action Plan
3:00pm-3:15pm 15 Minute Break
3:15pm-3:45pm Communicating Urgency Activity
3:45pm-4:30pm Creating Champion Coalitions
Day 2 Austin, TX: Thursday, October 29, 2020
Take a Stand to Ignite Flourishing in Your Workplace
Day 2 builds on Day 1 to prepare you for change. If you do not understand what you need to STOP doing and HOW to stop energizing negativity, you will continue to spin your wheels. Keeping the impetus up and embedding your new way of leading is crucial and discovering how to create success and positivity supports your efforts. Most importantly, exploring valued-based leadership, understanding the rules, policies and procedures to uphold these values is the golden key to your success.
9:00am-9:25am Registration
9:30am-10:00am Introduction: The Power of Taking a Stand
10:00am-10:45am Values Driven Leadership: What is the Point? Discussion & Activity
10:45am-11:15am STOP: Why is this crucial for positive change?
11:15am-12:00pm Energy Suckers@Work: Discussion & Activity
12:00pm-12:15pm Reset to Positive Energy Activity
12:15pm-1:15pm Lunch Break
1:15pm-2:00pm Create Success & Positivity Action Plan: Discussion & Activity
2:00pm-2:30pm The Rule of Law & Why It Matters: Discussion & Activity
2:30pm-3:30pm Modify A Sense of Urgency Action Plan
3:30pm-3:45pm 15 Minute Break
3:45pm-4:15pm Closing Activity
4:15pm-4:30pm Closing Remarks/Unanswered Questions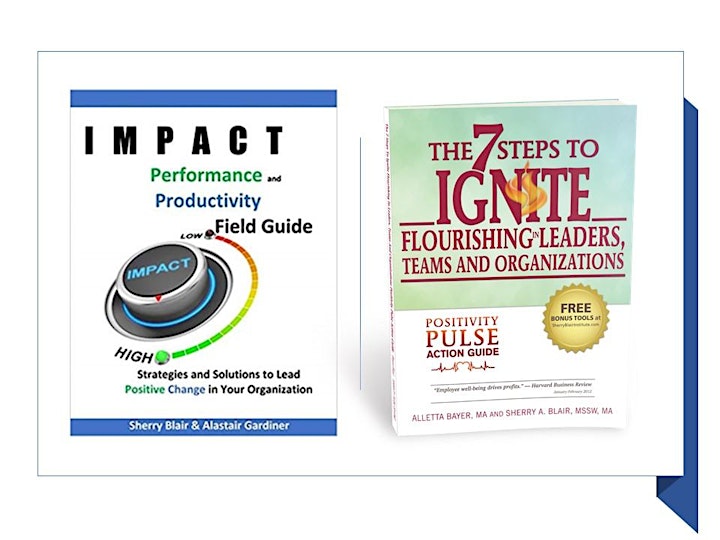 What do I get?
JAM PACKED MATERIALS TO ENSURE YOUR SUCCESS
2-Days of Immersion with Sherry Blair & Virtual Appearance by Ally Gardiner
Full Package Includes: 6 months access to the IMPACT Performance & Productivity: Lead Positive Change in Your Organization ONLINE ON DEMAND course created by Sherry Blair & Ally Gardiner with a combined 50 years+ of leadership. This course is grounded in proven strategies to propel you to your success [Oxford, University of Penn, Harvard Business] in addition to creative ways to use these tools in your organization. (Over $750 VALUE)
2 Action Based Self-Directed Coaching Books
IMPACT Performance & Productivity Workbook by Sherry Blair & Alastair Gardiner
7 Steps to IGNITE Flourishing in Leaders, Teams & Organizations
Free Admission into our ELITE Membership Club offering you discounts and special offers for products/books & future events LIVE or ONLINE.
Daily Doses of Positivity messages [Organizations use these for boosters to keep the change process moving!]
Lots of extra bonuses in the Private FB Group where you stay in touch with other like-minded people and get tips, and feedback from Sherry Blair & her Team & Ally Gardiner too!
Learning Objectives
Day 1: Lead Positive Change in Your Organization
Identify your strengths through the initial exercise.
Discover your S2R2 Score for social, self-awareness and management.
Organize your potential growth with clarity exercise.
Analyze how unhappy employees are negatively impacting your workplace.
Describe why change is so difficult for many and complex for leaders.
Identify ideas to develop your champion groups in your organization.
Day 2: Take a Stand to Ignite Flourishing in Your Workplace
Interpret your "why" to the power of the Three Stands™
Apply the concept of values-based leadership to your organization.
Identify actions that support your commitment to lead positive change.
Explain courage and care in communication/conflict resolution.
Describe why leaders need to stop enabling negative behavior.
Choose one major action step that will move you and your team toward leading positive change.
Summarize the ideas and action steps you plan to implement within 30 days.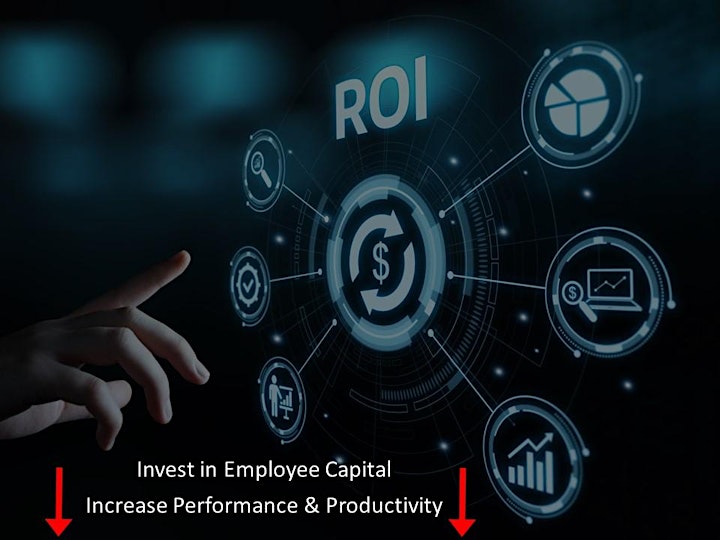 How Much Does This Cost?
Frankly, this doesn't cost you anything from a monetary lens. Think about what you are losing in terms of ROI (Return ON Investment) when you struggle every day to change your organization. Think about what you are losing in terms of performance, productivity and employee retention because the workplace seems to be toxic.
To get a ROT (you get more TIME: RETURN ON TIME) and to make a wise investment for an incredible ROI, here is what you need to invest for this 2-DAY Immersion:
EARLY BIRD THROUGH AUGUST 1, 2020
EARLY BIRD $599.00 [SAVE $200]
EARLY BIRD BOGO: Bring a co-worker $539.00 Each [SAVE $120]
EARLY BIRD Group Rate: 5 or more $449.00 Each [SAVE $900]
GENERAL ADMISSION: $799.00
BOGO: Bring a co-worker $719.00 Each
Group Rate: 5 or more $599.00 Each
"I attended Sherry Blair's 2-day workshop IMPACT Positive Change in Your Organization in 2019. Taking a course with Sherry Blair is like being swept up in a tsunami of positivity. Her highly animated, interactive style kept me on the edge of my chair. Drawing from Positive Psychology and the Nurtured Heart Approach®, Sherry applies motivational and psychological principles to settings in the workplace for organizational development. Her materials are organized with clear action plans.
Organizations looking for a clear path to energize their work culture with a positive and clear vision that is worth supporting should run not walk to Sherry Blair for her inspired roadmap."
Kathleen Friend MD, Medical Director Intermountain Health Center & Author of The Greatness Chair
Are you someone who is really ready to jump in? Join the 2- DAY and get the 6 month course PLUS other bonuses. Here are special rates for you:
EARLY BIRD $899 [SAVE $400]
EARLY BIRD BOGO: Bring a co-worker $809 Each [SAVE $180]
EARLY BIRD Group Rate: 5 or more $679 Each [SAVE $600]
GENERAL ADMISSION: $1299.00
BOGO: Bring a co-worker $1169.00 Each
Group Rate: 5 or more $979.00 Each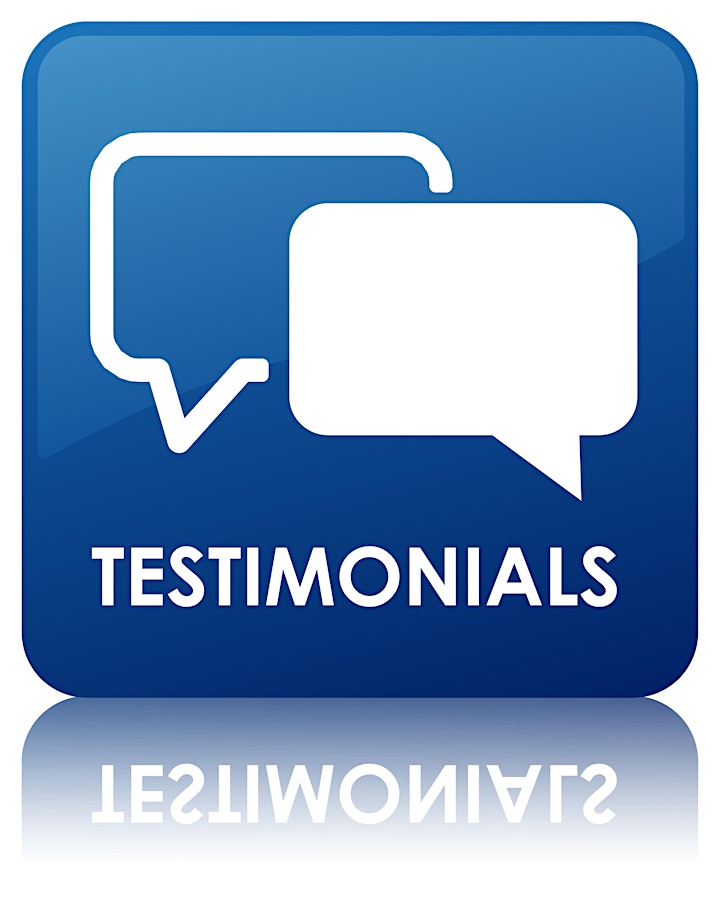 What are people saying?
"The November 2019 Impact Mastermind with Sherry Blair and Ally Gardner was two days jam packed with information and inspiration. I found that my background was very different from most of the other attendees. I am a small business owner in retail. Sherry was able to connect the relevance of the content for all of us and help us see that the concepts being taught have broad application across every field where we're leading and serving people.
I attended the sessions remotely, and was pleased and impressed with my experience. Sherry had the virtual meeting room up and working well in advance of each day's session. She was also very intentional about including me in the group activities and providing a way for me to participate and to share my comments. When we did experience a few minutes of technical difficulties, Sherry had people on her team who both quickly responded to fix the issue *and* make sure I was kept continually in the loop so that I didn't miss out on any of what was being presented. I highly recommend Impact Mastermind to any leader who wants to inspire their team through positivity."
Marcie Towle, Owner, CFO Small Business Owner
"Sherry is engaging and really knows her stuff! She is authentic and genuine about sharing her knowledge and experience. A definite must see event whenever Sherry is featured!"
~Cherie Avinger, Chief Operations Officer
"Our organization embarked on a "Joy IS the Work" journey to gradually create and nurture long-lasting positive change, in a joyful culture, that improves quality of life and care in health centers. We are fortunate to have Sherry Blair and her staff guiding us on this all-important, life changing journey. Our first step in the journey has been to train the leadership in the comprehensive approach and skills in the "IMPACT Performance & Productivity: Lead Positive Change in Your Organization" course developed by the Sherry Blair Institute for For Inspirational Change. This well-researched and expertly delivered course is filled with wisdom and practical guidance. Those who are serious about creating and nurturing long-lasting positive change will need to invest sufficient time in learning the course material and then applying it to their organization and personal lives. The results will be life-changing and well worth the time spent. Thank you Sherry! "
~Phil Rosen-NJ
"When I started applying the strategies, I started looking at these people that I work with differently. I began to look for their great qualities, and there they were! I just hadn't been focusing on them before. My outlook changed immediately, and so did our relationships. Work became so much more enjoyable and rewarding. When I presented the strategies to our people in a staff meeting, the immediate enthusiastic response was, 'This is what we need!' There was no resistance at all."
~Peggy Archuleta-AZ
"Sherry is full of vision, passion, wisdom, good humor, dedication, hard working, and inspired energy. She is unstoppable."
~Janet Waller, NY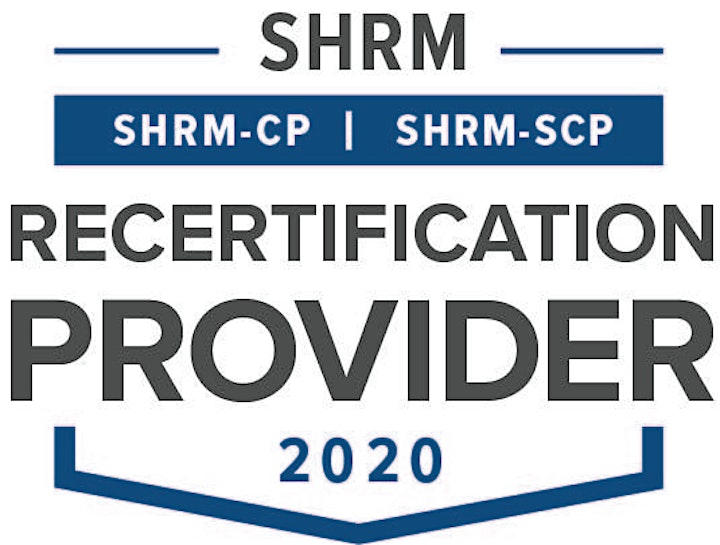 Continuing Education/Professional Development Information
Human Resource Professionals
As an official SHRM Education Partner, Sherry Blair Institute for Inspirational Change, LLC is proud to partner with the Society for Human Resource Management (SHRM), the world's largest association devoted to human resource management. The 2-Day course offers 12 PDCs to be completed in its entirety and will be awarded once attendance is qualified and the evaluation is completed within 30 days.
Social Workers
Sherry Blair Institute for Inspirational Change, LLC. (SBI), #1423, is approved to offer social work continuing education by the Association of Social Work Boards (ASWB) Approved Continuing Education (ACE) program. Organizations, not individual courses, are approved as ACE providers. State and provincial regulatory boards have the final authority to determine whether an individual course may be accepted for continuing education credit. SBI maintains responsibility for this course. ACE provider approval period: September 27, 2017 - August 31, 2020. Social Workers completing this course receive 12 Social Work continuing education credits.
Course Level: Intermediate. Full attendance is required; no partial credits will be offered for partial attendance. A certificate of attendance will be awarded at the end of the program to social workers who complete the program evaluation.
Other Professions
This activity qualifies for 720 minutes of instructional content as required by many national, state and local licensing boards and professional organizations. Save your course outline and certificate of completion, and contact your own board or organization for specific requirements.