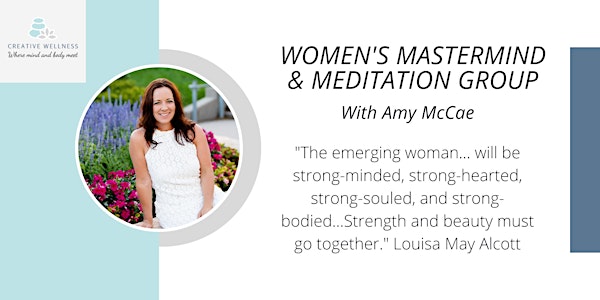 Lead Like a Girl: Evolving Minds Women's Mastermind and Meditation Group
Too much to do and not enough time? Ready to make an impact in the world? Women business leaders meditation, workshop, & discussion group.
When and where
Location
Elevate and Create 4550 North 216th Street Omaha, NE 68022
About this event
Are you feeling:
Stressed?
Anxious?
Overwhelmed?
Out of balance?
Like you have way too much to do and not enough time?
Stuck on a hamster wheel?
Woman to woman I am here to tell you it's time to reclaim your power. For far too long skills such emotional intelligence have taken a back seat in business. The Great Resignation has proven that in order to move from surviving to thriving change is essential.
As a woman you have natural gifts of intuition and empathy. You are more powerful than you have been lead to believe. You just need to stop long enough to remember.
How would it feel to:
Relax?
Reconnect to you?
Harmonize your life?
Truly do self-care?
Remember your worth?
Create community with like-minded women in a SAFE place who want to change the world?
Each month we will cover a new topic. The program will be customized to meet the needs of the attendees. Each meeting new material and ideas will be presented, a new meditation will be introduced, and then a group discussion.
Some of the topics may include:
Holistic wellness such as mind, body, and spirit healing
Empathetic Leadership
Mindful and Effective Communication
Mental and Emotional Intelligence
Fitness and Nutrition
Meditation and Mindfulness
Relationship Strategies
Work/Life Harmony
Mindset Matters
Tapping into Your Creativity and Intuition/Be a Visionary
Stress Management
Imposter Syndrome
True Self-Care and Getting Your Needs Met
Motherhood
Spirituality
Time Management
Forgiveness
Each month may include new worksheets and audios as well as further resources for you to explore.
Where and When:
Elevate and Create in Elkhorn the 3rd Wednesday of the month beginning September 21st from 6:30-8:00.
This space is stunning! But seating is limited so make sure to register now!!
For your convenience a light dinner/snacks and beverage will be provided.
Upon registration you will receive links to the following:
*Hack your Mind for Peace of Mind Guide
*Mindful Breathing Audio
*Loving Kindness Audio
*Week One Worksheets from the Everyday Mindfulness course taught at places such as Tesla!
We will also connect via WhatsApp to help to build community if you like. This is a free App that is private that also does not require you do anything like so many Facebook groups. Join if you like, connect if you like, ignore it if you like.