Multiple Dates
Lead Generation Live Masterclass: Proven Techniques For More Leads & Sales
Description
*Caution: This workshop is not everyone*
Let me explain.
I've helped companies generate over $100 million in new B2B customers. And I want to help you!
If you sell a service like web design services or consulting or IT services...
Or you sell software (SaaS), products, programs through meetings, strategy sessions, consultations, sales appointments….
Your business survival and success depends on well-paying customers that buy from you consistently.

You have mastered your craft and are amazing at what you do...
BUT attracting clients and getting paid well is a whole different skill-set you need to master that you aren't prepared for.
This workshop will show you the exact, proven lead generation blueprint so you can attract your dream clients and grow your sales.
This workshop is for you if you want to ...
Get in front of more the RIGHT prospects, and build relationships with your top prospects

Get clients that pay you MORE for your services consistently, so you stop depending on referrals alone

Get consistent QUALITY leads every week, without throwing money away in the sinkhole of online ads

Create PREDICTABLE sales for your business, so you don't worry about where your next client will come from

Close more deals FASTER, and stop wasting time on non-buyers
After this workshop, you'll be able to:
Get your ideal clients on demand without relying on referrals

Create a prospecting system that generates predictable leads

Win more sales deals by knowing how to "control" sales calls/meetings

Position and present an offer that has a higher percentage of closing
In the workshop, we'll go over:
The 5 step process you can use to book appointments with the right prospects & get six-figure clients (I've used these same steps to book over 1,000 appointments -- you won't see this anywhere)

My secret 4 scripts that generated get 59 leads & $240,000 in 52 days (copy and use them instantly)

31 battle-tested sales call blueprint that will help you close deals faster (After 10,000+ hours of sales calls, these are the scripts that can get you results...FAST!)
As if the workshop content is not enough, you'll get additional FREE bonuses ($3,000+) when you join this workshop: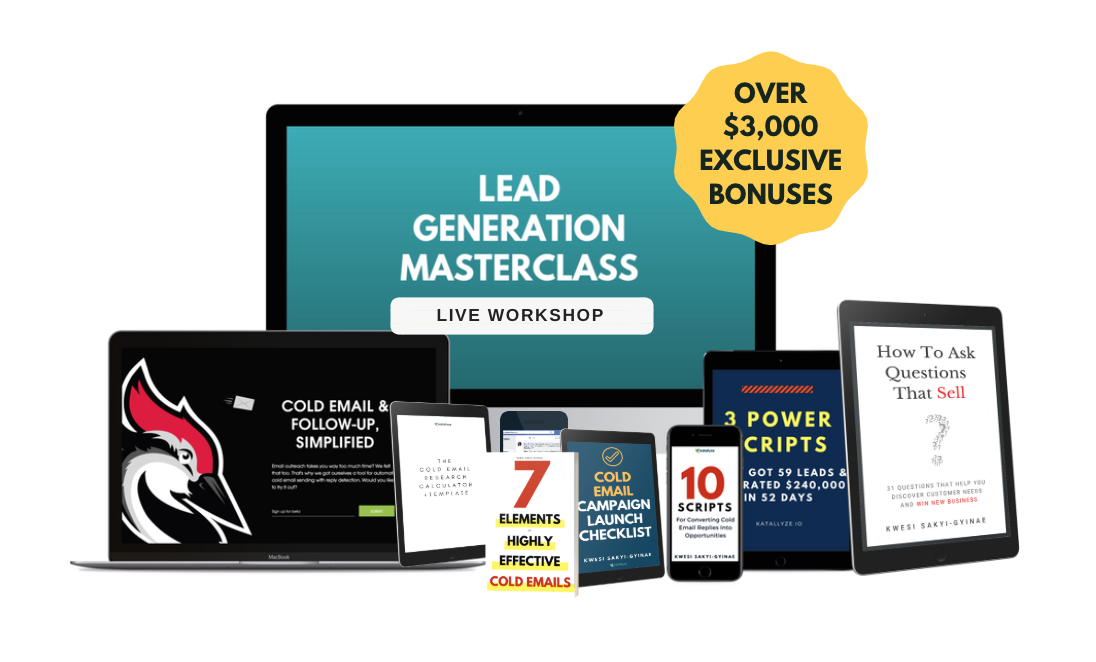 Bouns #1: Execute with confidence, and never forget a technique with full unlimited and lifetime access to online how-to videos and course videos (retail value = $400)


Bonus #2: Stay connected and supported with access to our exclusive community of like-minded leaders in our Facebook mastermind group (retail value = $397)


Bonus #3: Get a headstart (which almost feels like cheating) with 60-day FREE access to a sales prospecting software that'll help you get more leads in less time (retail value = $397)
Bonus #4: Skip the trial and error, and get results faster with downloadable Calculators, Worksheets and Sale Scripts (valued = $568)


Bonus #5: Get things done with free one-on-one 30 mins coaching session with Kwesi (valued = $485)


Your commitment:
The total value of this training is over $3,732 BUT you get to participate in the workshop and get all these additional exclusive bonuses for less than $300. Your future self will thank you for making this investment.
Why you should attend
Hi - I'm Kwesi Sakyi-Gyinae (Founder @Katallyze.io). I've helped over 100 business owners, SaaS founders, entrepreneurs, and freelancers attain life-changing results when it comes to generating leads and closing more sales for their business.

You may have seen some of my sales and lead generation articles in Entrepreneur.com, Hubspot and the Technology Innovation Management Review.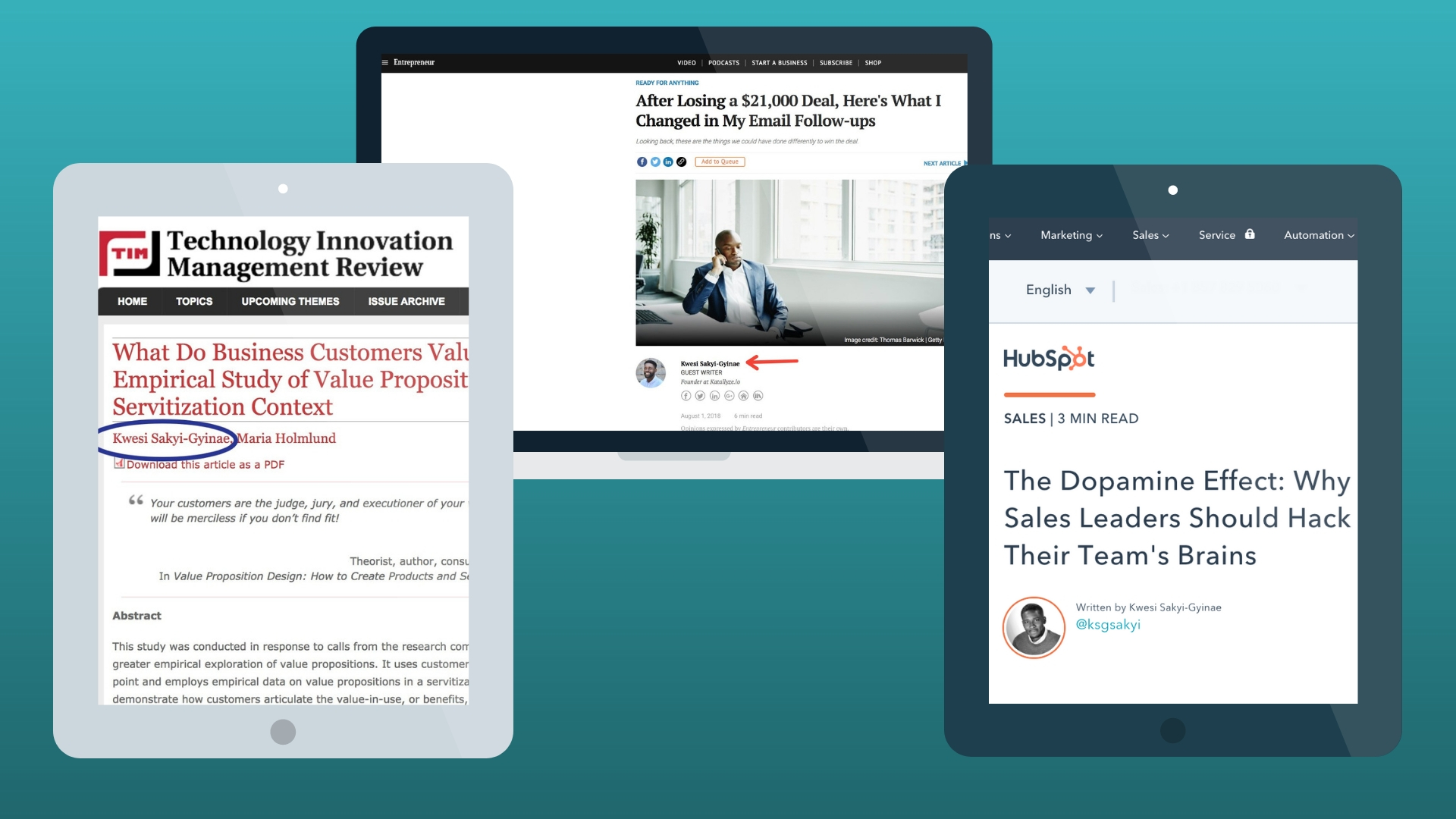 It took more than 7 years...but I've developed a lead generation blueprint that gets consistent results...QUICKLY.
I've helped companies generate over $100 million in new B2B customers.
In the process, I've booked thousands of sales appointments with C-level decision makers and been on over 10,000 hours of sales meetings.
I SHARE ALL MY SECRETS IN THIS WORKSHOP.
The techniques you'll learn has enabled us to get clients and leads including:
CEO of NASDAQ companies

CEO UNICEF USA

Director at a US Defence Companies

Fortune 100 Companies

Inc 5000 companies
After helping more than hundreds of agency owners, freelancers and startups double, triple and even quadruple their revenue…
We have perfected an approach that allows service-based businesses and freelancers to land higher paying clients…
Have new business coming to you instead of chasing it…
There are dozens of golden nuggets and techniques in this workshop, making this course the best investment in your own education, business and future success.
I CAN'T WAIT TO SEE YOUR SUCCESS
See you at the workshop.
- Kwesi
PS: Thanks to Collision8 for supporting this workshop


FAQs
What can I bring into the event?
Bring your notebook or laptop and a "hungry" mind ready to suck in all the lead generation tactics, because I can guarantee you will be surprised by techniques and delighted the results you will get.

What if I'm brand new to lead generation?
Fantastic! This workshop will help you get a running start with your lead generation efforts. You could spend 1-2 years treading water, winging it, and trying to figure out how to get consistent leads (like I did), OR you could start getting qualified leads and sales ASAP.

How long is the workshop?
We'll have an interactive session for 3 hours. After the session, you'll have a lifetime, unlimited online access all the materials including how-to video guides and scripts? So for as long as you like - across any and all devices you own - you can generate leads and sales on demand.
Are tickets refundable or transferable?
Yes, tickets are transferrable (you can change the date with a minimum of 2 days notice, any shorter period will be considered on a case-by-case basis). Tickets are fully refundable if a refund request is made at least 30 days prior to the start date.