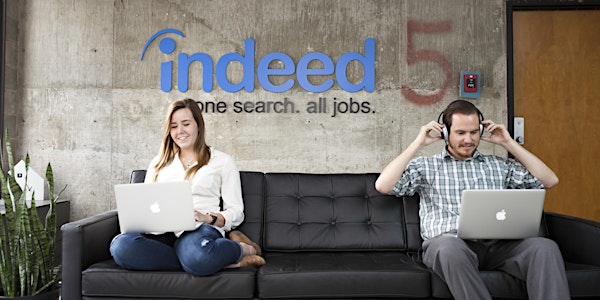 Lead Developer Conference Kickoff
When and where
Location
Indeed 201 West 5th Street Austin, TX 78701
Description
On Wednesday, December 5, @IndeedEng in partnership with Indeed Prime will be hosting an evening Meetup to kick off the 2018 Lead Developer conference. We welcome both attendees of the conference and those in our community looking to learn about challenges facing engineering managers and technical leaders of today.
A preliminary lineup of the talks we have in store:
Bossing Bosses (Like a BOSS)
Ketan Gangatirkar, Vice President of Engineering, Indeed
Ketan runs software engineering for Indeed's Job Seeker products. While he's not perfect today, he was even worse in the past. He's spent eighteen years in the industry and ten at Indeed. One highlight was the four tumultuous years when he went from IC to boss to bossing bosses, making a ton of mistakes along the way. His loss can be your gain – learn how to avoid the mistakes he made so you can be a better leader.
Revolt, Regroup, Rebuild: Community at Scale
Kelly Churchill, Development Manager, IBM
As a manager at IBM, Kelly leads a team of developers on the IBM Design core team. In addition, as the FED@IBM program lead, she promotes front-end development best practices and supports a global community of front-end developers.
In this talk, Kelly will tell the story of how we created a community of practice at IBM to address a need (revolt!), how through sharing knowledge and growing skills we are restlessly re-inventing ourselves (regroup!), and how we are sustaining and scaling the community by leveraging our company's thought leaders (rebuild!)
Everyone Needs to Eat, Everyone Wants to Learn : Lunch & Learns on Indeed Prime
Gaurav Sanghani, Software Engineer, Indeed
Gaurav Sanghani is a Senior Software Engineer on Indeed Prime, where we help tech talent find their perfect job. As his team's Tech Lead, Gaurav is tasked with mentoring new engineers, advising architectural decisions, pushing the technical envelope forward, and finding ways for his team to continue to learn and grow their technical skills.
Path is not Defined - Providing a Transparent Roadmap for Career Development
Randy Tolentino, Front End Developer, IBM
Randy is a Front End Developer living in the greater Austin area who helps build high quality client-facing experiences for IBM Security applications. When not at work, he enjoys going on 'family dates' with his wife and their two sons.
Where:
Indeed
18th Floor (Kitchen)
201 W 5th Street
Austin, TX 78701
Guests should check in at the lobby.
When:
5:00 - 5:30 pm : Meet and Greet
5:30 - 7:30 pm : Presentations
7:30 - 8:00 pm : Discussions
The Lead Developer Conference will be hosted under the following code of conduct.
https://austin2018.theleaddeveloper.com/code-of-conduct