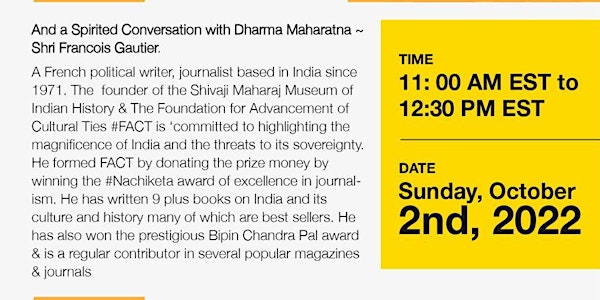 Lead America: An Exclusive Fundraiser for #Humanitarian François Gautier.
The Lead America Foundation: An Exclusive Fundraiser for FACT.
About this event
The Lead America Foundation: An Exclusive Fundraiser for FACT.
Forcing Peace in the Midst of Conflicts.
Time: 11:00 AM EST to 12:30 PM EST. | Date: Sunday, October 2nd, 2022.
Request to #Register:
#LAF #Video #LiveLink:
Host: Rajesh Gooty, President.The Lead America Foundation (#LAF)
A Spirited Conversation with Dharma Maharatnas ~ Smt Namrita & Shri Francois Gautier, Torch Bearers of Bharatiya Sanskriti. Founders of the Shivaji Maharaj Museum of Indian History & The Foundation for Advancement of Cultural Ties #FACT is 'committed to highlighting the magnificence of India & the threats to its sovereignty. Formed FACT by donating the prize money by winning the #Nachiketa award of excellence in journalism, enriched Bharat with Nine Best Sellers on India, its culture & history. A Journalist, Author, Regular contributor in several popular magazines & journals.
Guest Speakers:
Kishore Reddy, Sri Lanka. | Entrepreneur & Humanitarian.
Ramesh Jaipal, Pakistan. | Entrepreneur & Humanitarian.
Mohan Wanchoo, United States. | Entrepreneur & Humanitarian.
11 AM to 11:30 AM: Spotlight on the unparalleled & steadfast commitment of Smt & Shri Gautier to Bharat Mata, and The Eminent *Dharma Maharatna* Awards, the first-ever honor accorded by The Lead America Foundation & The Global #Hindu Heritage Foundation.
11:30 AM to 12:15 PM: Panelists of Global Repute on Exceptional Humanitarian Efforts in the Midst of Strife. And, how determined efforts of Leaders despite challenges are Steadfast in their commitment to their chosen Path, Goals, Truth, History, People & Nation. Thus, Leading the March to Triumph of Human Spirit.
12:15 PM to 12:30 PM: What Next?! Reflection on the dire future for Civilizations. How indigenous people must engage & turn assertive for self-preservation when threatened. What next for #Hindus, it's Religion & Civilization. And, How one can wholly embrace & support FACT initiatives & commit continued support.
Patrons:
Dr Amitabh Sharma, Advisor, LAF.
Dr Krishna Madiraju, Executive Director, LAF
Dr Prakasarao Velagapudi, Chairman, GHHF.
Supported By:
The Lead America Foundation.
The Global Hindu Heritage Foundation.
The India Cause, The India Heritage Centre.
Technical Support: Savitr Software Services.
____________________
Rajesh Gooty. Founder, President & CEO.
The Lead America Foundation, Unity in Diversity, United National Diversity Coalition of America. An All-Volunteer 501(c) (3) Non-Profit to Champion to Youth Leadership, Education, Advocacy & Diversity. LAF is a self-funded organization that is all Volunteer Driven, With our thought leaders evaluating the impacts of expanding the use of community-based alternatives to society's Key Issues. Team LAF is Directly Confronting Challenges faced by our Youth, Local Families & is Committed to Transforming Lives, One Person at a Time. Our Community Engagement Education & Wellness events are Free, Open to All Races & Age Groups. With Your Pro-Active Engagement, we continue to advocate & advance youth leadership, families, and entire communities. We Sincerely Appreciate Your Gracious Support, Thank You Very Much.
To Donate: https://paypal.me/LeadAmerica
+1(703) 666 9000 | ileadamerica@gmail.com | info@ileadamerica.org |
http://ileadamerica.org/ | https://www.facebook.com/ileadamerica
___________________________________________________