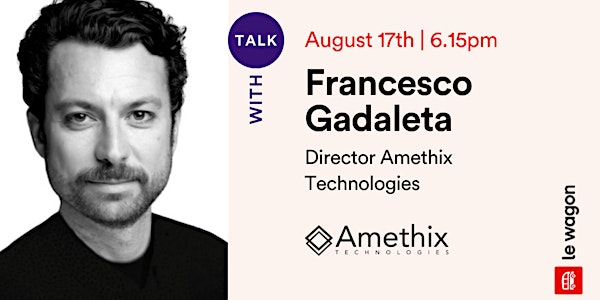 Le Wagon Talk x Francesco Gadaleta, Director at Amethix Technologies
Learn more about Data Science from an expert in the field
When and where
Location
Le Wagon Brussels Cantersteen 10 1000 Belgium Belgium
About this event
Data Science and Machine Learning are topics of interest for you? Or you'd like to know more about it?
Join us on July 17th as we welcome Francesco Gadaleta, Director at Amethix Technologies and host of the podcast Data Science at Home 🚀
Francesco will share his experience in data science and machine learning, being the director of a company using machine learning and advanced analytics to empower people and organizations to ask and answer complex questions like never before. Discover how data and innovative technology can allow people to solve the hard problems that characterize their life and business 🔥
🌟 About Amethix Technologies
Amethix Technologies is an independent company, focused on the design and implementation of data analytics solutions to support decision making - the kind of work that empowers humans at their most important tasks and business. We are specialized in advanced machine learning for domains like healthcare, finance, social media, logistics and energy.
📍Location
This talk will take place at BeCentral, Brussels tech campus located next to the Central Station. Limited seats available.
🚀 About Le Wagon
Le Wagon emerged in 2014 as one of the first tech bootcamps in France, offering web development and data science programs. Now, it has grown to a robust global community of tech talents with 45 Le Wagon campuses in Amsterdam, Berlin, Lisbon, London, Melbourne, Mexico, Montreal, Singapore, São Paulo, Paris, Tel Aviv, and other cities worldwide.
With this expansion, Le Wagon has helped over 14,500 developers, data scientists, designers, and entrepreneurs start their new careers in tech. Eight years on, the school continues to inspire tech aspirants to find their path in the industry.