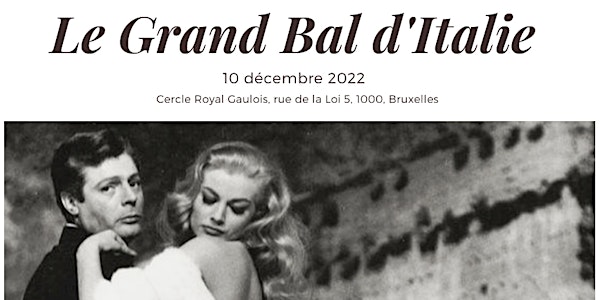 Le Grand Bal d'Italie 2022
Gala ball
When and where
Location
Cercle Royal Gaulois Artistique & Literary 5 Rue de la Loi 1000 Bruxelles Belgium
About this event
Comites (Committee for Italians abroad) of Brussels, Brabant and Flanders is proud to present the fifth edition of its gala ball, under the auspices of the Italian Embassy and the ItaIian Institute of Culture in Brussels. This year dedicated to Federico Fellini.
Programme:
- 21:00 Doors opening
- 21:30 ballet Ginger e Fred (Tap dance show)
- 21:45 Ballroom dances (with Orchestra Italiana Bruxelles)
- 23:15 ballet La Strada (Conservatoire de danse Bruxelles)
- 23:45 Ballroom dances
- 01:00 Disco dancing (with DJ Laloi)
- 03:00 End of the gala
Dress code: Tuxedo or uniform for gentlemen - Long gown for ladies.