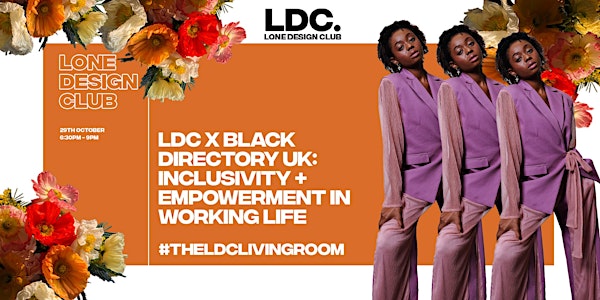 LDC x Black Directory UK: Inclusivity + Empowerment in working life
Here's to the power stories of black owned businesses and what's inspired these entrepreneurs to strive for success in the day to day.
About this event
On the 12th November we will be hosting a panel discussion with Black Directory UK to round off Black History Month and to celebrate Black owned businesses.
This evening will focus on inspiration and empowerment. Hear the conversations from small business owners from a variety of industries including music, creative and tech - drawing on their own experiences and what drives them to make a positive impact.
The conversation will be based around navigating as a black person in the working world: common micro-aggressions in the workplace, hair politics, unconscious bias from colleagues etc. With also the possibility of touching on the under representation of black people in senior positions.
This topic first and foremost is really important as it's a key factor in most black men and women's experience in the UK, in the workplace and inevitably plays a part in our mental health, it's also a topic that has room for humour, discussion for solutions as well as audience engagement.  
What To expect:
- Inspiring panel discussion + Q&A
- Networking with fellow professionals from a range of industries   
- Support independent designers + Black businesses
- Discover the best in up-and-coming fashion, accessories & lifestyle brands
Speakers
Catherine Foxwell
Originally working in the Charity and Community sector, Catherine has always had a love of nature and flowers and decided to pursue how floristry could become her job.
Following a short college course at an adult education college, Catherine enrolled on a two-year part-time diploma in floristry and qualified with distinction. To hone her skills Catherine worked in the industry for another two years with top florists both in London and aboard, adding to her skills, exploring different styles and in 2015 decided to launch Floral Evolution.
Floral Evolution offers revolutionary flowers, for weddings and events, pushing boundaries and exploring the use of colour and texture to make breathtaking floral displays. Catherine is also a keen photographer and takes many images of flowers to explore the beauty in individual blooms and capture these moments.
Rejoice Ojiaku
Reji is the Global SEO Account Manager & Co-Founder of B-Digital U.K, a digital marketing platformed aimed at black people with a focus on showcasing and inspiring black talent. She is also the host of a popular talk show, Table Talk, centred around highlighting black culture and good food. As if that wasn't enough, she also co runs a podcast called 4 Elements, a sorority of four black women in London, bringing their listeners relatable content. Check out more @Rejiaku
Nel Marie Patra
Actor and creative, most recently known for her latest appearance in the TikTok commercial. Nel understands how to utilise social media as a platform and often uses it as a means to discuss race and inequality; check her out: @nelmariepatra
Firdous
Firdous is a model, entrepreneur and founder of Flossy Eyewear; a sunglasses label that has been featured in the likes of British Vogue. @flossyfifi
About Black Directory UK
Black Directory UK is an online platform showcasing Black British culture, news and business. We help, connect creatives to opportunities and entrepreneurs gain access to capital and resources.
LONE DESIGN CLUB
Lone Design Club is cutting through the noise of a saturated fast‐fashion market and shaking up the conventional shopping experience by challenging traditional retail offerings both in the UK and internationally. Presenting a new immersive shopping experience LDC is blurring the lines between consumers online and in‐store purchasing experiences.
PREMIUM - ETHICAL - IMMERSIVE
ONLINE 24/7
More info to follow - keep an eye on our website and social channels - in the meantime, be sure to mark your diaries.
Follow us >>> stay tuned as we release details via our Instagram + Facebook