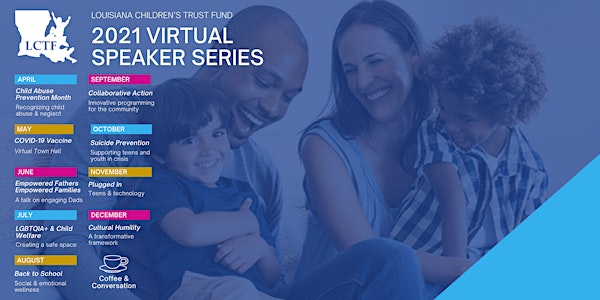 LCTF 2021 Child Abuse Virtual Speaker Series - Coffee and Conversations
Join the Louisiana Children's Trust Fund Coffee & Conversation Virtual Speakers Series - Empowered Fathers = Empowered Families
About this event
Join us online for a Virtual Coffee and Conversation Event
This month's talk will feature Nathaniel Williams, DSW, EdD, MHS, MPA, MBA.
The focus will be Empowered Fathers = Empowered Families: A Discussion on Engaging Dads. Dr. Williams will bring his unique perspective as a professional in the field of child welfare, a father of eight children and his lived experience as a former foster youth to share information about the importance of engaging fathers of children involved in child welfare system.
Nathaniel Williams, DSW, EdD, MHS, MPA, MBA - Dr. Nathaniel J. Williams' life journey essentially began just days after he and his eleven siblings became orphaned. At five years old until the age of 18, 'Nat' was a ward of the State of New York's foster care system. Eventually separated from his brothers and sisters, 'Nat' rarely saw his siblings during childhood. Yet he was the one on whom the other kids, living in a group home campus setting, depended. Dr. Williams has four graduate degrees, including a Master of Business Administration (MBA), a Master of Public Administration (MPA), a Master of Human Services (MHS), and a doctorate in education (Ed.D.). Dr. Williams was awarded a Doctor of Humane Letters from Lackawanna College in May 2018. As of January 2019, Dr. Williams has started his pursuit of a Doctorate in Social Work (DSW) from the University of South California's Suzanne Dworak-Peck School of Social Work. It is anticipated he will graduate with his cohort in December 2020. His career-span has included a multitude of successive roles as a direct-care worker, house parent, social services entrepreneur, business entrepreneur, Chief Executive Officer, adjunct professor, scholar-in-residence, and TV talk show host, all of which he enlivens with his passion to help others realize their full potential.
For more information about the Louisiana Children's Trust Fund, go to our website: