Description
The Future is Latina.
Celebrate with us as we host our annual Sisterhood Brunch fundraiser on June 10, 2018. Latina Coalition is committed to educate, prepare and connect Latinas in the areas of civic engagement and leadership development as an expression of our shared values of service, commitment, and appreciation for the Latinas who have paved the way for our successes.
Through trainings, networking events, and our signature Engaged Latina Leadership Activist (ELLA) program, Latina Coalition has been building the Latina leadership pipeline since 1999. Our Sisterhood Brunch is a celebration of the accomplishments we've made so far and a call to action to reignite our mission.
Don't miss your opportunity to reconnect, meet, and mingle with fellow Latina professionals in Silicon Valley!
Keynote Speaker: Irene Chavez, Senior Vice President and Area Manager, Kaiser Permanente
Agenda

Registration: 10 AM
Networking: 10:30 AM
Brunch and Program: 11 AM
> Welcome
> Keynote Speaker: Irene Chavez, Kaiser Permanente
> ELLA Testimonial
> Sisterhood Award: Guisselle Nuñez
Closing and Networking: 12 PM
Thanks to our Sisterhood Brunch supporters and sponsors!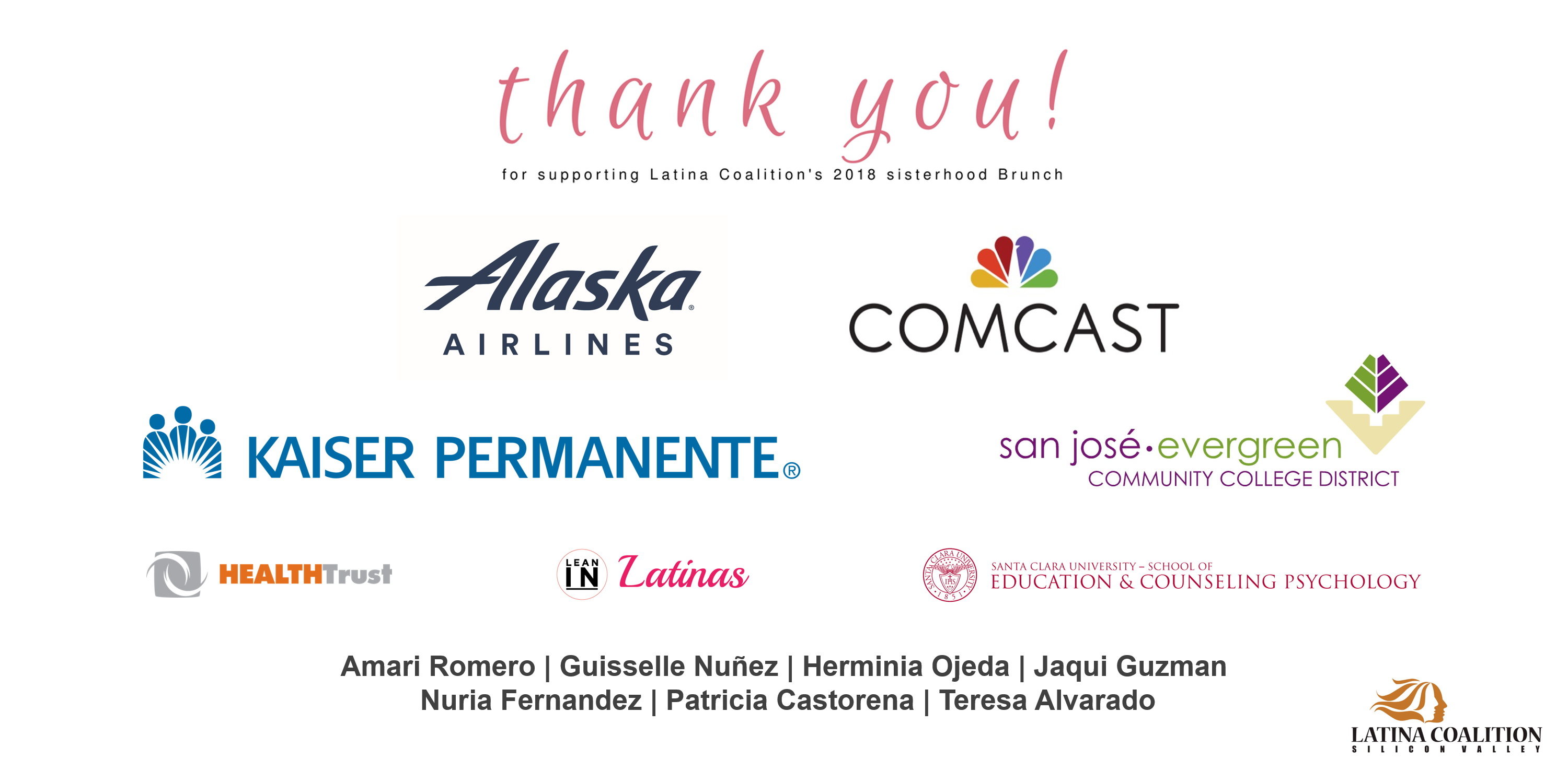 Parking Options:
Validated parking is available at the Convention Center Public Parking (S Market and W San Salvador streets).
Another parking lot is available for a fee at the corner of S Market and W San Carlos streets.
The Westin also offers valet parking for a fee (please note valet parking is limited and not guaranteed).
The rate for guests to park for the duration of the event is as follows:
$15.03 per vehicle for up to 2 hours
$20.04 per vehicle for 2-5 hours
$25.05 per vehicle for over 5 hours
For sponsorship information, please visit latinacoalition.org/2018-sisterhood-brunch or contact us at president@latinacoalition.org.
Note: By signing up for an LCSV event, the email entered will be automatically added to our newsletter. If you do not wish to be added, please email president@latinacoalition.org.
Refunds: It is not within our policy to provide refunds, but we will make substitutions to the ticket holder upon request.
Organizer of LCSV 2018 Sisterhood Brunch