Description
LCN BAREFOOT TRAINING & CERTIFICATION IS COMING TO THE SMOKIES!
We are very excited to once again be at the Nail Tech Event of the Smokies - this time offering one of the most sought-after classes in the industry! Athena Elliott of Nail Talk Radio and LCN National Barefoot Trainer, will be teaching this game-changing class on Monday, July 13 at this two day event. The class fee is $249 which includes loads of printed material, a Barefoot Try Me Kit (value $45). Come join Athena & LCN for the most unique educational event offered in the industry. And make sure you stop by LCN's booth the day before; we'd love to meet you!
As a certified Advanced Nail Technician and the country's first certified Medical Nail Technician, Athena will bring to you working knowledge of the product as well as special tips for added success. And success is what you'll have with this as a new service!
In this class you will learn:
Why the right product and application is so important
Sanitation
Working within your scope of practice
How to market yourself as a reconstructive toe nail specialist
How to price your services and command the money and the respect you deserve within the industry
How to work with the medical community
Proper prep and application
Educating your client on aftercare
Whether you just want to offer perfect, long-lasting pedicures or restore missing toe nails, partially or completely, LCN Barefoot is the service you need to offer!
Become the first nail technician in your area to offer this revolutionary service to your clientele. Barefoot gel resin is the only cosmetic and toenail reconstruction product designed specifically for the unique challenges faced when working with toenails damaged by trauma or disease.
Barefoot is strong yet incredibly flexible and comes in a choice of customizable color options and an incredible income booster!
Who would want a gel toenail treatment?
People who like to show off their toes! who like a permanent polish finish, french finish or nail art designs.
Clients requiring toe nail correction or a false nail for protection because of trauma or surgery.
Those requiring relief from discomfort while wearing foot wear, either by having a protective covering over a corrective brace for an in-growing toe nail or over areas that are especially sensitive due to chronic conditions.
Students must bring class kit, files & implements, LED or UV Gel lamp, & paper & pen for note taking. A practice foot will be made available for you to use at the class.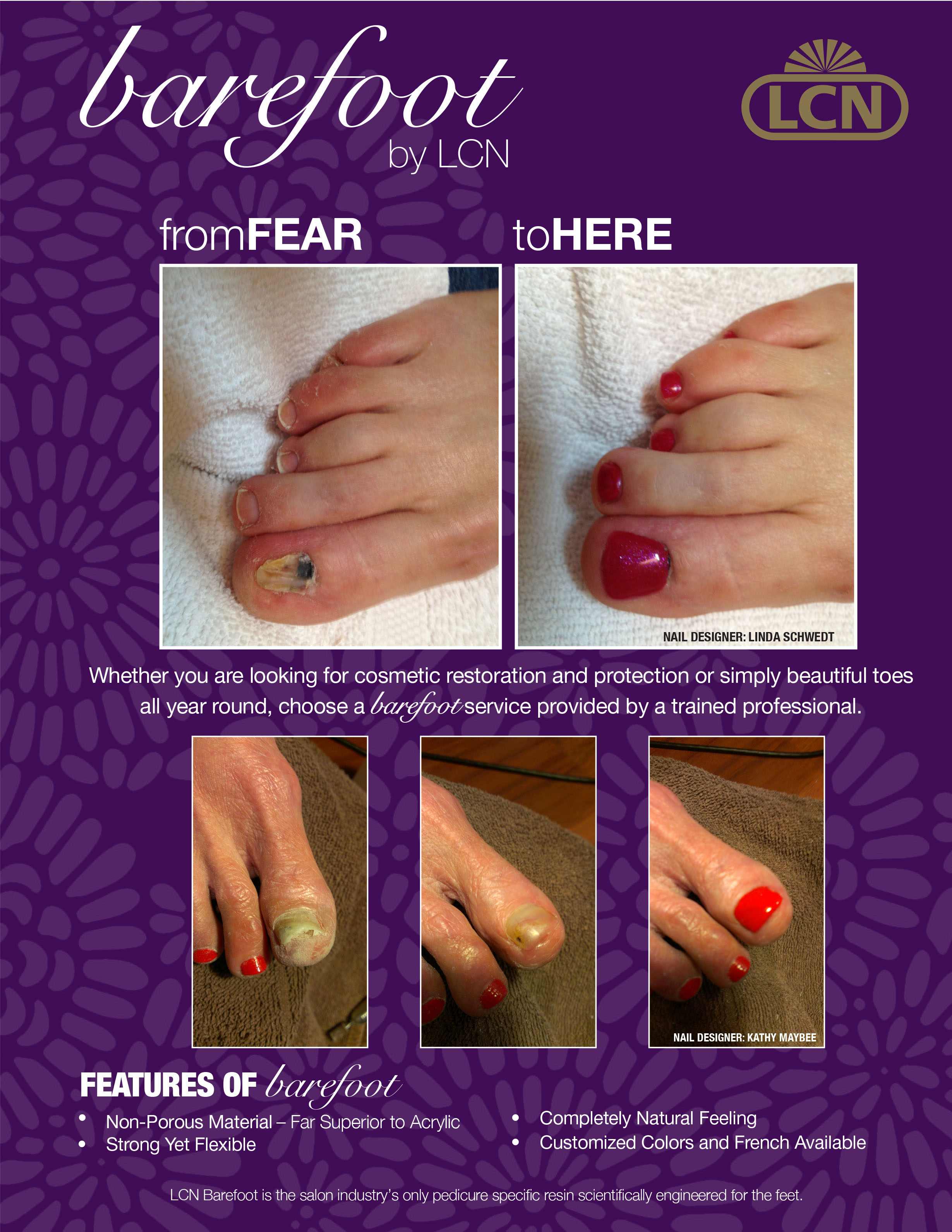 Organizer of LCN BAREFOOT Training & Certification (TENNESSEE) Smokies Nail Tech Event