Description
DATE, TIME, & LOCATION:


Friday, July 27 through Saturday, July 28, 2018
Registration begins at 4:00 PM on Friday. The event will conclude at 4:30 PM on Saturday.
Hosted by St. Paul Lutheran Church, 777 West San Antonio Street, New Braunfels, TX
THEME VERSE:

KEYNOTE SPEAKERS:

Perry Fruhling, Lutheran Congregations in Mission for Christ
Perry Fruhling is the Coordinator for Pastoral Ministries for LCMC. Together with the Ministry Board, Perry administers the certification process for pastors, assists with call processes, develops leadership events, and works with our seminary partners. Perry is also trained in conflict resolution to assist congregations and pastors to create healthy relationships in leadership and congregational life.
Perry will be presenting a keynote entitled, "Broken and Beautiful: Our Treasure in Jars of Clay". He will share the key to being a leader who is an earthen vessel and how to be open about our vulnerabilities as an opportunity to be used for God's glory. Focusing on principles of healthy leadership, we see God at work in our spiritual lives, families, and churches as we seek to make an eternal difference in the world.
Kyle Fever, Nexus Institute / Grand View University
Kyle Fever is the Director of the Nexus Institute at Grand View University in Des Moines, IA. The Nexus Institute is a high school theology institute which exists to transform the landscape of the Lutheran Church through innovative and intentional development of young adults who want to be more involved in the nexus of faith, life, and the church. He has a PhD in New Testament and Early Christian Origins and a great passion for helping the church read Scripture in ways that take its words seriously and meaningfully for shaping life today. Kyle also serves as a professor of New Testament at the Master's Institute and is able to speak on how the New Testament and early church can give new life to how we live as Christians today. He would love an invitation to come and speak in your church!
Kyle will be delivering a keynote entitled "A Vision for Theological Development in the Church: Reality, Grief, and Hope." The American church today is facing decline across the board and perhaps most disturbingly among young adults. While this is an unsettling trend, Kyle will explore how the church has faced similar times in the past and what we can learn from Dietrich Bonhoeffer's work with youth. Drawing upon stories from the New Testament, Kyle will help us to face our reality and grief while pointing us to the hope that lies ahead.
Jo Kinnard, Resurrection Lutheran Church, Monticello, Minnesota
Jo Kinnard is an Associate Pastor at Resurrection Lutheran Church in Monticello, Minnesota. Born and raised in the Hindu faith, Jo had always been deeply interested in questions about God and salvation. Her life changed forever when she was rescued by Christ from a personal crisis and brought to faith in her forties. She immediately felt a burning desire to introduce everyone to Jesus which led to following a call to ordained ministry. She finds it amazing that God continually puts to work all of her background and education—her work as a professor in religion and philosophy and her years in software development, along with her personal faith history—to help people encounter Christ in their lives.
Jo will be sharing a keynote entitled "Yada, yada, yada…Because Evangelism IS more than a Church Thing." People often tune out, shy away from, or dismiss the word "evangelism." It's boring, or scary, or a "church thing," or "not for me!" But evangelism is simply to know the other person's story, your story, and God's story. Where two or three are gathered, God is present and transforms. "Yada" is from the Hebrew word "to know." She will help us to reclaim the yada, yada, yada: to Know my story, your story, and God's story.
PREACHERS AND WORSHIP LEADERS:
Opening Worship: Jim Craver, Faith, Seguin preaching with Church on Main, Giddings leading
Closing Worship: Paul Owens, St. Paul, New Braunfels preaching with St. Paul, New Braunfels leading

CALLING ALL MIDDLE AND HIGH SCHOOL YOUTH!
We are excited to announce a special "YOUTH TRACK" designed for ALL STUDENTS grades 6-12! Students will grow in their faith through learning from inspiring presenters and doing ministry with others their own age from across the state! Along the way, they'll meet lots of new friends, have fun, eat some great food, and be encouraged to live faithfully in their everyday lives.
Coinciding with the Annual Gathering, the Youth Track has its own schedule (in this packet). Cost is just $25 and includes snacks, two catered meals, and a t-shirt. Transportation and lodging will be the responsibility of each church and/or family. Please spread the word about this awesome opportunity for your students! More details below.
Have a little extra time? Why not tack on a trip to the waterpark on Friday before the Gathering gets going Friday evening?! Questions? Contact Bryce Formwalt: 512-942-7776 or bryce@lcmctexas.org.
PRE-GATHERING LEADERSHIP SEMINAR:
Our Pre-Gathering Leadership Seminar will take place from 1:00 to 4:00 PM on Friday. Together we will dive into No Silver Bullets: Five Small Shifts That Will Transform Your Ministry by Daniel Im. Based on extensive discipleship research, No Silver Bullets will challenge you to think deeper about how we are making disciples in the local congregation. Director of Mission Growth Bryce Formwalt will both present and lead discussion and we are excited to have author Daniel Im join us via video for deeper conversation on the topic! All pastors, seminarians, and ministry leaders are encouraged to attend. Please make sure you add the "Pre-Gathering Leadership Seminar" option onto your ticket when you register. Cost is just $10!
PRE-GATHERING WOMEN'S SEMINAR:
NEW THIS YEAR: The Texas District Women of the Word (WOW) will host a special Women's Seminar simultaneous to the Leadership Seminar on Friday from 1:00 to 4:00 PM. Participants will be treated to two encouraging and informative presentations: Hahn Bielfeldt of The Woodall Foundation will be sharing about their mission work of bringing the Gospel to deaf children in Moldova and Barb Geistfeld of Lutherans for Life will be presenting on a biblical perspective of life issues and how the church can take an active role in addressing all the life issues we face everyday. In addition, women will have an opportunity to share and discuss what ministries women are engaging in through their local congregations. All women are encouraged to attend. Please make sure you add the "Pre-Gathering Women's Seminar" option onto your ticket when you register. Cost is just $10!
PRE-GATHERING LEADERSHIP & WOMEN'S SEMINAR SCHEDULES:
FRIDAY, JULY 28
12:30 – 1:00 p.m. Pre-Gathering Seminar Registration / Fellowship
1:00 – 2:30 p.m. Pre-Gathering Seminar Session 1
2:30 – 2:45 p.m. Break with Snacks
2:45 – 4:00 p.m. Pre-Gathering Seminar Session 2
ANNUAL GATHERING PROGRAM SCHEDULE:
FRIDAY, JULY 27
4:00 – 6:00 p.m. Registration, Fellowship, & Displays
4:45 – 5:50 p.m. Dinner
6:00 – 7:00 p.m. Opening Worship
7:00 – 7:15 p.m. Welcome and Announcements
7:15 – 8:00 p.m. Keynote by Perry Fruhling
8:00 – 9:00 p.m. Fellowship
SATURDAY, JULY 28
7:30 – 9:15 a.m. Registration, Refreshments, and Displays
8:00 – 8:10 a.m. Opening Devotion by Kari Malinak
8:10 – 9:00 a.m. Business Meeting
9:00 – 9:15 a.m. Break
9:15 – 9:25 a.m. Introduction of Breakout Leaders
9:25 – 10:10 a.m. Keynote by Kyle Fever
10:10 – 10:25 a.m. Break with Snacks
10:25 – 11:10 a.m. Breakout Session 1
11:15 – 12:00 p.m. Breakout Session 2

12:00 – 1:10 p.m. Lunch
1:15 – 2:00 p.m. Breakout Session 3
2:00 – 2:20 p.m. Break with Snacks
2:20 – 3:05 p.m. Keynote by Jo Kinnard
3:15 – 4:30 p.m. Closing Worship with Communion
2018 Texas District Gathering Breakout Summaries
"Get Hooked on Scripture"
Jo Kinnard, Resurrection, Monticello, MN

God's Word alone has the power to effect transformation. We can hand out copies of the Bible, but how do we get someone to read it with joy and curiosity? How do we make the Bible relevant and meaningful? In this breakout session we examine a multitude of practical ways in which a worshipping community can tap into the particular interests and leanings of people, both inside and outside the church, to prompt a desire to look deeper into scripture. Offered Sessions 1 & 2
"The Church: Mobilizing Ordinary People 'Called' by Jesus"
Wendy Berthelsen, Call, Inc.

The word for "church" in Biblical Greek literally means "called out ones." Ones... ordinary people "called" by Jesus to go "out," transforming the world in Jesus' name. "Called out ones" gives both the definition and goal of church. The workshop will both help churches know how to do this, organize around the "calls" of people, hindrances to doing this, and the great need for mobilizing an army of ordinary people. In a day and age when people are drifting away from "church," mobilizing an army of ordinary people to be the church, the "called out ones" is more crucial than ever. Offered Sessions 1 & 2
"Equipping the Church to Address Sex with Children and Youth"
Janice Weaver – South Texas Pregnancy Care Center

There are many misconceptions and little knowledge among students about sex, teen pregnancy, STDs, sexting, internet predators, pornography and more. We believe that church leaders and parents need to know the facts about these topics so they can be better equipped to address them with our children and youth. Come and learn how you can make a difference in the lives young people in your community. Offered Sessions 1 & 2
"Nicaragua Mission"
David Mayer and Maggie Skalka – St. Paul, Hondo

Building churches, drilling wells and assisting the population in northern Nicaragua mountain area bordering Honduras. We will also share our various mission projects in the area including schools, university, medical facilities and the love of the people. Offered Sessions 1 & 2
"Relevance of Lutheranism in Mexico"
Enrique Estrada – Mexico Mission International

During our session we will discuss why it is important for our Lutheran churches to clarify our Lutheran approach to Christian faith and why it is important to be trained. If we understand our faith, we will be more effective in reaching our nation. Offered Sessions 1 & 2
"Raising Lazarus"
Lee Harder and Don Bragg, St. Paul, Bulverde

This breakout tries to address the needs of smaller congregations that worship 100 or less per Sunday. Such churches make up 75-80% of every denomination and LCMC is no different. Few pastors can afford to serve such congregations and many are unwilling due to locale or conditions. Abandoning or ignoring small but viable congregations seems a poor choice to make. How do we meet their needs? Offered Sessions 1 & 2
"Building Responsive Faith Lives in Youth"
Kyle Fever, Nexus Institute

There are good strategies for the church to employ with youth and their theological development. Surprisingly, these strategies are very accessible and not all that complicated. Yet, implementing these will require some change, exposing us to the reality that maybe we've let cultural tides determine our outlooks and approaches to developing deep faith lives in young adults. Offered Sessions 1 & 3
"How to Approach Mission Opportunities"
Fred and Wanda Garcia, Child Outreach International

Child Outreach International is a LCMC Partner sharing Christ's love and promise with churches, schools, communities and families in Mexico, Guatemala, Panama and Nicaragua. With twelve years of experience in the mission field to reflect on, Fred and Wanda Garcia will not only share their ongoing outreach in the mission field but share insights into how to responsibly choose and approach mission opportunities as individuals or as a congregation. Offered Sessions 1 & 3
"Caring for the Lost, Angry and Hurting"
Percy Smerek – Trinity, Stonewall

Blessed be the tie that binds. Hearing the hurts, recognizing the faults, carrying one another's burdens as in Galatians, dying for one another. In the intensity of living with real people, we are often set back in relationships. With a prayer for caring, a heart open to hear deeply and the truth of knowing God, you can change lives. Offered Sessions 1 & 3
"15 Building Blocks to Grow Your Giving"
Paul Austin, Kirby-Smith Associates, Inc.

Learn about the spiritual basis for generosity and connecting it with 15 building blocks to help your congregation grow in their giving. It will cover "How to help people trust God with their money," "Why do people resist giving?," "How to attach stewardship to mission," "How to ask everyone what their giving plan will be for the year," "Talk the language that motivates giving," "Recognize money will not solve all your problems" and more. Paul Austin served as a parish pastor for 28 years and is excited to share a sermon series entitled: "Rethinking Generosity" with all who attend. Offered Sessions 1 & 3
"10 Risks That Every Ministry Faces and Every Leader Needs to Know"
Kurt Hetherington, American Church Group of Texas

Churches today have a greater exposure than ever. From the increasing threats of lawsuits to the complexity of property. It is important for every leader to be prepared. This workshop will provide practical information that is essential for every church to help manage and insure the growing risk. Kurt is a Certified Risk Manager and Certified Insurance Counselor. He directs an agency alliance that is one of the largest insurers of churches in America. Offered Sessions 1 & 3
"Turning Point"
Perry Fruhling – Lutheran Congregations in Mission Christ

"The one thing that is constant in life is change." So said Heraclitus in the fifth century A.D. But what does it mean for LCMC churches and leaders going through the call process? Hear more about transitions and an update on LCMC from the new LCMC Coordinator for Pastoral Ministry. Your questions will be welcome as we learn and grow together. Offered Sessions 2 & 3
"Community-Based Outreach"
Bryce Formwalt – LCMC Texas District

While many ministries may feel stuck in a rut, others have found life and renewal through loving their neighbors. A community-based outreach approach can help your congregation look at your community in a new and fresh way and begin to minister to people beyond your walls in a natural way that reflects Jesus and builds meaningful relationships. Come and find out how you can recognize and respond to the good works that God has prepared for you to do! Offered Sessions 2 & 3
"Intentional Interim Ministry"
Ray Hagan, Our Saviour, Victoria

Are you in a congregation that has just begun a pastoral vacancy, is anticipating a pastoral vacancy or just figures that it will have a pastoral vacancy sooner or later? Are you a pastor, perhaps just beginning or getting near to retirement, or would just like an entirely new kind of challenge? Then you will want to learn more about Intentional Interim Ministry. In this workshop, congregational leaders can discover how an Intentional Interim Pastor can help your church deal with anxiety during a vacancy. Pastors who might be interested in this ministry will discover more about this ministry, if they might be well suited for this ministry, and what it takes to become a trained Intentional Interim Pastor. Offered Sessions 2 & 3
"What is disability ministry anyway? And how can Bethesda help?"
Mona Fuerstenau – Bethesda Lutheran Communities

It's NOT about new programs and $$. It's about missing people and parts of the body of Christ. (1 Corinthians 12:22) Come learn how Bethesda can equip your congregation for ministry with people with disabilities of all ages and their families. Take away resources, tools and tips you can use immediately to create a place of belonging for people of all abilities. Offered Sessions 2 & 3
"Outreach and Mission to the Border: La Frontera"
Yael Mendez, Latin American Lutheran Missions

The workshop would focus on the mission of Latin American Lutheran Missions (LALM): evangelism with the purpose of growth of the Kingdom of the Lord, strengthening and initiating new missions in different areas along the Texas US-Mexico border and achieving collaboration and participation of the believers in supporting the work of God. Offered Sessions 2 & 3


LODGING INFORMATION:
Ramada Inn
1051 I-35 Frontage Road, New Braunfels, Texas – (830) 625-8017 – 3 miles

Block of rooms are reserved under LCMC Texas District. Deadline to make reservation is July 1, 2018 - after that all rooms will be released to the public. Rate of $129.95 for either 1 King bed or 2 queen beds.
Red Roof Inn
817 North I-35, San Marcos, TX – 512-754-8899 – 19 miles

Block of rooms reserved under St. Paul Lutheran Church or Emily Harborth. Deadline to make reservation is July 10, 2018 - after that all rooms will be released to the public. Rate of $99.99 for 2 beds or $89.99 for 1 king bed.
Wingate by Wyndham
108 North I-35, San Marcos, TX – 512-754-6621 – 19 miles

Block of rooms reserved under LCMC Texas District or St. Paul Lutheran Church. Deadline to make reservations is June 27, 2018 – after that all rooms will be released to the public. Rate of $119.00 for either 1 king bed or 2 queen beds.
Days Inn
2950 North Highway 123 Bypass, Seguin, TX – 830-372-0860 – 15 miles

Block of rooms reserved under LCMC Texas District or St. Paul Lutheran Church. Deadline to make reservations is July 12, 2018 – after that all rooms will be released to the public. Rate of $89.99 for 2 double beds or $84.99 for one queen bed. Free cancellation if cancelled by 4 p.m. on July 25, 2018.
Other Lodging:
New Braunfels in July is in the peak of their tourist season and affordable lodging may be more difficult to find. Please plan ahead. In addition to the blocks reserved for our Gathering, you may be able to secure even lower rates or more suitable accommodations directly through hotel websites or third-party websites such as Priceline or Hotwire. You may wish to book using one of the links below: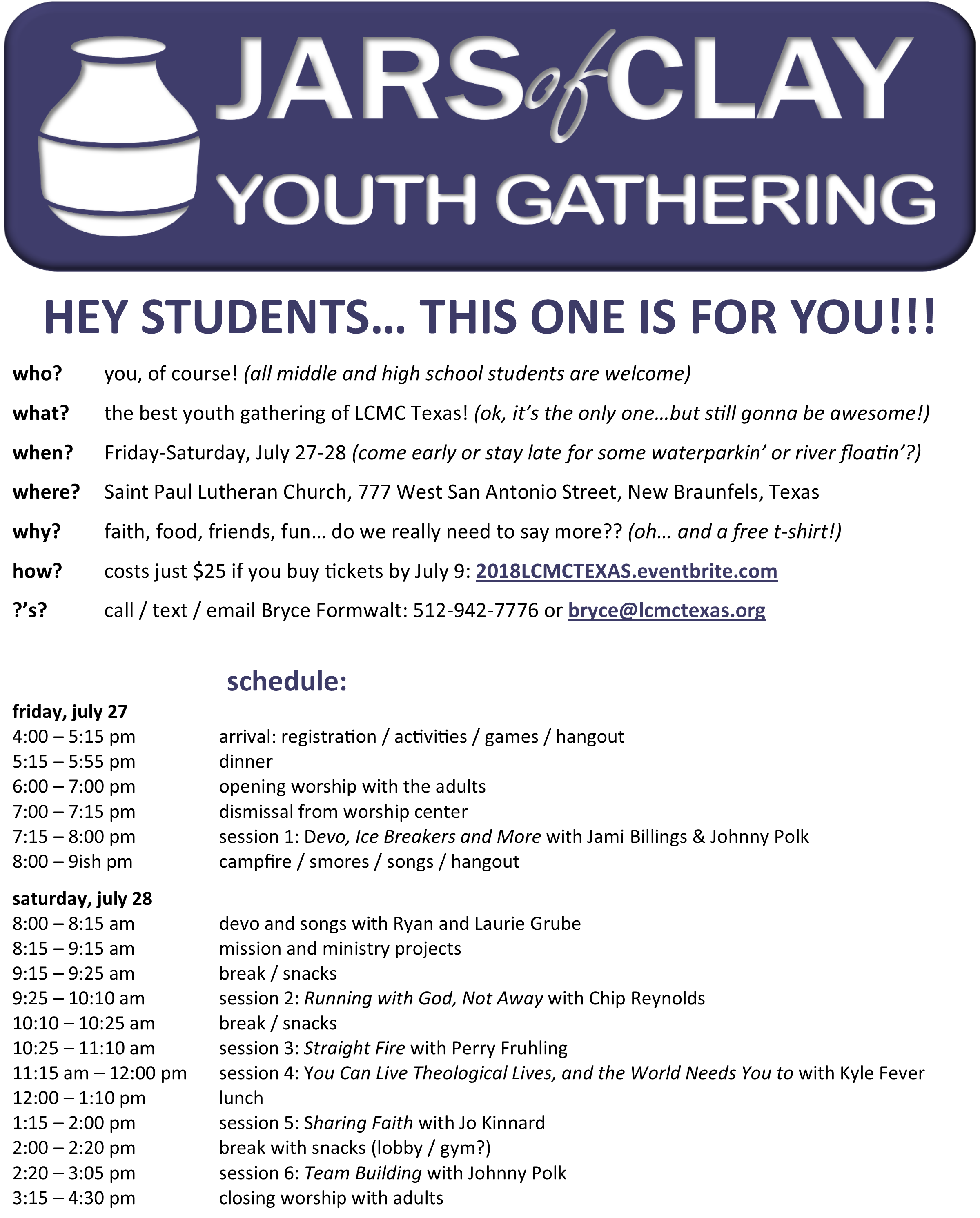 Organizer of LCMC Texas District Annual Gathering 2018
The LCMC Texas District is an association of Lutheran congregations in Texas who partner together for the sake of fellowship, mission, and support. Our vision is to see disciple making and church planting movements across the State of Texas. To put it simply, our mission is to Multiply Disciples and Churches.