LCI Chicago CoP >> Last Planner System for Design

Thursday, September 13, 2012 from 3:00 PM to 7:00 PM (CDT)
Event Details
Chicago Community of Practice
 Presents
 Last Planner System for Design

Speaker: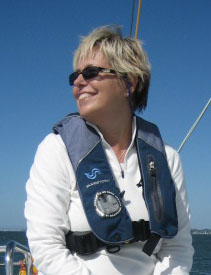 Kristin Hill
 President at InsideOut Consulting, Inc
Program Abstract
While Last Planner System (LPS) was developed by the Lean Construction Institute with a focus on planning during construction implementation, it is just as effective and useful during the design of a project. Learn about LPS as a lean/collaborative planning approach to delivering projects with an emphasis on implementation during the creative design process.  The presenter, Kristin Hill, is a former Principal Architect and current lean coach, so you will be learning from a relevant practitioner.
Following Kristin's presentation, there will be a panel discussion with the project team from the Advocate Illinois Masonic Medical Center, Center for Advanced Care. Representatives from Advocate, SmithGroupJJR, KJWW Engineering, Turner Construction Company and Huen Electric will share their insights and perspectives as it relates to first-hand experiences with LPS during the design phase.
Collaborative planning is the foundation by which a team collectively organizes the actions required to meet their goals.  It is an approach which profoundly improves the team's ability to plan, and then deliver, effectively.  The focus is on expected outcomes.   Planning and execution are connected through conversations based in offers, requests and promises, resulting in well-coordinated action. Performers take responsibility and commit to deliver the work.  Join us as we learn about a local teams experience at applying a collaborative planning process to an on-going local project.
Introduction of LCI Chicago
LCI Chicago is a regional forum where people meet, share experience, learn and connect. The Community of Practice helps owners, architects and designers, engineers, contractors, labor, specialty contractors, and suppliers understand and find their way in this new world of Lean Project Delivery. The invitation is open to all project participants to meet together as local user groups to explore and develop Lean ideas as they work together.
Date and Time:
Thursday, September 13, 2012, 3pm - 6pm Program, 6pm-7pm Networking and Appetizers
Location:
DrinkerBiddle & Reath LLP, 191 North Wacker Drive, Suite 3700, Chicago, Illinois 60606 USA

Agenda:

3-3:15 PM: Registration
3:15-6 PM: Program: Last Planner System for Design
6-7 PM: Networking with a Cash Bar and Appetizers
Speaker Bio:
Kristin's 25 year career has been focused on continuously improving the delivery of design and construction services. Her passion has been collaboration for the purpose of producing increased value for her clients and delivering projects that meet their highest goals.
Early Registration / Cancellation Deadline:  Friday, September 7, 2012. There will be no refunds after this time. Please help us save time, expense, and avoid people showing up at the last minute… plan ahead
Note to First Time Attendees and Others New to Lean Construction:
Please review a glossary of terms and other introductory readings before attending the meeting by visiting http://www.leanconstruction.org  
Registration Assistance: chicago-support@leanconstruction.org
**Special Registration Discounts: If you are not an LCI Member, you may sign up today at the LCI Member rate for this event if you purchase a one-year individual membership for $250. Go to: http://lci-individual-membership.eventbrite.comto read about the benefits and sign up today. Then, enter the words "New Member" when prompted for your "individual membership number" while signing up for this event at the LCI Member rate. Thanks!
Individual LCI Members may bring one guest to each LCI event at the Member Rate. Corporate LCI Members may bring any guest at the LCI Member Rate, including employees, clients, trade partners, etc. Need help looking up your individual membership number? Please contact membership@leanconstruction.org
When & Where

DrinkerBiddle & Reath, LLP
191 North Wacker Drive, Suite 3700
Chicago, IL 60606


Thursday, September 13, 2012 from 3:00 PM to 7:00 PM (CDT)
Add to my calendar
Organizer
The Lean Construction Institute (LCI), a non-profit research organization, was founded in August 1997. LCI's purpose is to develop and disseminate new knowledge regarding the management of work in design, engineering and construction for capital facilities. LCI has developed the Lean Project Delivery System© (LPDS), and the Last Planner® System of production control. Lean Construction is a production management-based approach to project delivery - a new way to design and build capital facilities. Lean production management has caused a revolution in manufacturing design, supply and assembly. Applied to construction, Lean changes the way work is done throughout the delivery process. Lean Construction extends from the objectives of a lean production system - maximize value and minimize waste - to specific techniques and applies them in a new project delivery process extending from project definition through design, supply and assembly.
The Chicago Community of Practice (CoP) of LCI  provides local lean support to owners, architects and designers, engineers, contractors, specialty contractors, and suppliers.  We invite owners and project delivery team members to meet together as a Community of Practice to learn, share, and develop a lean community in Chicago. As a regional forum for conversations among practitioners, the CoP will help create a new common sense for the AEC industry as LCI continues to build knowledge in design and construction.
Registration Assistance: chicago-support@leanconstruction.org