About this event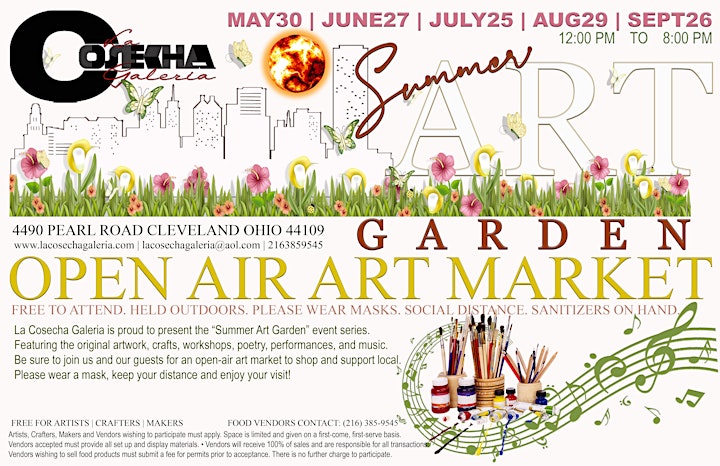 Free to attend. Held outdoors. Please wear masks. Social distance. Sanitizers on hand.
La Cosecha Galeria is proud to present the "Summer Art Garden" event series from 12PM to 8PM on the Sunday dates of May 30th, June 27th, July 25th, August 29th, and September 26th, located at 4490 Pearl Road, Cleveland, Ohio 44109. Featuring the original artwork, poetry, performances, and music. Be sure to join us and our guests for an open-air art market to shop local art, meet residents, and enjoy our gallery exhibition. We will be safely distancing outdoors in front of our gallery, community art garden and have sanitizing stations available. Please wear a mask, keep your distance, and enjoy your visit! For more information, please visit www.lacosechagaleria.com
Applications: No Fee for Artists | Crafters | Makers
• Artist Agreement: Link
• Vendor Agreement: Link
Notes:
• Vendors wishing to participate must apply. Space is limited and given on a first-come, first-serve basis.
• Vendors accepted must provide all set up and display materials.
• Vendors will receive 100% of sales and are responsible for all transactions.
• Vendors wishing to sell food products must submit a fee for permits prior to acceptance. There is no further charge to participate.
For More Info: (216) 385-9545 • lacosechagaleria@aol.com
Please "Like" or Share LCG's FB Page: Link