LCAC19 & SaludConTech: Advancing Innovation To Eliminate Health Disparities
Building Health Equity & Vaccine Confidence In Latinx Communities Town Hall Series: Advancing Innovation To Eliminate Health Disparities
About this event
Join The Latino Coalition Against COVID-19 & SaludConTech along with our coalition partners to celebrate past victories and discuss the challenges that lie ahead. The Latino Coalition Against COVID-19 virtual town hall series.
"Building Health Equity & Vaccine Confidence In Latinx Communities"
Advancing Innovation To Eliminate Health Disparities
Digital health innovations have been rapidly implemented and scaled to provide solutions to health delivery challenges posed by the coronavirus disease (COVID-19) pandemic. This has provided people with ongoing access to vital health services while minimizing their potential exposure to infection and allowing them to maintain social distancing. However, these solutions may have unintended consequences for health equity in minority communities.
Poverty, lack of access to digital health, poor engagement with digital health for Black and Latinx communities, and barriers to digital health literacy are some factors that can contribute to poor health outcomes. However, there are growing incentives and interest in making digital health interventions part of the solution to reduce health disparities. Now is the time for innovative strategies and bold action that leverage technology to effectively connect vulnerable patients to health information, health promotion, and healthcare services in ways that are scalable and sustainable. Collectively, we have the technology, financial resources, and human capital to make significant improvements in the health of the world's residents, particularly the most vulnerable among us.
Join us as we discuss the role of transformative research and examples of health innovation that address health disparities and advance health equity for all.
Featured Speakers:
• Dr. Eliseo Pérez-Stable
○ Director, National Institute on Minority Health and Health Disparities
• Dr. Ilan Shapiro, MD
○ Medical Director, Health Education, and Wellness
○ Director of Communication, The Latino Coalition Against COVID-19
Moderator:
• Daniel Turner-Lloveras, MD
○ The Latino Coalition Against COVID-19, Chair & Founding Member
Eliseo J. Pérez-Stable, M.D.
Eliseo J. Pérez-Stable, M.D. (Eh-lee-SAY-oh PEH-rez-eh-STAH-blay), is Director of the National Institute on Minority Health and Health Disparities (NIMHD) at the National Institutes of Health (NIH). He oversees the Institute's appropriated budget of $390.8 million to advance the science of minority health and health disparities. Under this framework, the Institute conducts and supports research programs to advance knowledge and understanding of mechanisms to improve minority health, identifies and understands health disparities, and develops effective interventions to reduce these disparities in community and clinical settings.
Recognized as a leader in Latino health care and disparities research, Dr. Pérez-Stable has spent more than 30 years leading research on smoking cessation and tobacco control policy in Latino populations in the United States and Latin America. His collaborations with researchers and public health advocates in Argentina have helped to put tobacco use on the country's public health agenda, raising awareness of tobacco use as a critical public health problem, building capacity for tobacco control policy, and creating opportunities for prevention and treatment measures through physician education and smoking cessation programs.
Dr. Pérez-Stable has received many honors and awards throughout his career, including UCSF's Kaiser Award for Excellence in Teaching, the Society of General Internal Medicine's John M. Eisenberg National Award for Career Achievement in Research, and election to the National Academy of Medicine (formerly Institute of Medicine) of the National Academy of Sciences. He was honored with the UCSF Lifetime Achievement in Mentoring Award in July 2015. Dr. Pérez-Stable was born in Cuba and grew up in Miami, Florida. He earned his B.A. in chemistry from the University of Miami and his M.D. from the University of Miami School of Medicine. He completed his primary care internal medicine residency and research fellowship at UCSF.
Ilan Shapiro, M.D.
Dr. Ilan Shapiro is the Medical Director of Health Education and Wellness for a federally qualified health clinic at AltaMed.
In addition to being a practicing physician, Dr. Shapiro is actively involved in creating binational public health programs to reach Hispanic communities on both sides of the border. He acted as the Medical Advisor for the General Consulate of Mexico in Chicago and was a Member of the Editorial Board for A Tu Salud (For Your Health), a health bulletin representing Hispanic health topics and resources. Dr. Shapiro is part of the National Hispanic Medical Association and a spokesperson for the American Academy of Pediatrics.
Dr. Shapiro earned a medical degree from Anahuac University in Mexico, and had the opportunity to practice medicine in several main hospitals in Mexico and has been serving in federally qualified health clinics in Chicago, Fort Myers (Florida) and Los Angeles.
Daniel Turner-Lloveras, MD
Dr. Turner-Lloveras is a practicing clinician-educator and a founding member of The Latino Coalition Against COVID-19. He received his medical degree from The University of Chicago – Pritzker School of Medicine and after completing his residency training in Internal Medicine at Columbia University Medical Center, he joined the National Health Service Corps Scholar, serving as a primary care provider in the communities of Watts and Skid Row.
His research centers on building digital health equity by studying the impact of the digital divide and developing interventions that promote digital literacy, skills development, and digital inclusion. In addition to his clinical and teaching responsibilities, Dr. Turner-Lloveras is the founder of SaludConTech, an organization that empowers its members to build technology-assisted community-based solutions that promote wellness and eliminate health inequities in the Latinx community. Its annual symposium highlights population health-based approaches that utilize technology to promote wellness and eliminate health inequities in the Latinx community.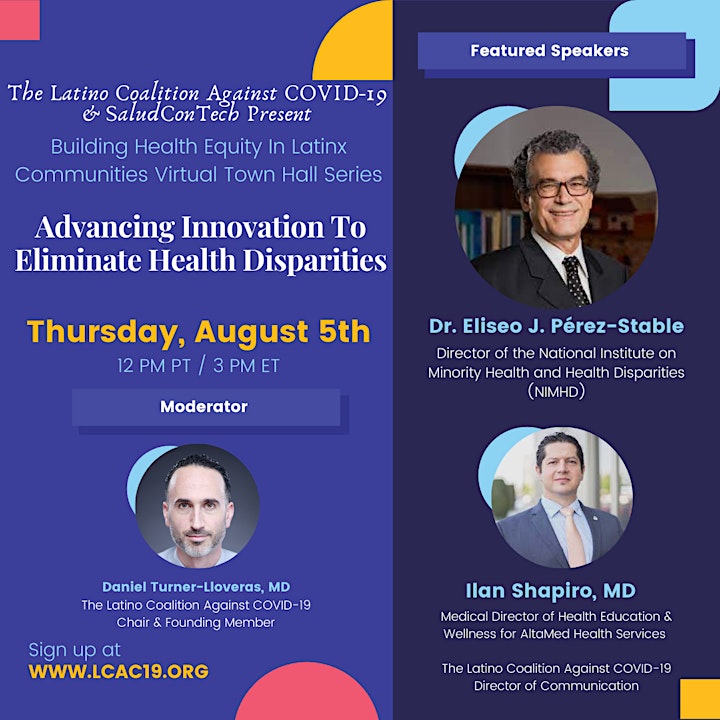 Organizer of LCAC19 & SaludConTech: Advancing Innovation To Eliminate Health Disparities
The U.S. recorded nearly 26 million COVID-19 cases and more than 429,000 deaths since the onset of the pandemic almost a year ago. However, the virus has taken a particularly severe toll on Latino, Black, and Native American populations who died from COVID-19 at nearly three times the rate of white Americans. Although almost half of the COVID-19 race/ethnicity vaccination data is missing, early analysis demonstrates patterns of vaccine exclusion that systematically correspond with race and ethnicity.
The Latino Coalition Against COVID-19 (LCAC19) is a national community-led, non-partisan, collaborative movement to build health equity in Latinx communities. We come together to help transform the social and economic conditions in Latinx communities by building connections with other organizations, task forces, coalitions, and alliances to amplify local voices to a national level. By forming meaningful partnerships facilitated by active collaboration and shared decision-making, our collective efforts can change public policy, reallocate funding to those who need it most, and improve the health and well-being of Latinx communities across the country.

Our goal is to ensure Latinos have accurate, readily available, and transparent information about COVID-19, equitable access to COVID-19 vaccines, resources, and services. We want to make sure their story is heard and that they have the tools to overcome digital exclusion, a new social determinant of health, to remain aware and engaged. Our virtual town halls are where we celebrate our victories and envision ways to address the root causes that led to the disproportionate health and economic impact of COVID-19 in our Latinx communities.