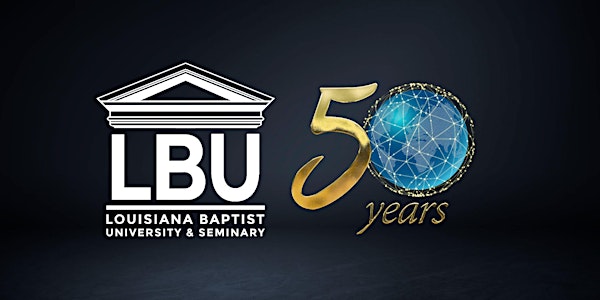 LBU Workshops May 16 & 17 | Graduation May 18
Notable speakers headline this years workshops, addressing 21st century topics. Alumni, Ministry Leaders, and Guests are all Welcome.
By Louisiana Baptist University
Location
Baptist Tabernacle 8501 East Kingston Road Shreveport, LA 71118
About this event
Impacting Our World
Focusing on fulfilling the Great Commission in our generation the four themes of these workshops are both relevant and innovative.
WOW - Win Our World - A Missions Vision Event
WIN - Winning in Ministry
WIRED - Impacting through Relevant Ministry
WORD - Effective Biblical Communicating
Speakers
Ergun Caner, Larry Maddox, Chuck Stecker, Brad Jurkovich
Don Mingo, Jon McCray, Randy Abell, David Allen
Topics
Apologetics
Intergenerational Ministry
Power Missionary Panel
Porn Addiction
Generation Z Social Media
Church Planting
Online Worship Strategies
Food, Fun, and Festivities
Join us for the Neal Weaver Cajun Fest on Tuesday at 5pm.
Graduation & 50th Anniversary Celebration
As we celebrate the 50th Anniversary of LBU we invite you join us for the commencement exercises on May 18th.
Chancellor Dr. Neal Weaver will be recognized for his 30 years of leadership.
In addition, Dr. Gregory Lyons will be inaugurated as the new president of LBU.