Description
Lifecycle Building Center (LBC) invites you to attend LBC's Revel In Reuse 2017 Fundraiser. Enjoy live music and culinary creations and meet your favorite Atlanta chefs from such restaurants as 5 Seasons Westside Restaurant and Brewery, Leon's Full Service, Local Three Kitchen & Bar, Southern Bistro, Taqueria Del Sol and Wrecking Bar Brewpub. The event, with Master of Ceremonies Eric Moncrief (​The Green Guy), will feature live music provided by Wasted Potential Brass Band and The Dammages and refreshments will be provided by SweetWater Brewing Company and The Mercantile. You'll also experience great networking with LBC's passionate community and compete for unique prizes, including a 3-Day Tesla Model S Test Drive with Merchandise ($1,700 value) and a 5KW Residential Solar System from Hannah Solar ($15,000 value). Attendees will learn how Epic Development partners with Lifecycle Building Center (LBC) to salvage materials and meet several Westside Market vendors who specialize in repurposing reclaimed materials. Several area nonprofits will also share the benefits of collaborating with LBC. Attire will be business/business casual.


Purchase your LBC Revel In Reuse raffle tickets online before you arrive at the event, and minimize your time in line. Any raffle tickets purchased online will need to be picked up on the day of the event at check-in. Raffle tickets are $10 each or buy a larger quantity, and receive a discount. Attendees MUST BE PRESENT DURING THE DRAWING at 8:30pm TO BE APPLICABLE TO WIN. To purchase Raffle Tickets, please visit: http://www.goo.gl/O2a4RM.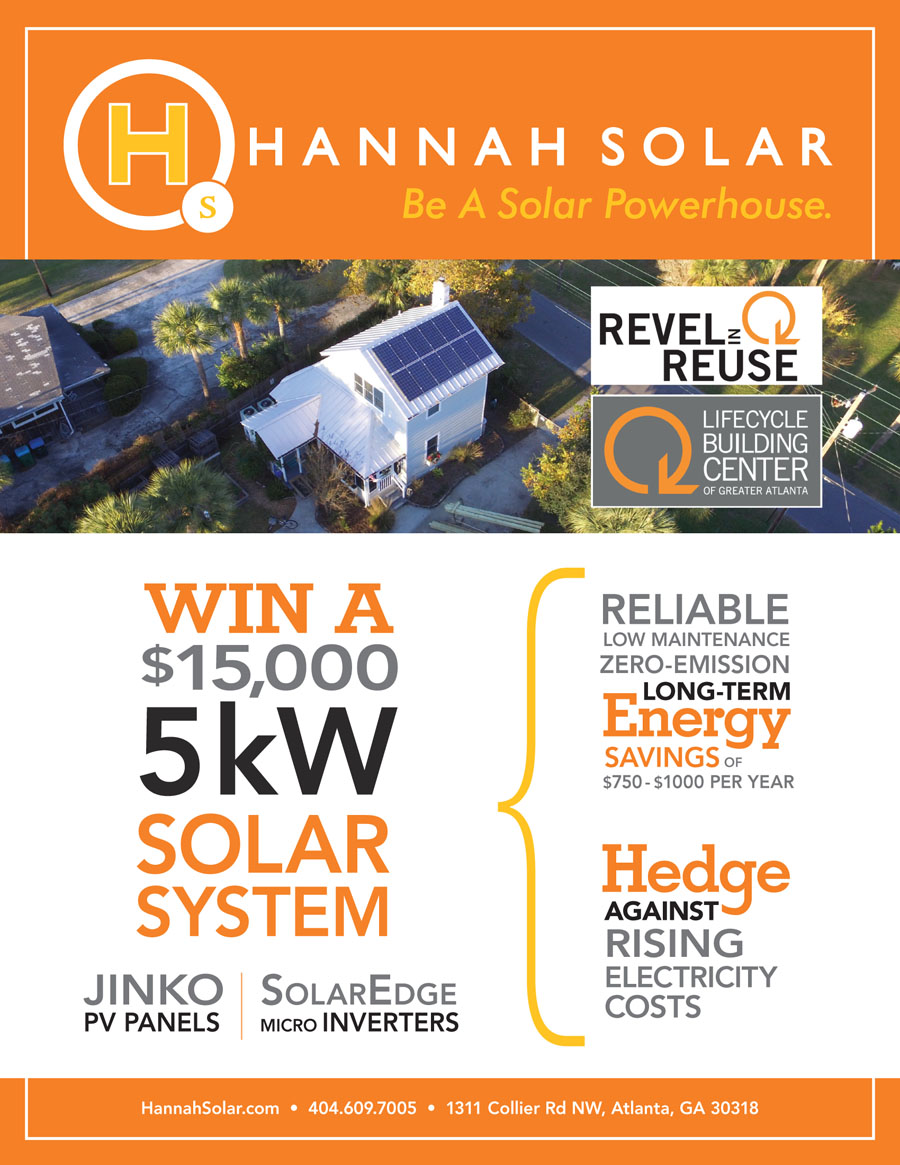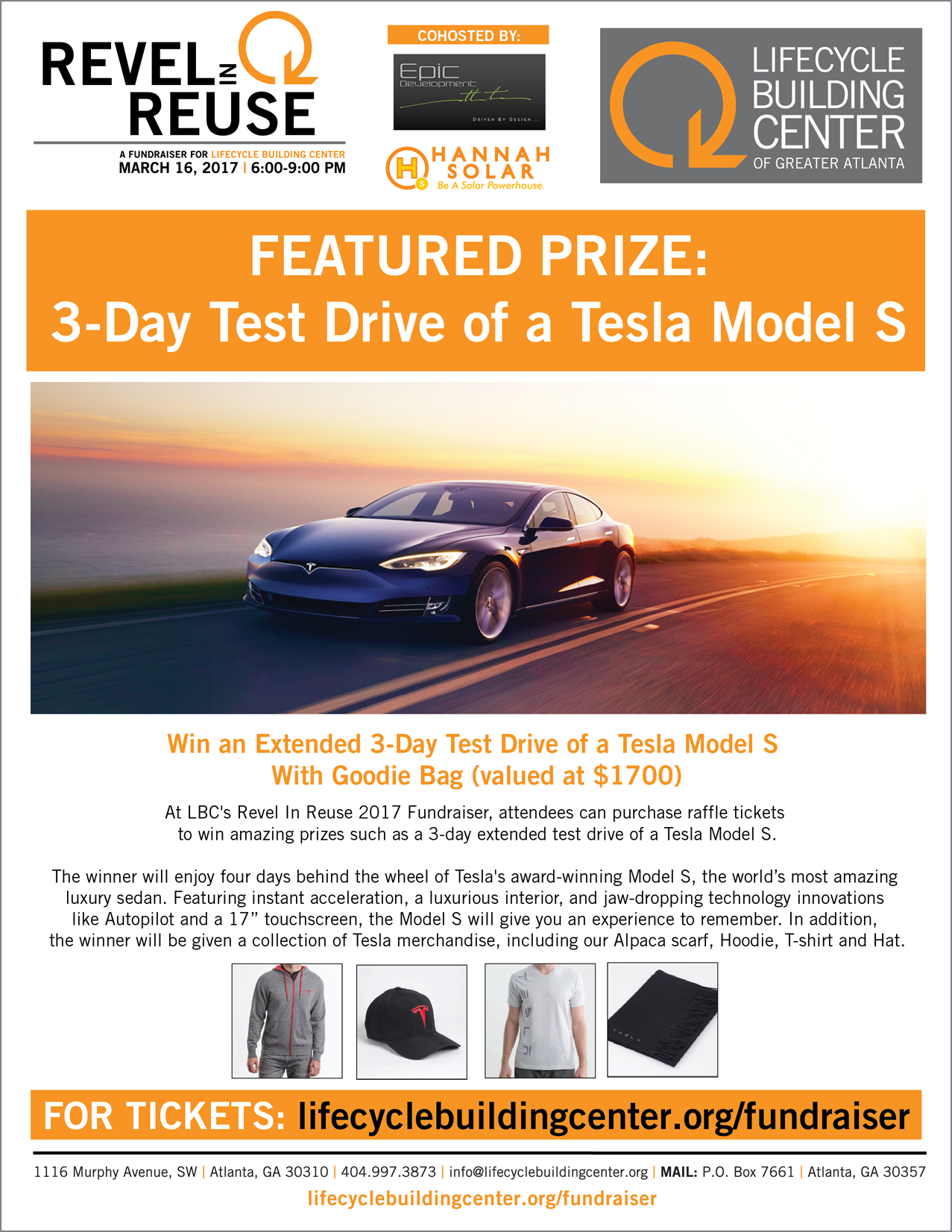 The fundraiser will support LBC's Nonprofit Material MATCH Program, which connects usable building materials destined for landfills with nonprofits, community organizations, schools and houses of faith that can use them for their facility renovation and construction projects. The program has been able to provide material grants to 100 organizations so far, and our target for 2017 is to support another 60 organizations. More information on the program can be found HERE.

PARKING AT THE EVENT:
Parking at LBC's Revel In Reuse Fundraiser: Parking will be available at The Lumberyard at 1425 Ellsworth Industrial Blvd. NW Atlanta GA 30318. Volunteers will be present to direct you. Shuttles will be available to transport you to and from Westside Market, or you can walk. Ubering is also a great option!
PARTICIPATE IN THE EVENT:
We are looking for local restaurants, businesses and organizations to participate in the event. We have an expected event attendance of 300-400 within our audience of real estate professionals, developers, contractors, architects, engineers, designers, artists and more. If you have a product or service you would like to offer in return for the opportunity to connect with this community, please contact Shannon Goodman at 678.592.0417 or at shannon@lifecyclebuildingcenter.org. You can also download the Revel In Reuse Sponsorship Package by clicking HERE.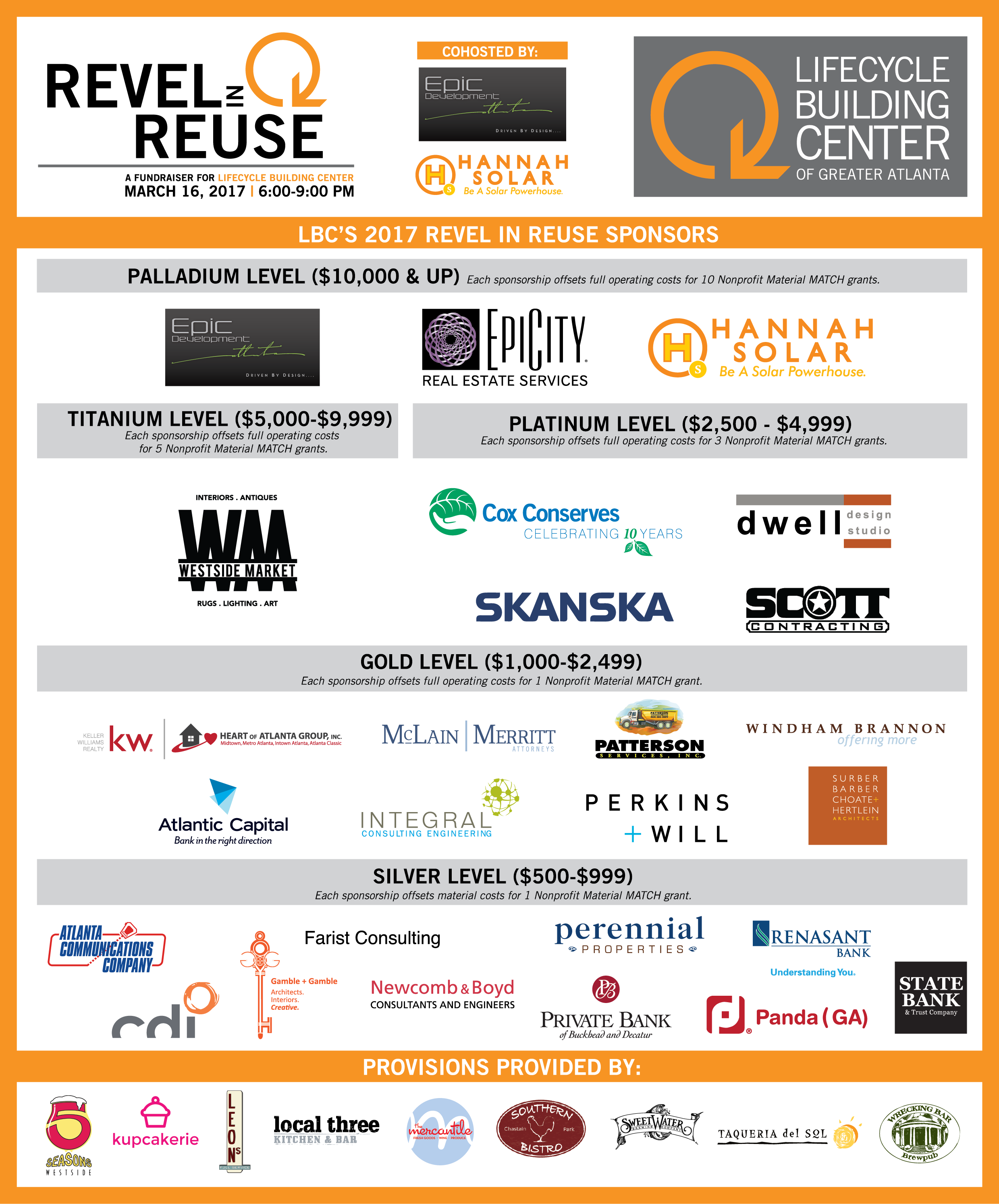 VOLUNTEER AT THE EVENT:
We are looking for volunteers to help set up and work at the event. If you are available to volunteer, please click HERE.
EVENT WEBSITE:
For more information, please visit LBC's REVEL IN REUSE FUNDRAISER web page by clicking HERE.